Dan Radcliffe Discusses "A Young Doctor's Notebook"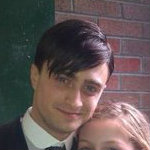 Sep 30, 2012
The Hollywood Reporter has a new interview with Dan Radcliffe in which he discusses his upcoming four part series, "A Young Doctor's Notebook." Most notably, Radcliffe discusses his co-star, Jon Hamm, who will be playing the older version of Radcliffe's character:

"He's one of the best," Radcliffe said about working with Hamm. "He is really funny and incredibly personable. The thing I haven't heard people say is he is also one of the best technical actors." For example, Hamm at one point suggested a camera set-up that would save the production team time since A Young Doctor's Notebook had to be shot in 20 days in Middlesex, England.
And, Radcliffe recalled, it took Hamm only 30 seconds to coreograph an on-screen fight between the two stars.
Asked about a scene, in which the two stars share a bath, Radcliffe said: "It was great, because you know you are the envy of every woman ever." But he said he had thought the bath scene would be fun, because everyone likes baths. "But you forget water gets cold," he quipped.
Hamm asked Radcliffe to record all his lines once, so the American actor could get a better feel for the British accent. "I don't know if my tapes helped, but he was pretty flawless," Radcliffe said.
Radcliffe was also asked if he had read The Casual Vacancy:

Asked if he had read the Rowling novel that hit book stores this week, Radcliffe said: "I have not, and I plan to."
You can read the rest of the article here. "A Young Doctor's Notebook" will premiere on BSkyB's Sky Arts 1 on December 6th.