Maggie Smith Talks about Potter and Her Career in a New Interview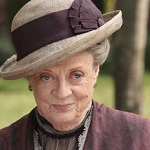 Sep 07, 2012
Maggie Smith (Professor McGonagall) recently sat down for an extensive interview with The Star about her 60 years in show business. In the interview she talked about her time spent with the Harry Potter movies, although her main focus was on her largly successful role in Julian Fellowes' Downton Abbey. The Star reports:
She also trails unassumingly behind her a train made up of 60 years in show business that has won her seven BAFTA awards, two Oscars, two Golden Globes, two Emmys, two SAG awards, an Olivier Award and a Tony.
The 77-year-old woman who's survived everything from quidditch (thanks to her role as Professor Minerva McGonagall in Harry Potter) to chemotherapy (a harrowing battle with cancer) has a wonderful serenity about her except, on this particular afternoon in London, when she worries about the scope of the upcoming Stratford gala.

…
And then she starts the wheels of comic invention turning again.
"There are advantages to cancer, you know. My chemo cheered up the makeup department on Harry Potter because the wig went on a great deal easier without a single hair on my head."

…

"I knew it was going to be a major commitment when I started, but it turned out to be 10 years. That's a lot of time with one character!"
You can read more of this enjoyable interview here.