New Clip of "Perks" from Entertainment Weekly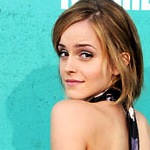 Sep 07, 2012
As reported previously, Emma Watson has been promoting her new movie, The Perks of Being a Wallflower, by making appearances at the MTV VMA's and the Late Night with David Letterman. A new clip from Perks was released exclusively by Entertainment Weekly after Ms. Watson's role in the VMA's. The clip can be seen, and the rest of the article can be read, here. EW reports:
Anyone who's ever been to a school dance has likely had that moment, when they're standing on the margins of the dance floor, watching bolder, older kids cut loose with abandon in the center, wondering if they themselves have the nerve to step into the crowd and join in.

In this exclusive clip from the film " which premieres Saturday at the Toronto Film Festival and begins a limited release in theaters Sept. 21 " young freshman Charlie (Logan Lerman) is the kid on the sidelines, and his new friends, seniors Sam (Emma Watson) and Patrick (Ezra Miller), are the ones tripping the light fantastic on the dance floor.