J.K. Rowling receives the 2013 Beacon Award for Philanthropy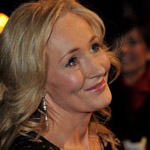 Feb 12, 2013
J.K. Rowling has been rewarded for her excellence in philanthropy and charity work. J.K. Rowling's personal website posted that she received the Beacon Award for Targeted Philanthropy on February 6, 2013. jkrowling.com said:


On 6 February 2013 J.K. Rowling was awarded The Beacon Award for Targeted Philanthropy.

The Beacon Awards celebrate giving by individuals whose philanthropy has achieved an impact that needs to be more widely shared. Their aim is to provide inspiration to improve and strengthen the culture of individual giving in the UK, resulting in more effective philanthropy. By showcasing exceptional examples of philanthropy they hope to encourage others to give.