Movie Rumors for Daniel Radcliffe and Emma Watson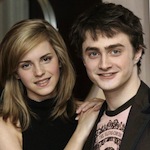 Mar 03, 2013
Rumors have been flying about the mill. Variety has started a buzz that Emma Watson is in "very early talks" for an adaptation of Cinderella directed by Kenneth Branagh (Gilderoy Lockhart). According to Variety, the film will hopefully go into production later this year, and be released in 2014. Variety has also reported that Daniel Radcliffe is in the "final talks" for the role of Igor in Fox's adaptation of Mary Shelly's Frankenstein. The production of Frankenstein is also set to begin later this year, after Radcliffe finishes his role in London West End's Cripple of Inishmaan.
Variety on Watson:
Mark Romanek was once attached to helm "Cinderella' based on a script by Chris Weitz and a pitch by Aline Brosh McKenna ("The Devil Wears Prada"). Studio hopes to begin production sometime this fall and release the film in 2014.
Allison Shearmur ("The Hunger Games: Catching Fire") and David Barron ("Jack Ryan") are producing with Simon Kinberg.
Disney would not comment on the discussions with Watson. It also considered Gabriella Wilde ("The Three Musketeers"), Saoirse Ronan and Alicia Vikander ("Anna Karenina"), but couldn't lock down deals due to scheduling and other considerations.
The rest of the article can be read here.
Variety on Radcliffe:
From Harry Potter to hunchback'Daniel Radcliffe is in final negotiations to star as Igor in the classic tale "Frankenstein" for 20th Century Fox and Davis Entertainment. Paul McGuigan is on board to direct the gothic feature from a script by Max Landis ("Chronicle").
Based on Mary Shelley's 19th century novel, "Frankenstein" is expected to shoot in the fall after Radcliffe's run in the West End play "Cripple of Inishmaan' sources tell Variety. John Davis is producing the film, which is being described as a tale of friendship and redemption.
The rest of the article can be read here.