New Scholastic Special Editions of the Harry Potter Series to be Released August 27th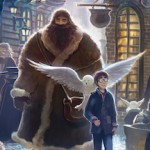 Mar 05, 2013
UPDATE: Apologies and thanks to SnitchSeeker for the news about the release date.
In honor of the fifteenth anniversary of the release of Sorcerer's Stone, Scholastic is releasing all new covers of the entire series, illustrated by Kazu Kibuishi. These special edition covers will be available to own on August 27th. You can preorder the box set here.
As of right now we only know what the new cover of Sorcerer's Stone looks like, so stay close to Leaky for the rest of the covers.