Rupert Grint's "Super Clyde" NOT picked up by CBS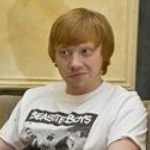 May 12, 2013
We are disappointed to announce, it has been reported and confirmed, that Rupert Grint's comedy piolet Super Clyde has not been picked to air by CBS. According to The Hollywood Reporter, CBS filled in its schedule with two dramas and four new comedies. The Ice Cream Man posted the confirmation of Super Clyde's bad luck, reporting:

There were many very good pilots up for graps this year on CBS, and Super Clyde was just really unlucky not to be picked.

Today several of Rupert˜s cast members on the pilot confirmed the bad news.
Justine Lupe wrote it first:

Sad to say CBS SUPER CLYDE isn't going on¦ Grateful to have gotten to have some fun with @TyLabine, @stephenfry &the rest!

Tyler Labine was quick to reply:

@iamjustinelupe @stephenfry it was indeed great to get the opportunity to work with you both. Grint too. Everybody was awesome. Truly.

And lastly, Laura Ortiz gave her reaction to the news:

Thank you guys for all the support! it was an amazing project to have been a part of!! #superclyde

Of course, this is a huge disappointment for all us Rupert fans, but we have to keep a positive attitude and supportRupert in his future projects ' he has an uncanny ability to surprise us, so we can't wait to see what project will be announced next.