Wizarding World Expansion to Open Mid-June to Mid-August 2014?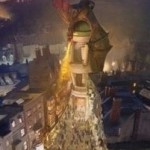 Jun 04, 2013
Hypable is hypothesizing the opening date of the Wizarding World expansion will fall between June 14 and August 14. This prediction stems from unusual black out dates to Power Pass holders, that have appeared on the Universal web page. These black out dates would prevent Power Pass holders from entering the park and promote crowd control. Screamscapes predicted the site would open the week of June 11, but said that the date could easily shift for an opening that large. Hypable reports:
Universal has blocked those with the Power Pass (one of their annual passholder levels) from entering Universal Studios Florida beginning Saturday, June 14 through Saturday, August 14. Those with the Power Pass may enter the neighboring park Islands of Adventure, which houses the original Wizarding World, during that time.
This two-month block out period isn't normal for those with the Power Pass. This year, the same annual pass is only blocked from entering during the month of July. The purpose of the passholder black out is to help control crowd size.
This blockout period falls perfectly in line with an April report which said Universal is planning to open the Diagon Alley land the week around June 11.
April Report:
Screamscape, a reliable source for theme park information, cites a source who says the Diagon Alley expansion is aiming to open by June 2014; specifically, the week of June 11. "With over a year left in the construction timetable, a lot can happen and dates can shift, especially with a project of this size, involving the construction of an entire new land with several buildings, and the Hogwarts Express to run between the two parks' Screamscape notes.
Many thanks to Hypable–We hope their predictions are correct!