A Magical Year in Review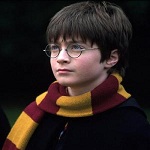 Jan 03, 2014
As we wave our wands in farewell to 2013 and welcome 2014, we look back at the magic of this past year. Despite being two years post-production of the last Harry Potter film, this past year was not a quiet one. We saw many of our favorite Potter actors star in many new films, our favorite author secretly release a new book, news of more Potter-world material to look forward to with "Fantastic Beast" films, the expansion of the Wizarding World and Pottermore, a makeover for paperback Harry Potter books, and another fantastic Leaky Con.
J.K. Rowling, remaining one of Forbe's 2013 most powerful women, had quite a busy year in 2013. Our queen received the 2013 Beacon Award for Philanthropy while dipping her hands into many new projects. One of her personal copies of Harry Potter and the Philosopher's Stone, with special drawings, was auctioned off for charity for $228,000. With a very personal connection to her philanthropy work, Ms. Rowling wrote about her years as a single mother for the Gingerbread Organization. J.K. Rowling worked hard with her Lumos charity, writing many new petitions and expanding her charitable work to new areas of Europe. Lumos, having many connections to Harry Potter series other than being the spell for light, held a large fundraiser at the Warner Bros. Studio Tour earlier this year. As a result of bringing light to Ms. Rowling wonderful Lumos work, our favorite author was more actively present on Twitter, Facebook, and social media than she has been in years past. Besides writing on Twitter, in 2013 we discovered that our very own J.K. Rowling had put more pen to paper than we had originally thought. Even though she gave a firm "no" to writing a Harry Potter prequel in early March, news of a Harry Potter prequel theatrical production–that J.K. Rowling will co-produce–was released last month. Along with taking time to answer fans' Harry Potter questions on Goodreads, J.K. Rowling had to answer a plethora of demands and questions when it was revealed that she was Robert Galibraith, author of crime novel The Cuckoo's Calling. The revelation was a great surprise both to the fandom and the author herself, who had planned to keep the cover much longer. As excited as the fans were to receive a new book from our favorite author, J.K. Rowling was "very angry" and won damages in a court case against the source of the leak. All monetary compensation went to charity, of course. Along with dabbling in theater, Ms. Rowling is also trying her hand at screen writing with films based off of Harry Potter school book Fantastic Beasts and Where to Find Them. The films were assured video game and theme park tie-ins.
Other theme park news brought us insight into Universal Studio's expansion of the Wizarding World of Harry Potter. Plans were approved for an L.A. park; Diagon Alley, already in the process of being built in Orlando's Universal Studios theme parks, is expected to be open in the summer of 2014. The new park will include a Gringotts roller coster ride, a Hogwarts Express train ride connecting the two different parks, Grimmauld Place, and a real life Leaky Cauldron restaurant! To add to the excitement, the park is hosting a huge, star-studded Potter bash later this month, January 24-26.
Also happening near the Harry Potter theme park in 2014, is another fantastic Leaky Con! Leaky Con registration for our 2014 convention, returning to Orlando, has been open since October. This past year, in both Portland and England, Leaky 2013 was a huge hit. The stars in attendance, from many different fandoms across the globe, numbered too many to list here. Being one of the largest fan conventions, the new cover of Harry Potter and the Prisoner of Azkaban US paperback was revealed at Leaky Con!
Along with a makeover for the US paperbacks and UK adult book covers of all the Harry Potter novels, 2013 saw the release of Harry Potter collectors stamps, and more Pottermore material. The books received Entertainment Weekly's award "Best YA of All Time".
Our beloved Harry Potter actors were hard at work earning names for themselves in countless post-Harry Potter projects, in both film and theater. Daniel Radcliffe appeared at the Oscars and on the Simpsons, but spent most of his time working on projects such as Kill Your Darlings (limitedly released las October), The F Word, Horns, London's West Ends' The Cripple of Inishmaan, and Frankenstein (to be release October 2014). There are rumors of Mr. Radcliffe playing Freddie Mercury in a biopic as well. Rupert Grint flooded the news with many new film projects. Mr. Grint tried to be an underdog hero in a TV show called Super Clyde, but the show's pilot was not picked up by CBS. in 2013 he made his stage debut in the morally complex Mojo. Mr. Grint also was cast in movies Into the White, CBGB, and is rumored to be apart of a modern Macbeth called Enemy of Man. Emma Watson also had her fair share of movie news in 2013. Miss Watson stared in The Bling Ring, a cameo in This is the End, and may be linked to movie projects Your Voice in My Head and Cinderella. Miss Watson was nominated for the Teen Choice Awards, won MTV's Trailblazer award, and was made into wax at Madame Tussaud's wax museum. Many other Harry Potter actors also appeared in TV shows and films. David Bradley (Filch) appeared in the 50th Anniversary edition of Doctor Who;Bonnie Wright (Ginny) and Freddie Stroma (Cormac McLaggen) stared in The Philosophers; Evanna Lynch in GBF and Houdini, Toby Jones (voice of Dobby) and Imelda Staunton (Umbridge) in Circle Mirror Transformation, Scarlet Byrne (Pansy Parkinson) in Falling Skies, Tom Felton in Full Circle and Therese, and Alan Rickman in CBGB and The Butler. Amongst all the star news, Leaky paid tribute to Richard Griffith (Uncle Vernon) who died at age 65, after heart surgery complications.
Given all the exciting news in 2013, we know there is much Potter news to look forward to in 2014! Here at Leaky, we wish everyone of our beloved fans a very Happy New Year. We look forward to another exciting year of reporting to you!