Bloomsbury to give Potter books a Makeover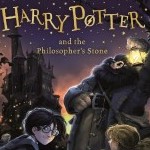 Mar 21, 2014
As reported previously, Scholastic gave the paperback editions of the Harry Potter novels a whole new look. Recently, Bloomsbury has decided to follow suit and apply new cover art to the UK paperback editions of the series. Johnny Duddle will be giving the books new front cover, spine, and back cover design. The inside of the books will also be updated with new font for the ease of children, an updated bio for J.K. Rowling, and a Pottermore section that will give instructions on how to use Pottermore. Pottermore will be publishing the e-versions of the new books. Leakynews posted:

Jonny Duddle is best known for his award-winning picture books, including

The Pirate Cruncher

and

The Pirates Next Door

(winner of the Waterstones Children's Prize and shortlisted for the Roald Dahl Funny Prize). He has a background in the computer games industry and is highly skilled at character development. His work has appeared in Aardman films and Terry Pratchett novels.
Mr. Duddle is, as you can expect, entirely thrilled with this development: "I'm hugely excited to work my way through the wonderful books. I couldn't have asked for more enjoyable subject matter. It's exciting, daunting and I feel the weight of responsibility, and I'm just hoping that my illustrations faithfully reflect the characters and world created by J.K.Rowling." That last bit is certainly more than Mary GrandPre can say (anyone remember Snape with a gigantic moustache as chapter art?), so I'm personally glad he's taking the commitment seriously.