Emma Watson Talks Ron/Hermione on Red Carpet at the Oscars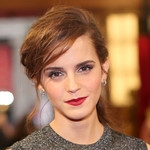 Mar 04, 2014
This past Sunday, on the red carpet at the Oscars, Emma Watson spoke about J. K. Rowling's recent comments on the Ron/Hermione pairing, saying that the quote was "taken out of context":

Rowling recently made waves when she confessed last month that she regretted pairing up Harry's best friends at the end of her beloved series. In an interview in Wonderland magazine (conducted by Watson herself!), Rowling shared, "I wrote the Hermione/Ron relationship as a form of wish fulfillment."
…
Watson also seemed somewhat pessimistic about the longevity of the popular pairing, sharing at the time, "I think there are fans out there who know that too and who wonder whether Ron would have really been able to make her happy."
But Watson's tune may have changed just a bit, as the starlet took to the red carpet at tonight's Oscars (her first time attending the big show, if you can believe it) and told MTV's own Josh Horowitz, "It was a real shame, because the quote that she gave was completely taken out of context."
Watson implored fans to read the interview a bit more closely to more keenly understand what Rowling was saying about the cherished romance, and perhaps reduce their outrage just a bit. Ron and Hermione forever? It's still magic to us.
You can read more and see the video of Watson responding to the question here.