Video: More Details on Harry Potter and the Escape From Gringotts, Hogwarts Express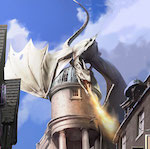 May 13, 2014
Some new, exciting details have been revealed about the Harry Potter and the Escape from Gringotts attraction opening at the Wizarding World of Harry Potter this summer. On the attraction, riders will encounter Bellatrix, Gringotts security trolls, dragons, and He Who Must Not Be Named himself. You can watch a video describing more of the attraction here or below.
During an action-packed, fully-immersive journey on Harry Potter and the Escape from Gringotts, you will: ï'· Marvel at the 60-foot, fire-breathing Ukrainian Ironbelly dragon atop Gringotts Wizarding Bank ï'· Tour Gringotts bank and pass through the marble hall where you'll see goblins hard at work ï'· Race through a labyrinth of underground Gringotts vaults ï'· Encounter the villainous Death Eater, Bellatrix Lestrange, as she attempts to send you to your doom ï'· Come face to face with He Who Must Not Be Named ï'· Experience even more mind-blowing moments The multi-dimensional, multi-sensory attraction, Harry Potter and the Escape from Gringotts, will revolutionize theme park entertainment. This next generation thrill ride seamlessly integrates a compilation of the most innovative technology ever created, 360-degree themed sets, 4K digital high-definition animation, state-of-the-art 3-D Infitec projection systems and live special effects with beloved characters and breathtaking moments from the Harry Potter books and films.
Additionally, on the Today Show this morning, host Al Roker gave viewers a quick look at the Gringotts ride vehicles, as well as a peak at the Hogwarts Express queue. You can see that here or below.