First Look at Gringotts at Wizarding World of Harry Potter and Today Show Sweepstakes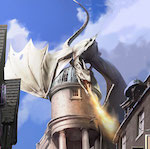 May 07, 2014
The Today Show recently announced a sweepstakes for tickets to the opening day of the Wizarding World of Harry Potter – Diagon Alley expansion. The contest begins on May 13th and end on May 19th and 25 people will win tickets. Further information on the contest can be found here and here.
The announcement of the sweepstakes also came with a very brief look at the Gringotts attraction. Today Show host Al Roker walked through what appears to be the Gringotts lobby. You can watch the video here or below.

Many thanks to SnitchSeeker for the tip.