Dan Radcliffe to Receive Star on Hollywood Walk of Fame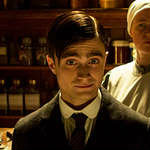 Jun 20, 2014
Dan Radcliffe is among the 30 honorees selected to receive a star on the Hollywood Walk of Fame in 2015:


œWe know that the new selections represent the best of the entertainment industry and will be a great addition to the Walk of Fame for both the Hollywood community and fans from around the world who visit Hollywood every year, Maureen Schultz, Chair of the Walk of Fame selection committee, said in a statement.
The Walk of Fame Selection Committee of the Hollywood Chamber of Commerce selected the honorees at a meeting held on June 16.
Of these 30 ceremonies planned for the recipients, approximately 24 of them will be broadcasted to a worldwide audience.