Michael Gambon to Star in "The Casual Vacancy" Mini-Series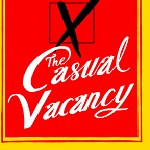 Jun 06, 2014
Uncategorized
Harry Potter film alum Michael Gambon will be portraying Howard Mollison in the BBC adaptation of J. K. Rowling's novel, "The Casual Vacancy." Simon McBurney, who voiced Kreacher in "Deathly Hallows" will also be starring in the mini-series:

Dumbledore and J.K. Rowling are reunited once again! Well, kind of.
The BBC and HBO have announced the cast for the upcoming miniseries adaptation of J.K. Rowling™s novel The Casual Vacancy. Leading the cast is Michael Gambon (Harry Potter) as Howard Mollison, as well as Keeley Hawes (Line of Duty, Ashes To Ashes), Rory Kinnear (Skyfall, Penny Dreadful), Monica Dolan (Alan Partridge: Alpha Papa), Julia McKenzie (Notes on a Scandal), and newcomer Abigail Lawrie.
The story focuses on a local election in Pagford after a sudden death.
You can read more here.