Review: Alan Rickman's "A Little Chaos"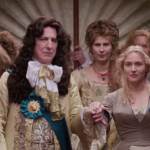 Jul 01, 2015
Alan Rickman has had a prolific career thus far, so it should come as no surprise that his new film "A Little Chaos" highlights him as a Renaissance man of sorts. Rickman directed, co-wrote, and performed the role of King Louis XIV in the film. While the review on ithacajournal.com questions some of Rickman's artistic choices in the screenwriting of the film, it praises his directorial effort and his portrayal of the Sun King:
"A Little Chaos" is clearly a labor of love for Alan Rickman, Winslet's "Sense and Sensibility" co-star, who not only directed it and co-wrote the script but has a featured role as Louis XIV. He gets passing marks for two of those three tasks. While he's frankly wonderful as the king — he channels just the right combination of majesty and humanity — and his direction is perfectly serviceable, the screenplay has some disappointing forays into melodrama that the film would have been far better without.
The film has experienced limited theatrical release, but it will be available on DVD on August 4th.
You can read the rest of the review, which awards the film 3/5 stars, here.