Dayton Daily News: The Waiting is Still the Hardest Part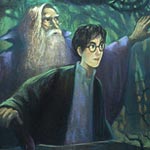 May 29, 2005
Uncategorized
Elizabeth let us know about some musings on HBP in the Dayton Daily News:
Two years ago, your sweet 14-year-old joined in your glee at the release of Harry Potter and the Order of the Phoenix. Now she's a self-assured and somewhat surly 16-year-old who wants nothing more than keys and a credit card.
But scratch the surface. She's still itching for her copy of Book 6 in J.K. Rowling's stretched-out saga of the boy who would be wizard. Harry Potter and the Half-Blood Prince is coming soon — July 16 — and although we're all very excited, it's interesting to note that we're not going nuts this time out. Used to be that each new delay of each new Harry Potter was met with dismay, teeth-gnashing, offers of free baby-sitting for Rowling and her young family (how dare she make babies while we're waiting for more Harry!!). These days, however, we're all older and wiser and most of us have begun to realize that the sooner the books are released, the sooner the story will end.
So we'll wait.