Jim Dale Says "Hey" from LA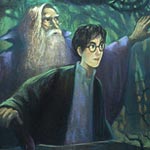 Jul 27, 2005
Uncategorized
Last night, I was lucky enough to see Jim Dale read from the Harry Potter books at Storyopolis on Venura Boulevard. He read a bit from Book Six, then the scene from Prisoner of Azkaban where they won the Quidditch Cup.
He noted that the crowd was comprised mostly of adults – of the 100 or so in attendence, the crowd was about 80% grownups including many without children along – then invited three kids up to learn how to be a story narrator. The audience selected the best of the three, and then the process was repeated three more times; the last round had two men in their 50's participating. A girl who did a wonderful reading of Molly Weasley's Howler from Chamber of Secrets won the night and took home a signed set of all six books on CD.
After that, he graciously signed autographs for all those in attendence, and took a moment to say hi to everyone at The Leaky Cauldron.
Over the next few weeks, he'll be doing more readings in cities like Washington, DC and Atlanta; we hope to have a full schedule up later this week. I highly recommend going – it's an amazing experience to see The Voice of the Harry Potter Books, at least for those of us in the US, recreating the stories in person.