PotterCast #28 Now Available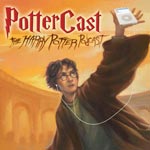 Feb 28, 2006
Uncategorized
The 28th PotterCast is now up and ready for download.
In this show:
-Something strange(r) gets into Sue and John
-Will Moody act differently in the fifth film?
-The mean Hufflepuff
-Was John right about Cedric?
-Will Hot Cheryl be on the show?
-Heather interviews fan artist Laura Bergholm, in our first fan art interview
-The results of your voicemail challenge
-The results of your Draw Snape as a House-Elf Fan Art Challenge
-The Hogwarts Houses with Guru, Lori and Doris in the modcast
-Has Lori seen the light?
-A surprise song from Guru
-Kristin has pneumonia! Send chicken soup to the P.O. Box! (Or not, it'll get messy in there.)
-Nonononononononononononononono
-Pettigrew's bravery or lack thereof
-Our fanfic discoveries
-The return of Mr. Blood and the Superbloods (coming to a bar near you) – and a Mr. Blood commercial!
-Is Harry O-negative?
-A PotterCast listener has found Melissa's apartment, and sent her flying squirrels. Fess up, Robert – who do you know?
-An outtake that's too funny to mention

Running time: 1:08:54
If you are new to all this podcasting stuff, it's really easy: download and install iTunes, then click here to listen. Everything else is at PotterCast.com – you can also direct download it here, and discussion of the PotterCast is right here. Have fun!