Xpose Magazine Interview with Dan Radcliffe and Rupert Grint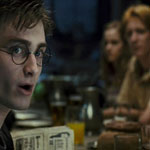 Nov 29, 2006
Uncategorized
The new issue of Xpose Magazine has a feature on Harry Potter and the Order of the Phoenix, which includes an interview with actors Dan Radcliffe and Rupert Grint. In the online teaser about this feature, Dan Radcliffe talks about filming the special video segment for the Queen's birthday party, held in June. Quotage:
"I wasn't actually there on the day," Radcliffe tells us of his contribution to the day's fun, which saw Harry joining in the hunt for the Queen's stolen handbag, taken by the villainous Captain Hook in a series crossing sequence of vignettes involving children's characters from dozens of series and classic books. "I was out of the country, but I filmed all the stuff for it beforehand. We thought we had rushed days for Harry Potter, but for this it was like high speed, we got the whole thing in half an hour. It was unbelievably fast but I quite like filming in chaos; I think you get some of the best results when everyone's slightly under pressure. Not that I would encourage any kind of tyranny on a film set to try and make you feel under pressure, but I think it sometimes happens that right at the end of the day, when you've got 15 minutes before you have to leave, you get your best performance."
Rupert Grint (Ron Weasley) is also quoted about his new film Driving Lessons. DanRadcliffe.com has the scans from the issue containing more comments from Dan on Imelda Staunton, Gary Oldman and more, which you can see via this link. The new issue of Xpose is available now.
Thanks to DanRadcliffe.com.