New Robert Pattinson Interview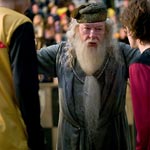 Sep 10, 2006
Uncategorized
There is a new interview with actor Robert Pattinson who played Hufflepuff champion Cedric Diggory in Harry Potter and the Goblet of Fire. RobertPattinson.org reports that in this interview Robert says that he is set to begin production on a new vampire film called "After Dark," along with Elisah Cuthbert (TV's "24"), and he will also be seen in "The Haunting of Toby Jugg" due on BBC 2 later this fall. In this brief article, Robert says he is currently at work directing a play, and indicates he would also like to take some classes for acting. He also discusses Goblet of Fire, and working with acclaimed actor Ralph Fiennes, who plays Lord Voldemort.
"I was quite intimidated by Ralph Finnes. I didn't really talk to him while I was going Harry Potter and the only thing I did with him was when he stepped on my head. Then I went to this play and he was there. And this girl said, 'you've worked with Ralph Finnes haven't you, Robert?' and I was like, 'well, no…' and Ralph said, 'yes, I stepped on your head.' And that was the extent of our conversation."

…

"The acting's come along by accident. I've never trained or anything, so I've only very recently become even vaguely comfortable with it. On Harry Potter I was so consciously of the fact that I didn't know what I was doing. I used to sit on the side of the set throwing up. I think I will go to drama school now, though. I did a play which I got fired from in the West End, and I realised I need to learn some of the fundamentals — like how to act."
Thanks to RobertPattinson.org and everyone who emailed!