J.K. Rowling Honored at South Bank Show Awards, Jokes About Replacing Gambon with Lord Attenborough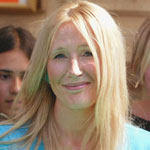 Jan 29, 2008
Uncategorized
A follow up today on news we first told you about several weeks ago involving a special recognition for Harry Potter author J.K. Rowling. The BBC reports the South Bank Show awards presented Jo with a special honor, giving her "an outstanding achievement prize for her success with the Harry Potter books." You can see Jo at these awards here in our galleries as well as here via Getty Images and WENN.
UPDATE: The Times has a new article now online, containing Jo's remarks at the ceremony, where she told the audience splitting ways with Harry Potter is worse than a divorce.
"It has been the worst break-up of my life – far worse than splitting up with any man. But it has also been wonderful to stop and draw breath and think, 'My God, look what's happened with an idea I had 17 years ago on a train."
The award was presented by British film legend Lord Richard Attenborough, who jokingly said he wanted a role in the Harry Potter films. "I've got a great complaint against the recipient. I joined Equity in 1941 and I have been a regular member ever since, therefore I am due a certain amount of respect in these circumstances.I think I must be the only English actor of my generation who has got absolutely bugger all out of this extraordinary series that has been read by millions and made into movies.Surely there must have been something I could have played? Even just a few lines here and there? Don't think I didn't try!"
Rowling joked that he could take the role of Albus Dumbledore in the next film, saying: "Michael Gambon will shortly be having a hideous accident."
Jo then goes on to say yet again she is done writing the Harry Potter series.
"I think I've definitely finished his story. I said seven books and there have been seven," she said. The author is already working on her next project, although she would not be drawn on its subject: "I am writing, it's a compulsion with me. I'm not in a mad hurry to publish because I've had 10 years of deadlines."
Also attending the awards tonight was actor Richard Griffiths (Uncle Vernon). These awards are held to "recognise British achievement in music, theatre, television and the arts," and will be broadcast on UK channel ITV on February 3. Congratulations JO! Anyone who can capture the awards program, please send it in and we will post.