J.K. Rowling to Receive French Legion of Honor Award Tomorrow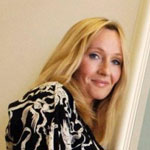 Feb 02, 2009
Uncategorized
Harry Potter author J.K. Rowling will be receiving one of the highest honors from France, it was announced today. The office of Nicolas Sarkozy, President of France, has announced they will be presenting JKR with "les insignes de Chevalier de l'ordre de la Légion d'honneur" (the Legion of Honor) tomorrow, February 3 at the Palace Elysee in Paris France. Congratulations Jo!
We are working to learn more about this and will update when we can.
Thanks much Alejandro!