Behind the Scenes Report from Shell Cottage Filming on Harry Potter and the Deathly Hallows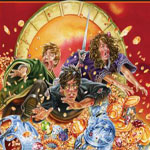 May 13, 2009
As we've been reporting location filming is ongoing for scenes involving Shell Cottage in Harry Potter and the Deathly Hallows. Yesterday, TLC reader Victoria went to the set, and was able to watch almost ten hours of the event on Freshwater Beach in Pembrokeshire, Wales. While there, Victoria was able to get some wonderful behind the scenes photos, including our first look at Domhnall Gleeson. As readers will recall, TLC first told you the son of actor Brendan Gleeson had been cast in the part of Bill Weasley. Victoria was also able to get new photos of Evanna Lynch (Luna Lovegood) who was recording an interview that will be used in the behind the scenes documentary that will be included on the Deathly Hallows DVD. Note in this photo, Evanna is reading from one of the Harry Potter novels.
While there are scores of high res photos online from the paparazzi such as our photos from yesterday, Victoria was able to take some nice photos of Emma, Rupert and Dan from a fan's point of view, and we can see more of the crew and the platforms being used to film, as well as other behind the scenes activities. For example, yesterday we saw a moving photo of actor Dan Radcliffe as Harry, clutching a dying Dobby (Toby Jones) on the beach. Here in this photo, we can see the crew filming this scene, as well as the others gathered round to watch, such as Rupert Grint, Evanna Lynch, Dom, the stars doubles and other crew, all while the waves crash on the beach, for what will surely be a powerful and moving scene in the movie. Other photos include Rupert Grint, Dan Radcliffe and Emma Watson
preparing for Dobby's funeral and then three (1, 2, 3) showing Hermione (Emma) actually
lowering the shrouded body down to the grave among the sand dunes.
Victoria also writes how kind the crew was through the long day, even letting the girls use the casts porta restroom. She writes one funny encounter: "I walked out of the casts private bathroom I had to walk over Griphook (Warwick Davis)
himself lol, he laughed and said 'its ok im so short you can just walk
over me, it was so funny." She also said that she heard after filming the cottage will be taken down and put in storage, and that possibly "they have apparently built another Shell Cottage in doors at Pembroke
Dock somewhere, just in case the weather was to bad for filming, but I do
not know where."
As we know there are hordes of press covering this filming, in particular chasing after Emma Watson and Victoria writes of one special photo she took:
Emma was walking up the beath after filming with the other cast members
and walked past some drift wood. as she did, she stopped, took a few
steps back and removed her sunglasses to have a really good look at the
piece of wood on the shaw. It was such a peaceful moment, even though
the paps really spoilt it, by running up the beach to get pics, the
poor girl was never left aloue, they were so brutal but this has to be
one of my favorites, bless her, she's really lovey and so beautiful….."
Be sure to check out over 70 photos she sent, including many more of Rupert Grint, Dan Radcliffe, even Warwick Davis, here in our image galleries. Thanks ever so much to Victoria!