Work on the Set of Harry Potter and the Deathly Hallows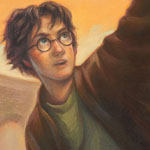 May 27, 2009
OK this is cool: WB has launched a contest that will allow a lucky fan to actually work on the set of Harry Potter and the Deathly Hallows. The Press Association is reporting today that in conjunction with the re-release of the first five Harry Potter films on Blu-Ray and DVD in the UK, they've hidden a token inside one of the discs. The winner "will spend a week on the set at Leavesden Studios,
Hertfordshire, working with members of various production departments
including set decoration, hair and make-up and the prop department.The winner will also spend time with the film crew and may even have the opportunity to meet members of the cast."
Other great prizes include: Three second prize winners will win a home entertainment system and a
DVD box-set of Harry Potter Years 1-5, and 30 third prize winners will
receive a Harry Potter Quidditch goody bag containing a Quidditch
helmet, training bag and T-shirt.
The re-release will take place on June 15. Good luck to all!