Video of Burned Trailers from New Attack Scene in Harry Potter and Deathly Hallows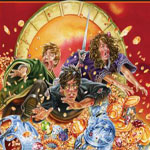 Aug 13, 2009
Yesterday, we learned of a new scene added to Harry Potter and the Deathly Hallows which takes place as Harry and Hermione are camping while on the run, and arrive at a spot with trailers only to see the Death Eaters have attacked. London Taxi Tours now has video online here, taken from the public road outside of Leavesden Studios that clearly shows these burned trailers, complete with green screens used for filming.
Harry Potter and the Deathly Hallows: Part One will be released on November 19, 2010, with part two due in July, 2011.
Thanks much to UHP via SS and London Taxi Tours!