L.A. Wizarding World Plans Approved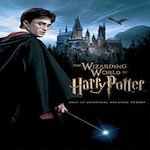 Apr 25, 2013
Plans to build a Wizarding World of Harry Potter theme park at Universal Studios Hollywood in California have been approved! The theme park is part of a large–$1.6 billion–upgrade project for Universal Studios Hollywood. This expansion and upgrade was officially approved by the L.A. County Board of Supervisors. As apart of the project, the Wizarding World theme park itself is currently budgeted for $500 million (a little less than double the cost of the Floridian theme park). The California Wizarding World will be a replica of the original Floridian theme park that is currently undergoing expansion. The California Wizarding World will begin construction this summer. Variety reports:

NBCUniversal was given the go ahead after the L.A. County Board of Supervisors voted to approve the company's plan to invest in production and tourism projects over the next 25 years, worth $1.6 billion overall.
Company will spend nearly $500 million to build the park, as well as upgrade its studio backlot with new office space, TV production facilities and other infrastructure.
Entire project is expected to create more than 2,000 construction jobs.
The park is expected to replace the space occupied by the 6,000-seat Gibson Amphitheater and surrounding areas like the park's shuttered Terminator 2 3D attraction.
"We thank Los Angeles County Supervisor Zev Yaroslavsky, the entire Board of Supervisors, and County staff for providing us the path to bring much needed jobs and investment to Los Angeles' said Corinne Verdery, chief real estate development and planning officer, NBCUniversal. "The working relationship we have built with the community was invaluable in developing our future plan and we are grateful to our nearly 7,500 supporters and union partners who have been with us every step of the way. We look forward to bringing the Wizarding World of Harry Potter to Hollywood, forever changing the face of tourism in Los Angeles."
color="#646464″>More information on Universal's upgrade project, and the rest of the article, can be found here.