A Pottermore Patronus Test and More from J.K. Rowling's Tweets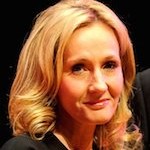 Feb 12, 2015
J.K. Rowling hit twitter on another writing break today. This time when she answered fans' questions she assured Pottermore users that a much-awaited Patronus Test was on the way. She tweeted that she has, indeed, written the test, and it should be available to Pottermore users soon. Ms. Rowling also retreated an advertisement for The Casual Vacancy mini-series, premiering this Sunday on BBC One, as well as the HBO dates set for the United States release. You can view all of her witty responses to fans on her twitter, here.
@jk_rowling <span;">@pottermore Is a Patronus quiz for Pottermore ever going to be created? I would love to see one!

@jk_rowling

.@SlythSnitch I've written one and it won't be too long until you can take it. We're working on it!