Coverage of 'A Celebration of Harry Potter' Talent Q&A, And More!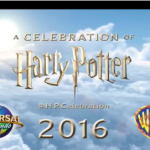 Jan 30, 2016
Earlier today we published coverage of Bonnie Wright and Katie Leung's Facebook Q&A as a part of the various Celebration of Harry Potter events, and now the Harry Potter Film's Twitter (@HarryPotterFilm) have published coverage of the Talent Q&A, featuring Wright, Leung, Matthew Lewis, Evanna Lynch and Rupert Grint!
On working on the Harry Potter films, Evanna said:

On their animagus form, Matthew and Rupert:


Rupert giving us more details on his antics on set: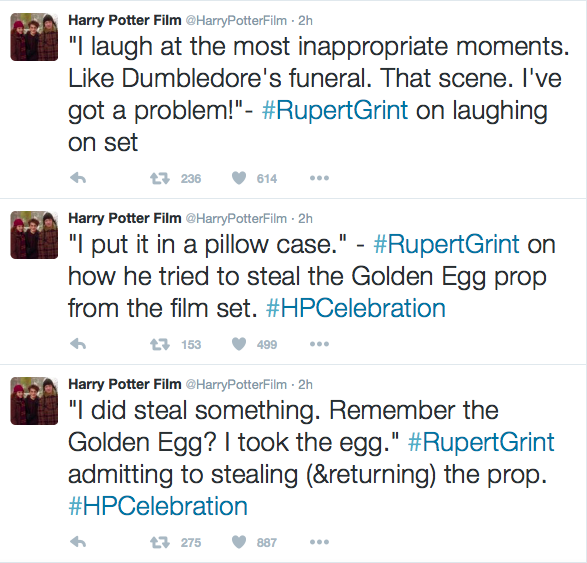 On their favourite stunts, Bonnie and Matt:
On their favourite films:
We're starting to see a theme here – Matthew Lewis really liked playing Neville, and why wouldn't he, with scenes as epic as this!
Rupert, on his favourite spell:

Katie and Matt on their most challenging scenes to film:
And finally, Bonnie and Matt on their characters' theme songs:



During the panel, Rupert also told us that he is a Hufflepuff, and we can definitely see it!
Read the rest of the coverage at Harry Potter Film's Twitter here, and catch up with live coverage of the event so far here (live coverage of today's Film Tribute event below). There's still Bringing the Harry Potter Films to The Wizarding World of Harry Potter on the line-up for tomorrow!
We've been warned by Harry Potter Film's Twitter to tune in to the livestrem at 6:45pm EST (below), and J.K. Rowling has also told us to 'keep watching Pottermore' – so keep posted for updates as more exclusive info is released!