Look Who's Dining with J.K. Rowling
Apr 25, 2016
We all know that good food is integral to the Harry Potter books and films.
While Bonnie Wright and others have confirmed that the delicacies on set were often fake or disgusting, the food at the Wizarding World of Harry Potter theme parks is both real and tasty.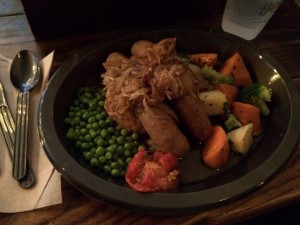 Before the opening of the parks, J.K. Rowling herself tastes the fare to make sure that it is up to standard.  The Hollywood Reporter confirmed this week that samples were made for Rowling in Scotland before the opening of the Wizarding World of Harry Potter in Universal Studios Hollywood.
"The chefs at Universal flew to Scotland and brought the food to her," says Alan Gilmore, the park's supervising art director. "She got to see everything. It was a huge effort to get everything exactly right."
It is also rumored that "Firewhisky," witches' and wizards' alcoholic beverage of choice, will be added to the menu at Universal Studios Hollywood pending Rowling's approval.
In a related note, J.K. Rowling attended a special dinner in the U.S. Ambassador's London home over the weekend, according to ABC News.  She met with President Barack Obama during his visit, and British Prime Minister David Cameron was also there.
If only they served Bertie Bott's Every Flavour Beans at such events…
To read more about J.K. Rowling's theme park influence, see The Hollywood Reporter.  To learn more about President Obama's trip to Britain, see ABC News.