Warner Bros. Studio Tour to Host "Fantastic Beasts" Screenings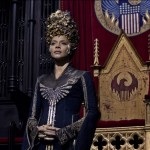 Aug 31, 2016
It is a "Wizarding Wednesday" for Fantastic Beasts social media, meaning there is a surprise for fans in store. Last Wednesday, Fantastic Beasts social media gave away promotional signed merchandise. This week Warner Bros. Studio Tour, The Making of Harry Potter, announced that fans will have the opportunity to see Fantastic Beasts and Where to Find Them at the Studio Tour this November.
Warner Bros. Studio Tour posted the event on their website, describing it as follows:
"Each evening from Friday 18th November to Sunday 20th November, visitors to these special screenings will begin by exploring the authentic Harry Potter sets, props and costumes that are showcased at the Studio Tour. Highlights include the Gryffindor common room, Dumbledore's office, the Weasley kitchen at The Burrow and the iconic Platform 9 ¾ that houses the original Hogwarts Express locomotive. After experiencing green-screen technology flying a broomstick over London just like the Harry Potter cast, visitors will receive complimentary hot food, drinks and Butterbeer in the Backlot Cafe.

"On completing the tour, visitors will be able to grab a drink and snack to enjoy during the screening of Fantastic Beasts and Where to Find Them. The film will be introduced by special guest Pierre Bohanna. Bohanna was Head Prop Maker on all eight Harry Potter films and recently continued his work as Head Prop Maker on Fantastic Beasts and Where to Find Them.

"Visitors will also be able to see Newt Scamander's original costume, magical case and authentic wand from Fantastic Beasts and Where to Find Them as they are displayed in the Studio Tour lobby for a limited time to celebrate the cinematic release."
Tickets, which are priced at 145 GBP,  go on sale at 10:00 AM (probably GMT) tomorrow morning. Ticketing information, an itinerary and terms and conditions may be found here.
Join us this November for special screenings of #FantasticBeasts! On sale tomorrow at 10am: https://t.co/rUoR59GQDb pic.twitter.com/27dY9Umbdt

— WB Tour London (@wbtourlondon) August 31, 2016