EXCLUSIVE: Leaky Interview with Arthur Parsons about new HP LEGO Dimensions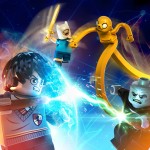 Oct 03, 2016
As Leaky has reported in the past, there are new Harry Potter/Fantastic Beasts elements being added to LEGO Dimensions. Leaky had the wonderful opportunity of participating in an interview with Arthur Parsons, who is Head of Design for Traveller's Tales (TT Games), bringing Harry Potter and Fantastic Beasts and Where to Find Them to LEGO Dimensions.
The Harry Potter Team Pack (a pack consisting of two character, Harry and Voldemort, and two vehicles, the Hogwarts Express and the Weasley Car) was just released at the end of September. The Fantastic Beasts extension pack (a story pack consisting of 6 new Fantastic Beasts levels, Newt Scamander, a Niffler, and MACUSA) will be making its way to the world of LEGO Dimensions November 18, when the films are released.
We had the honor of having the opportunity to ask Arthur Parsons a few questions about bring the Harry Potter Wizarding World to LEGO Dimensions. Arthur told us some exciting details about expanding the LEGO Dimensions world to include the wizarding world that all fans will find new, fun and enjoyable! This interview can be read below:
Were you a fan of Harry Potter before you worked on the games?

Most definitely! I was (and still am) a HUGE Harry Potter fan, having thoroughly enjoyed all of the books and movies (several times over). So, to then be asked to translate that content into a LEGO title was a fantastic honor.

What's most exciting about extending the Potter universe to Fantastic Beasts?

The simple answer here is that the most exciting thing about extending the universe, is that the universe is being extended. Being able to return to the universe, learn all about the new characters and amazing stories, really is wonderfully exciting. I think every single person that has any love for the Harry Potter universe will be blown away by the new movie.

How is the continuity bridged between the Harry Potter LEGO videogames and LEGO Dimensions?

We haven't bridged the continuity. For us, we have taken the content in LEGO Dimensions as its own thing, and as such, have looked at what would work best for LEGO Dimensions. So the Fantastic Beasts story pack is an authentic retelling of the movie, in fun LEGO style, and the Harry Potter team pack is effectively a wonderful highlights reel of brilliant things that we love from the various Harry Potter stories.

What kind of skills and new features will the Harry Potter characters bring to the LEGO Dimensions world as a Team Pack?

The Harry Potter team pack brings both Harry and He Who Shall Not be Named into the LEGO Dimensions fray. We have equipped both of our characters with all of the best spells that fans of the universe would expect: Diffindo, Wingardium Leviosa, Lumos, Parseltongue, Expecto Patronus, Reducto and more. Then we brought in a supporting cast to create some truly scintillating gameplay in the Harry Potter adventure world. Not only that, but we have a Hermione Fun Pack coming in a later wave. For us, it is about the pack offering so much value to Harry Potter fans. Players will get both Harry and Voldemort, plus the Hogwarts Express and the Weasley's flying car, both of which have two alternate rebuilds, an amazing Adventure World, and then also an action packed Battle Arena with which to play against your family and friends.

Similarly, how will the Fantastic Beasts Story Pack enhance the game, especially for Harry Potter fans?

The Fantastic Beasts Story pack is a LEGO interpretation of everything that is awesome in the movie, we are retelling the story over six epic levels, giving players access to a 1920s New York Adventure World, and then also giving the players a themed Battle Arena. Plus there is some incredible hidden content for players to find. As a fan of this universe I am proud of the team here at TT in terms of what they have created.

In addition to the Niffler, will we see any more of Newt's magical creatures in the expansion packs?

There are plenty of Fantastic Beasts to be seen in LEGO Dimensions! I'll not ruin anything for the players, but rest assured we have done everything we can to make this pack a must have for any fan of the universe or LEGO Dimensions.

How will the in-game creatures interact with characters from other franchises?

That is something that you'll have to find out for yourselves when you play the story pack. I can't give all the secrets away!

MACUSA is a part of the Fantastic Beasts Pack as well as six additional levels. How was a world of such strict secrecy and government enforced segregation between magical and non-magical folk tweaked to fit into the Dimensions world?

I don't want to ruin the movie for anyone, so wouldn't want to give you any spoilers, but once you have seen the movie (and then gone to see it again because it is THAT good!) you will be delighted to be able to experience the movie and more within LEGO Dimensions.

What unique challenges were present in introducing characters who can do magic to such an already varied world?

Thankfully, we have the experience of creating the LEGO Harry Potter videogames behind us, as it is that core team working on the Fantastic Beasts content, and as such we like to think we know how to translate magic into a brilliant videogame experience. We've added as many surprises as we can and can't wait to see everybody's reaction once they have played it.

What do you think Harry Potter fans should be looking forward to the most with these expansion packs?

All of us here at TT Games think that Harry Potter fans should be looking forward to revisiting their favorite locations and characters from Harry Potter, and embarking on an exciting new journey with the Fantastic Beasts content. It's a truly magical universe that I think we should all be happy to be able to enjoy.