Pottermore Reveals – A magical insight in to Newt Scamander's case!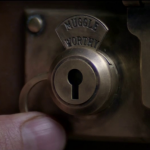 Oct 26, 2016
As we already know, Newt Scamander's worn and seemingly unsuspecting brown case gives away very little to the eyes of a No-Maj. Yet inside, hidden behind the 'Muggle Worthy' setting, lies the fantastic beasts he so desperately intends on protecting.
This week, Pottermore have revealed their experience on set, stepping in to the magical world that is right inside the case itself. The Correspondent begins by explaining their initial reaction –
'Most of the actors had wrapped, and the streets, buildings and shopfronts of the set were disappearing bit by bit. Eddie Redmayne still had to film some of the scenes inside the case, so it was the one set that had stayed exactly where it was – intact and in use.
Stepping inside was incredible; it quite literally took my breath away. It was like an enormous cross-stitch of different environments. One moment you could be standing on thick white snow; the next, wandering in a thicket of bright green bamboo shoots.'
Pottermore expands on the experience when imagining the variety of creatures –
'I could imagine the beasts that roamed here. The creatures that lived both in their natural habitats, and inside an enchanted case. I had so many questions: where does the Niffler come from? Which climate does the Occamy prefer? What does the home of a Demiguise look like? How often does Newt pop down here and where does he work? That's when I saw it: the little wooden shed sitting in the middle of these converging habitats. Newt's shed. A thin, modest little shack filled with things that clearly belong to a practising Magizoologist.'
'Boots, overalls, and jackets were scattered about, as though Newt Scamander had just stepped out of them. Outfits suitable for every environment you can imagine: cold and wet, hot and dry, snowy, swampy, sharp, dangerous and unknown. The shed itself was just big enough to fit him, his tools and his research. And, for a few minutes, me.'
The wait is nearly over – It won't be long until the extraordinary secrets hidden within Newt's case come to life on screen!