Cinesite Creates Visual Effects Magic for "Fantastic Beasts"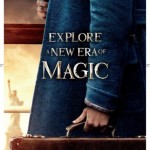 Dec 16, 2016
Cinesite contributed to over 2,000 visual effects shots over the course of all eight Harry Potter films and brought that wealth of experience to recreating wizarding magic in Fantastic Beasts and Where to Find Them. Cinesite created just under 100 shots for Fantastic Beasts, including the unforgettable dinner sequence in Tina and Queenie's apartment.
Viewers were treated to the sight of pastry dough, cinnamon-sugary apples, and what appears to be raisins wrapping into an elaborate lattice topped with rosebuds, all as the table sets itself with the flick of their wands. The delectable apple strudel looks so warm, enticing, and perfectly crisped, that the audience can practically taste it.
Animation World Network (AWN) breaks down the shot, constructed with custom effects:
"Having multiple CG plates, bowls, apples, napkins, cutlery and glass flying through the air meant careful choreography was required. Many objects had transparent surfaces, requiring refraction. The lighting environment around the CG table was very complex, with multiple light sources to replicate…Heavy animated texturing, shading and displacement work was required to give the appearance of cooking whilst the strudel floats through the air."
Cinesite also built set-extension shots, adding special effects to scenes such as the view from the girls' apartment, where they recreated the 1920s skyline in detail. Their work continued inside the apartment, as well, with contributions to the memorable suitcase scene in which Newt, followed by Jacob, descends into a workspace filled with multiple environments. The suitcase is reminiscent of the charmed tent used by the Weasleys at the Quidditch World Cup in Harry Potter and the Goblet of Fire, where Harry, and viewers, are awed by the magically-expanded interior. It's the tricky entrance, however, that required Cinesite's expertise.
In order to achieve the final version of this scene, highlighted by Jacob humorously squeezing through the tight suitcase opening, Cinesite replaced the live-action shot with CG. AWN elaborates:
"Much of Cinesite's work involved painting and clean-up to remove Dan's legs and rebuild the floor when the case jumps up into the air.  Additional clean-up was required to bend and manipulate Jacob's arms to convincingly lock them onto the edge of the suitcase (which the team had made smaller), adding interactive shadows to the case."
Cinesite's special effects wizardry made the Fantastic Beasts world a reality, and they will presumably bring their expertise to future films in the series, making them a sight to behold! To read the entire article, click here.
Also check out Leaky Cauldron features on Cinesite's contributions to other Harry Potter films, including Prisoner of Azkaban, Goblet of Fire, and Half-Blood Prince.