Mark Williams to voice Dad in 'We're Going on a Bear Hunt'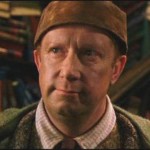 Dec 17, 2016
Mark Williams, the actor who played the lovable Arthur Weasley, will be the voice of Dad in 'We're Going on a Bear Hunt,' a Channel 4, Lupus Films and Walker Productions' animated adaptation of the best-selling children's book.
The book, by the same name, was written by Michael Rosen and illustrated by Helen Oxenbury. It is, as most could probably guess from the title, a story of children who sneak away from their parents to go on an adventure with the hopes of finding a bear. The roles of Mum and Dad were specifically created for the film, having not originally been a part of the book-version, however, the plot of the story remains mostly the same.
Williams said the following to Channel 4 about his character, Dad:
"He's a loving Dad, and being a Dad is the best job in the world. Dad is with Mum and they have five children including a baby, plus Rufus the dog. I think it's a bit of a confused household, he can't find his keys et cetera – I think that's mostly his problem. I think there is a case for saying there is something called Dad-Head which is when your family lives in your head like a swarm of bees. Mums are much better at just swatting the bees away but dads sometimes get a bit overwhelmed. He's one of those dads."
Williams also commented his thoughts on voice-acting, something he has only done a few times in the past:
"To be honest, it's no different. I spend a lot of time doing voice work and you're still very much in character. You use the same parts of your brain, the same emotions. I always find the most difficult lines are when you have to make noises and you always feel such an idiot. Well, I do! I'm asked: "Can you just, sort of, laugh a bit?" and you go: "Huh-huh-huh". That's when you become self-conscious… Everyone gets a bit self-conscious, otherwise you wouldn't be human would you?"
Williams has always been a fan of Rosen's work, and knew 'We're Going on a Bear Hunt' well as he used to read it to his own daughter when she was younger. He found the book entertaining and genius and one the main reasons he was excited to join in on the project was because Rosen has been working closely with them from the beginning:
"It's so reassuring that what we're doing is validated by the originators and it hasn't been stolen from them! So that's wonderful and it means that this film has a lovely, loveable atmosphere to it."
Williams and his family, as well as many others, are anxiously waiting to watch the 30 minute film when it airs on Channel 4 on Christmas Eve at 7:30 pm or on Christmas Day at 5:25 pm. Read Williams' full interview with Channel 4 here.