Listen to the Deleted Ilvermorny Song From 'Fantastic Beasts'!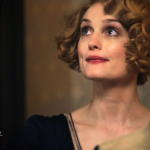 Jan 29, 2017
Remember David Yates said the Ilvermorny song was cut from Fantastic Beasts and Where to Find Them?
Look no further – you can now listen to the extended scene of Newt and Queenie sharing their memories of their respective wizarding schools, which also features Jacob's iconic (but cut) line, "I want to be a wizard":
The video was released as part of a promotion at A Celebration of Harry Potter in Universal Orlando. Here's the lyrics:
(ca-caw, ca-caw)
(purr, purr)

We stand as one, united
Against the Puritan
We draw our inspiration
From good witch Morrigan

For she was persecuted
By common wandless men
So she fled from distant Ireland
And so our school began

Oh! Ilvermorny, Massachusetts
We choo-choose it
We choo-choose it
The wizard school supreme

Your castle walls, they kept us safe
The days with you, a dream
You taught us all our magic
And now one thing's quite clear

Where'er we roam
Where'er we roam
Our one true home
Our one and own

Is Ilvermorny dear!
For comparison, here's the Hogwarts song, which Dumbledore says you can sing in your favourite tune. We have yet to test this theory – would it work to The Schulyer Sisters?
Hogwarts, Hogwarts, Hoggy Warty Hogwarts,
Teach us something please,
Whether we be old and bald
Or young with scabby knees,
Our heads could do with filling
With some interesting stuff,
For now they're bare and full of air,
Dead flies and bits of fluff,
So teach us things worth knowing,
Bring back what we've forgot,
Just do your best, we'll do the rest,
And learn until our brains all rot.
We love Tina and Queenie's rendition – does it beat the Hogwarts theme? It's a got a bit more history and sophistication to it, that's for sure, but the fun of the Hogwarts theme doesn't go unappreciated!
See more deleted scenes in the Blu-Ray and DVD release of Fantastic Beasts on March 27th. Read more from A Celebration of Harry Potter here (Day 1) and here (Day 2).