Unofficial Harry Potter Knits Still Available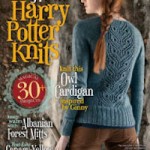 Feb 25, 2017
How could we have missed this? We have post owls flying hither and yon, and we toil tirelessly 'round the clock, aided by copious amounts of butterbeer, pumpkin juice and, uh, maybe a touch of fire whiskey.  We don't miss much.
But somehow we never told you that in 2013, Interweave Press released The Unofficial Harry Potter Knits, a collection of over 30 Harry Potter-related knitting patterns, from Ginny's owl cardigan to Hagrid's canary yellow tent-like pullover.  The patterns are organised into Hogwarts courses, with, for example, Fred & George's Socks and Ignotus Peverell's Cloak in Transfiguration, the Forbidden Forest scarf in Care of Magical Creatures, and Luna's Heliopath Vest in History of Magic.
The magazine also features an interview by Leaky's own Amanda Kirk with Jany Temime, costume designer for Harry Potter films 3-8, a photo essay on Harry Potter's Britain by historical fiction author Sarah-Jane Stratford, as well as enough magical Harry Potter-related tidbits and treats to engage and amuse fans even if you do not knit.
27 of the patterns, minus the accompanying articles, were compiled into a book called Knitting Wizardry, which you can purchase in addition to or instead of the magazine.  TLC also has an archive of reader-submitted knitting patterns, which you can find under the "Potter Crafts" tab.
Happy knitting!