Jude Law Casts a Spell Over Television, Film, and Stage in 'Young Pope,' 'King Arthur,' and 'Obsession'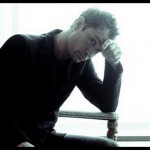 Apr 27, 2017
The fandom is still abuzz over Jude Law's casting as young Albus Dumbledore in the upcoming Fantastic Beasts sequel. And, since he'll take over the iconic part for the next four films, we're clamoring for indications of how he'll play the role.
Leaky just reported on Law's first statements since the announcement, and it's encouraging to hear how committed he is to embracing all the trappings of this wizarding world, from understanding the high expectations of the fans to seeking out JK Rowling herself in order to best bring her vision to life.
If the knowledge of his enthusiasm was not enough to stir up your excitement, look no further than his three current projects for evidence of his outstanding talent and charisma. Law is setting television, film, and stage ablaze, casting his spell over audiences with performances in The Young Pope, King Arthur: Legend of the Sword, and Obsession.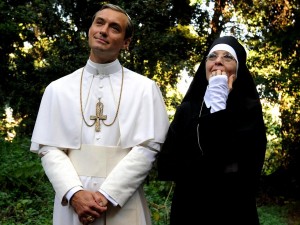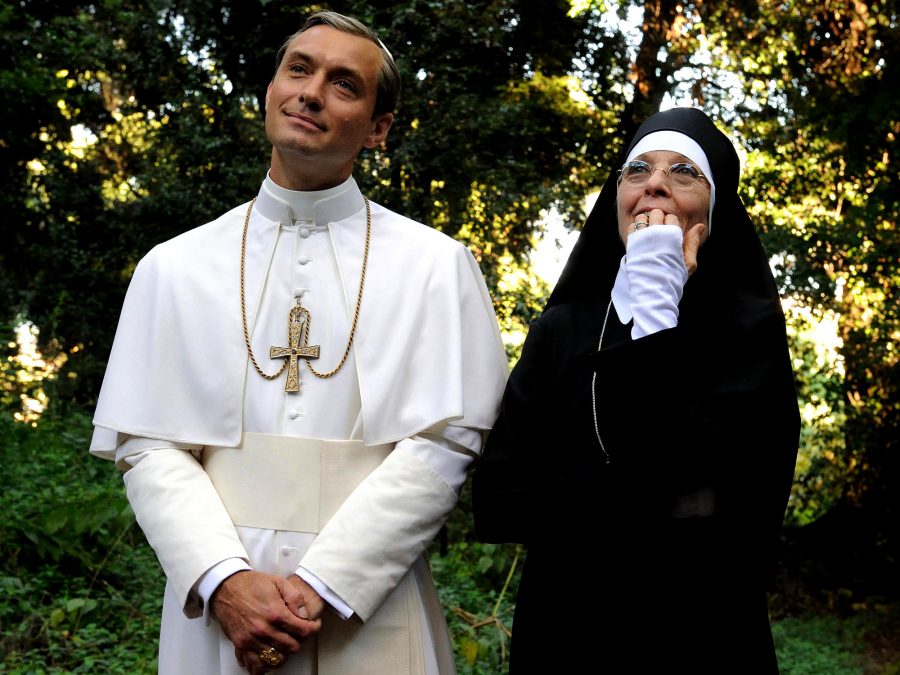 In The Young Pope, an HBO series from Paolo Sorrentino, Law plays a young American cardinal, Lenny Belardo, who is unexpectedly selected as the next pope. According to The Sydney Morning Herald, Law's approach to portraying Belardo was similar to his stated intention in taking on Dumbledore–to draw inspiration from the character's creator and become well-versed in the history and background of the story. He said:
"When I started I thought, I need to educate myself on papal history, on Catholic history, on life in the Vatican. But I didn't really find any answers there as to who this character was."
So Sorrentino redirected his focus, encouraging him to consider the narrower scope of the man's personal experience as an orphan rather than the broader context of the church. Law said:
"At his heart, [Belardo] is trying to understand this sense of lack of love…A lot of the part he plays as Pope Pius is trying to understand that and, if you like, reflect his sense of solitude."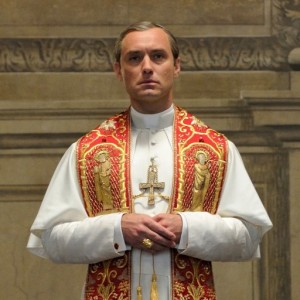 Law also reflected on the magnificent costumes and set pieces required for doing the role justice. Not only do they give the viewing audience an authentic experience, but the props and dress also aid the actor in becoming immersed in the part. He said:
"I think when I was starting out [as an actor] I underestimated the power of costume…And in this role, unlike almost any other, putting on the robes, the white daily robes or the more formal robes of ritual, it had a great impact.

"A huge amount of revealing and feeling the sort of status of someone in that position is helped by the reaction of others…And when you're being carried in by 12 men on a golden throne with robes, bejewelled robes, it helps a lot."
Clearly, Law can pull off the elaborate look without appearing awkward, which is excellent news since he'll be donning robes again for Fantastic Beasts. It's also good to know he's familiar with engaging an otherworldly environment and understands how interacting comfortably with incredible sets and majestic costumes is essential to making such a story seem real and accessible.
Law also commits wholeheartedly to the period action-adventure drama King Arthur: Legend of the Sword as the complicated villain, Vortigern.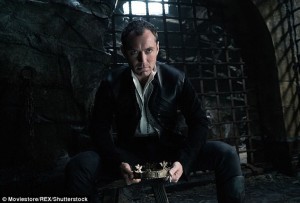 The Los Angeles Times sets up the film as follows:
"Vortigern–whom Law plays with the calculated, charismatic complexity he refined as Pope Pius XIII for HBOs 'The Young Pope'–seizes the crown after staging a coup against Arthur's father and his own brother, King Uther Pendragon (played by Eric Bana)."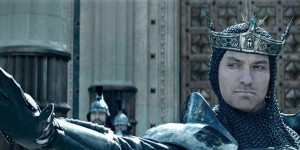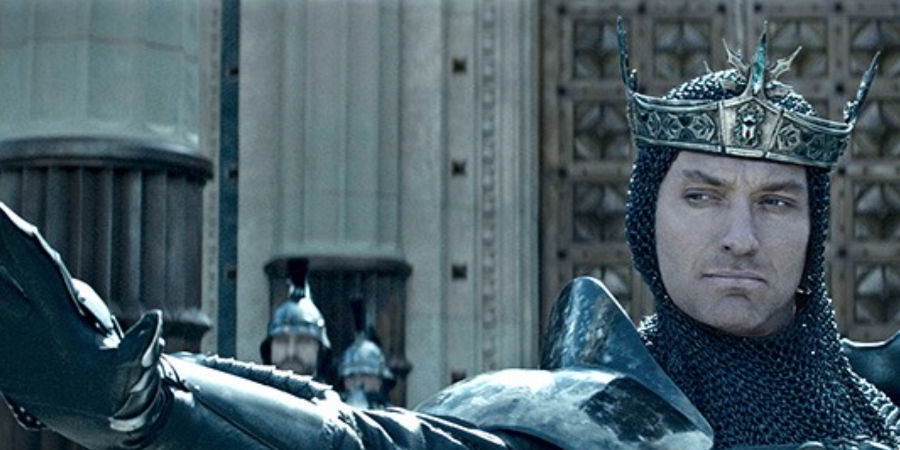 Considering Vortigern's motivations, Law observed, "He's somebody who's drunk on power…He's lost in attaining a higher position of dominance at the cost of anything." Making the antagonist relatable, or even, if possible, empathetic, is an unenviable task, but one which Law readily accepted. He said:
"I've never been particularly interested in taking parts that are one or the other…You sort of take parts that have a complexity to them and you try to bring humanity to the villains and a sort of edge to the heroes and meet all of them somewhere in the middle."
And in King Arthur: Legend of the Sword, the stakes are high. The new poster shared by Flickering Myth features the steely-eyed Vortigern, who we believe capable of doing whatever he deems necessary to remove the obstacles in his way.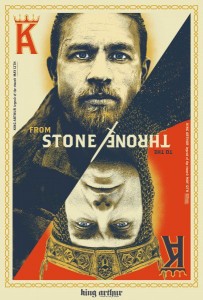 View the latest official trailer below and catch a of glimpse of Law's ability to channel the raw edge of obsession, power, and the fear of losing it all. The film, directed by frequent collaborator Guy Ritchie, is in theaters May 12th.
The ability to portray the nuances of inner turmoil with such depth will undoubtedly serve Law well as he delves into Dumbledore's past and the difficult path that will inevitably lie ahead. It will be a mesmerizing experience to see him struggle through Dumbledore's guilt over Ariana's death and navigate his conflicted loyalties, choosing between his former friend, Grindelwald, and the fate of the wizarding world at large. It will also be especially interesting to see how Law handles Dumbledore's temptation for power, having already played men who were undone by it.
And speaking of men who come to regret their disastrous choices and obsessions, Law is also starring in the play Obsession, currently running at the Barbican Centre through May 20th. The Telegraph gives the following summary:
"Obsession is Van Hove's response – using flat-as-Holland dialogue by Simon Stephens – to the 1943 Visconti film Ossessione (itself inspired by the 1934 James Cain crime novel) about a handsome drifter called Gino who pitches up at a makeshift tavern belonging to an unhappily married couple, seduces the wife, and then plots with her the unappetizing hubby's dispatch, only to rue the entanglement. Van Hove has junked the Italian trappings – save for some operatic outbursts – and, deploying a design horribly reminiscent of an under-used foyer in the Barbican itself, exposes his actors on a bare-minimum stage."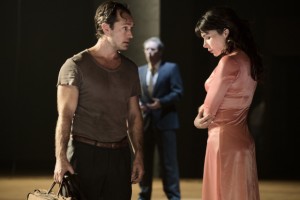 Though this would, on paper, seem to be an unflattering role for Law, he seems to relish the challenge of taking on another character who is not straight-forwardly understood and making you invest in what happens anyway. The review says:
"Law smolders despite the sterile surrounds; first in silhouette, playing harmonica. Not only does he have the gym-buffed torso of a model but that aliveness of look, that manly-boyish, angel-devil aura, which makes you follow him, fixate on his every restless, prowling move. You don't have to be fully obsessed with Law to enjoy this wayward, by turns gripping, gritty and grating, affair but it sure helps."
It is just this kind of intensity, Potter fans, that will make him a worthy match for Johnny Depp's Grindelwald onscreen. But then, Obsession is an intense story, and it requires Law's gravitas and presence to hold it together. Even then, the Evening Standard reports, Law insists it will not be an easy-going journey, one in which the audience is "spoon-fed." He said:
"[The] very quick, very extreme character changes [could leave theatregoers] trying to work out why you've gone from meeting someone to into bed with that person into killing that person's husband into running away…It means you come along and you're treated with respect and you're asked to work a little harder than usual and you usually leave with a greater sense of reward."
To view more images from the stage production of Obsession, see the What's On Stage photo gallery here, and stay tuned for more details on young Dumbledore and Jude Law's turn in the role as that information is revealed!