Conjure Your Own Magical 'Harry Potter' Party!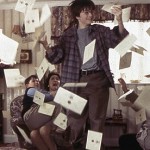 Jun 10, 2017
Most ardent members of the Potter fandom know someone who would dearly love a full-fledged Harry Potter-themed party, anytime, anywhere. Let's face it, you'd probably like one thrown for you!
You've seen articles and Instagram posts floating around social media of spectacular themed weddings and other events but, honestly, who has a vault full of gold galleons sitting around to finance something that extravagant?
So you take a look at Pinterest for some do-it-yourself guidance, and you're instantly overwhelmed by the staggering wealth of possibilities. For the average fan without a wand (or the experience of a Martha Stewart), it feels like a #pinterestFAIL waiting to happen!
The good news is–you CAN do it, and you won't even need a vial of Felix Felicis. It's all about prioritizing, being creative, and having fun! With the 20th Anniversary of Harry Potter and the Philosopher's Stone coming up, what better time to start preparing?
1) Decide what you are willing to pay for. (Make a budget.)
It's unrealistic to think that most of us can foot the bill for everything and anything we could want at a Harry Potter-themed party. My goodness, where would it end!? So take a good look at your abilities and your budget and decide what you're willing to pay for in order to enjoy a guaranteed higher level of quality.
At a birthday party recently thrown by one of our staff, many of the items were DIY numbers, but the party planners decided that for the sake of time, paying a bakery to craft "Cauldron Cake" cupcakes was a worthwhile expense. With other decorations to set up and a spread of other wizarding delicacies to assemble, knowing that beautiful Cauldron Cakes would be prepared by someone else was a life saver!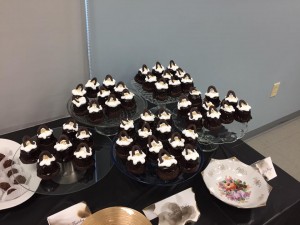 It also made sense to go ahead and spring for tablecloths and store-bought candies. Thumb through your books for a list of items offered at Honeydukes, The Three Broomsticks or The Hogshead, and the Hogwarts feasts–many items commonly found in your grocery's candy aisle can double as fun magical treats.
For example:
Any orange-colored juice can serve as a good substitute for "Pumpkin Juice."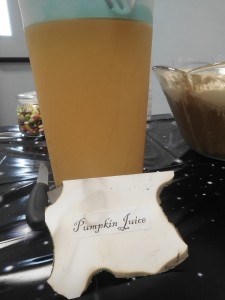 You may not be able to find "Jelly Slugs," but how about "Jelly Frogs" or "Jelly Turtles"?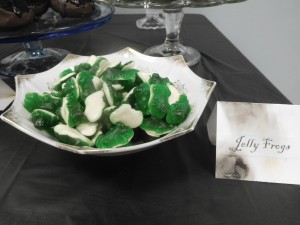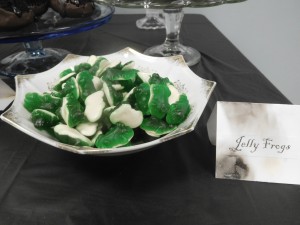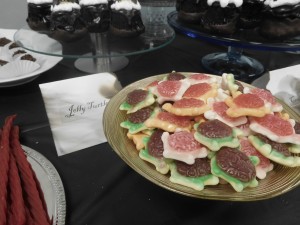 Any variety of licorice straws make excellent "Licorice Wands."
And since this party was for a devoted Hufflepuff, these cheese puffs were a creative (and yummy) house reference!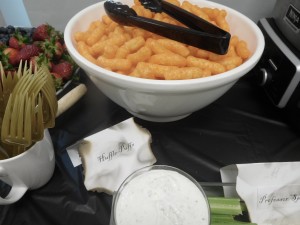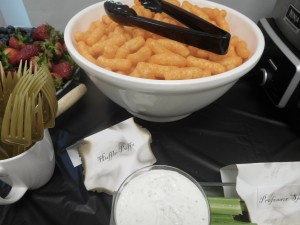 Creativity is the key. Use your imagination, and you can easily find "Sherbet Lemons," "Pepper Imps," "Peppermint Humbugs," "Bertie Bott's Every Flavor Beans," and loads of other favorites.
If you want to round out your table, even a fruit and vegetable tray can conjure up Hogwarts magic when properly named. Here's a sampling of "Professor Sprout's Harvest."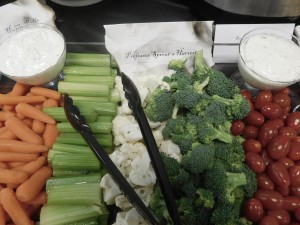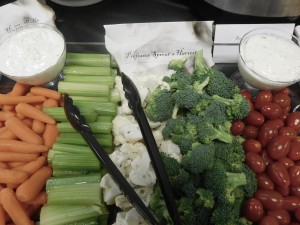 And who can forget butterbeer? (Would it be possible to throw a Harry Potter party without it?! We think not.)
If you've ever had an ice cream float or a sherbet punch, you'll follow the track we're on here. Simply mix any brand of Cream Soda and Vanilla Ice Cream and you've got a perfectly-delicious butterbeer replica that not only tastes good but is NOT so super sweet that it's a trial to finish. (No one wants to look like they're choking down Polyjuice Potion!)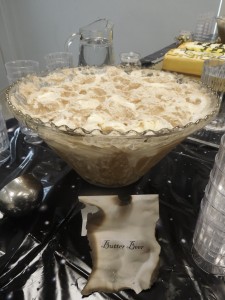 2) Evaluate what you can reasonably do yourself.
Reasonable is the key word here, Potter fans. Don't put a long list of extremely-detailed items on your agenda and expect to get them done to your satisfaction the night before the party. Plan ahead and give yourself plenty of time to finish each item. Or, consider inviting a few friends over for a DIY crafting night. After all, many hands make light work! (And do you really need an excuse to hang out and do wizarding-themed activities?)
Also, it must be repeated, do an honest appraisal of your skill set and/or the technology you have access to. If you've never crocheted in your life, for example, that awesome pattern of a Sorting Hat may not be the first one to start with. (Full disclosure, start with a pot-holder. If it's even remotely square, you can be satisfied with your results.)
Now, here are some of our favorite DIY ideas. About those names cards…
Simply print out the desired name on standard copy paper, glue it to card stock, and burn the edges with a lighter for effect! Take another look–here are some chocolates labeled as "Exploding Bon Bons."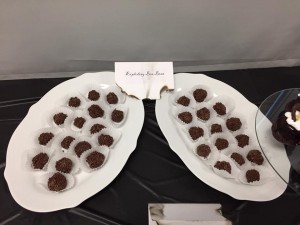 One Pinterest item we found doable was balloon owls. Purchase helium-filled balloons at your local party or grocery story and draw the face with a permanent marker. You can easily have your own Hedwig or Errol–or a complete owlry!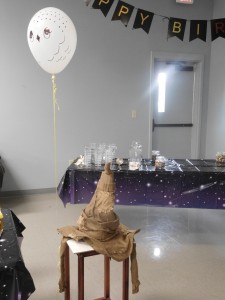 Demonstrate your potions prowess by mixing food color with water. All you need are some cool bottles: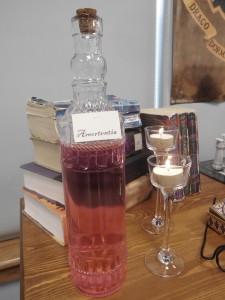 Photobooths are all the rage these days, so why not give it a magical spin?! Make a photo frame out of poster board or foam core. If you use poster board, you can cut out the center with scissors. If you use foam core, you'll need an exacto knife. For the most control when lettering, use a chalk or paint pen! Then print online images of the most infamous wanted wizards and create a menacing background. Your friends will be clamoring for a turn to have their own "mug shot" taken!
If you have enough prep time and really want to create an immersive experience, here are a few more labor-intensive suggestions.
Recreate the iconic moment when the living room at 4 Privet Drive is filled with hundreds of Hogwarts acceptance letters as they fly from the Dursley's fireplace. Like the name cards, print out the address as seen in the book and glue it to an empty envelope. Give it the appearance of being sealed by affixing a circle of red construction paper with an "H" on the back. Next, run thread through two or three envelopes, tying them off along the line so that, when hung, it will seem they are floating haphazardly.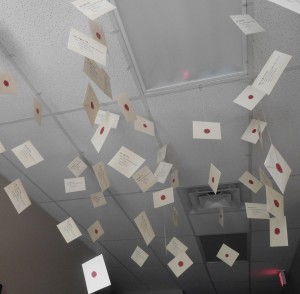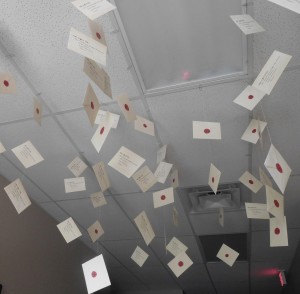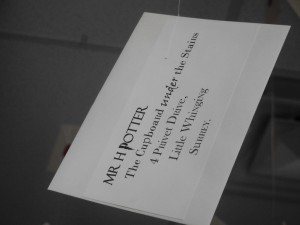 Make your own house flags. You could find these available for purchase online, of course, but if you have the means to make them and want to spend the money saved elsewhere, this might be doable for you! Purchase inexpensive cotton blend cloth in the house colors at your local fabric store. Print the house crests from your personal computer and affix with craft glue. Hang from the ceiling or walls.
(The ones pictures here were about a half yard apiece. The crests were printed on a drafting printer–it pays to know someone in the field. However, you could easily make smaller versions or take your photo to a print shop and have it blown up.)
3) Be flexible.
Our staff member really wanted to have a Platform 9 3/4 at the party to serve as an official portal into their humble version of the wizarding world. As expected, Pinterest had many suggestions here, including painting bricks onto a sheet. That would have been doable but very time consuming. So, considering guidelines one and two, they decided to purchase some inexpensive "brick" material online.
When it arrived, however, it was clear the fine print had been overlooked. It was not a light-weight, easy-to-hang paper or cloth, but a heavy wallpaper. (That's right, the kind you plaster to walls.) Rather than sending it back, the decision was made to roll with it and make it work.
With a little practical engineering and problem-solving ingenuity (and some heavy-duty twine), the paper went up like a shower curtain!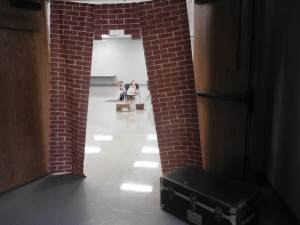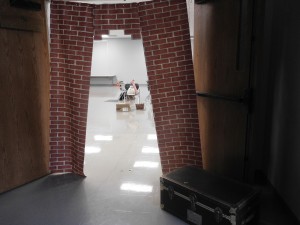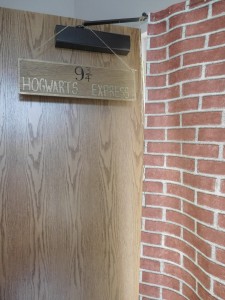 So, take a deep breath, channel your inner Hermione Granger, and be flexible. Some things may not turn out as planned, but no one else will know!
4) Bring out the Potter-inspired décor and memorabilia.
Chances are, if you're thinking about throwing a Harry Potter-themed party, you already own more memorabilia than you realize. Dust those items off (if not already prominently displayed in your home), and scatter them around the party for effect. Whether it's a wand, wizarding chess set, stack of books, scarf, poster, or Honeydukes jar, it will most certainly transport your guests to the wizarding world.
Go one step further and use an old chest or footlocker as a trunk for school supplies. Use a graduation robe for a cloak, bring out eclectic candlesticks and plate-ware–get creative!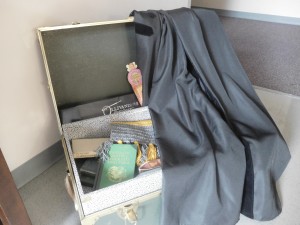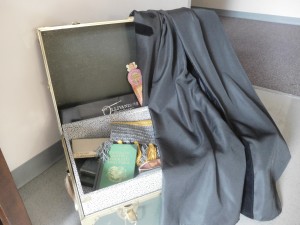 5) Focus on creating an experience.
Having all the trimmings–from Pumpkin Pasties to floating candles to every Potter-themed item money can buy–would be awesome, but you can have half those things and still create an incredible magical experience. It's about making the party fun and inviting your guests into J.K. Rowling's wizarding world!
Ask people to dress as their favorite character or in house colors. If they aren't sorted, hold a sorting ceremony! Break out Harry Potter trivia and, if so inclined, keep score to promote healthy competition between houses.
Make, or purchase, Harry Potter mad libs and revisit everyone's favorite passages from the Harry Potter book series. Or host your own Quidditch game! Head outdoors if you're feeling particularly ambitious–or adapt an indoor version with balloons, brooms, and hula hoops.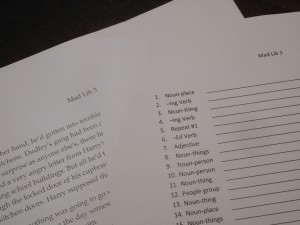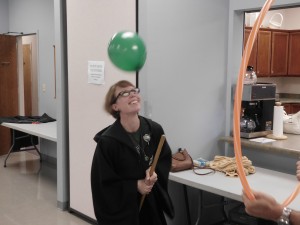 At the end of the day, do what you can, and don't be too hard on yourself. Settle on your must-haves and then tear yourself away from Pinterest. Remember, when it comes down to it, the best Harry Potter party is all about enjoying the characters and the story–not about the accumulated stuff. Share what you love about this amazing world and its fandom. Then you will have held an event to be envied and remembered!
 Will you be hosting a Potter-party on June 26th to celebrate the 20th Anniversary of the series? Let us know your plans, and if you've hosted a party before, share your tips in the comments!