Exciting New Film Teasers for Leung, Pattinson, Waterston and More!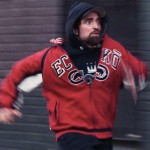 Jun 30, 2017
As fans we always look forward to news on the upcoming projects of our favorite Harry Potter and Fantastic Beasts alums, but we can't deny there's something particularly exciting about the release of a teaser. Whether it's a new full-fledged trailer, poster, still shot, film clip, or behind-the-scenes production teaser or image, nothing fuels anticipation quiet like a glimpse of a great actor or actress in action. And this week we have quite a few to share!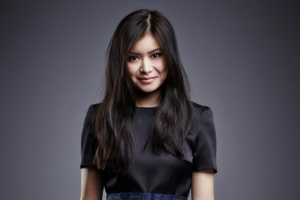 Katie Leung, known to Potter fans as Ravenclaw Cho Chang, stars in The Foreigner alongside big-screen heavyweights Jackie Chan and Pierce Brosnan. According to the synopsis posted on Screenanarchy:
"The film tells the story of humble London businessman Quan (Chan), whose long-buried past erupts in a revenge-fueled vendetta when the only person left for him to love — his teenage daughter — is taken from him in a senseless act of politically-motivated terrorism. In his relentless search for the identity of the terrorists, Quan is forced into a cat-and-mouse conflict with a British government official (Brosnan), whose own past may hold clues to the identities of the elusive killers."
Den of Geek reports that Leung plays Chan's daughter–and the impetus for the action and suspense that ensues. The film will feature a dark side of Chan rarely scene in cinema, as he normally employs his martial arts prowess for comedic effect with trademark skill and execution. It will be interesting to see how the film develops the relationship between the two in order to effectively set up the devastating results that follow.
View the first official trailer and promo poster below.

The Foreigner, directed by Martin Campbell and based Stephen Leather's book "The Chinaman," is set to release in U.S. theaters Oct. 13.
A new trailer and poster have also been released for Robert Pattinson's Good Time. Pattinson, who's already receiving critical buzz for his performance in the Safdie brothers' action thriller and, according to Slant Magazine, should have taken Best Actor at the Cannes Film Festival, played Cedric Diggory, the love interest of Cho Chang (Katie Leung), in Harry Potter and the Goblet of Fire.
Here he also encounters impossible odds and obstacles but, rather than facing magical creatures and dark wizards, he's running from the law as he seeks to free his mentally-handicapped brother from prison following a failed bank heist.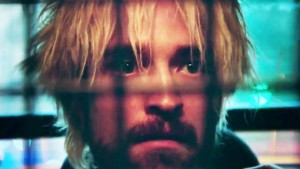 The latest trailer features a mix of psychedelic colors, unnerving sounds, fast-paced cuts between flashes of film, and a steady build in intensity that ends with a freeze frame of a desperate Connie Nikas (Pattinson) on the run. View the trailer and new poster below.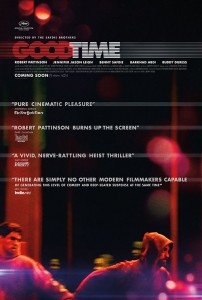 Heist films are well-mined genre, but Pattinson and the Safdie brothers may have a future cult-classic on their hands. It sounds like one not to be missed, if you can find it! Good Time is scheduled to open in select cities Aug. 11.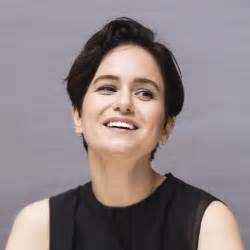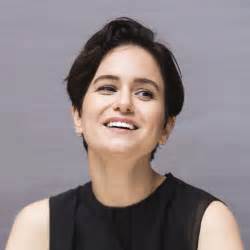 Katherine Waterston, well-known to fans as disgraced auror Tina Goldstein in Fantastic Beasts, stars in a film from Steven Soderbergh about another criminal enterprise. She joins an all-star ensemble cast including Channing Tatum, Adam Driver, Daniel Craig, Hillary Swank, Sebastian Stan, Seth MacFarlane, and Brian Gleeson.
Empire Online gives this official plot summary for Logan Lucky:
"Jimmy Logan (Channing Tatum) is from a blue-collar family from the hills of West Virginia, whose clan has been famous for its bad luck for nearly 90 years. After being fired from his job, and with his ex-wife (Katie Holmes) threatening to move out of State taking their daughter with her, Jimmy decides he has to do something to get his family's life back on track. With a little help from his brother Clyde Logan (Adam Driver), his sister Mellie (Riley Keough) and an incarcerated explosive expert, the aptly named Joe Bang (Daniel Craig), he plans to steal $14 million from the Charlotte Motor Speedway on the busiest race day of the year."
Keep an eye out for Waterston as Sylvia Harrison in the new trailer below.
Logan Lucky will open in U.S. theaters Aug. 18 and is set to release in the UK Aug. 25.
Military Times reports that the first teaser trailer for Sgt. Stubby: An American Hero has also been released. According to Imdb.com, the film is an animated adaptation of "the true story of the most decorated dog in American military history — Sgt. Stubby — and the enduring bonds he forged with his brothers-in-arms in the trenches of World War I."
The film features the voice talent of Helena Bonham Carter, the infamous Bellatrix Lestrange, as Margaret Conroy. Logan Lerman and Gerard Depardieu also contribute. View the teaser introducing the story of this indefatigable stray below.
The film, written and directed by Richard Lanni, is set to open April 18, 2018.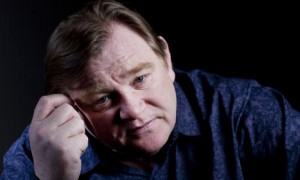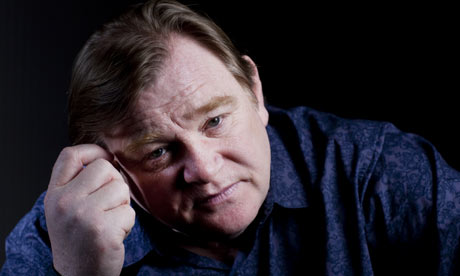 A teaser for Brendan Gleeson's television series Mr Mercedes, adapted from the novel by Stephen King, also dropped this week. Gleeson faces a formidable and deranged foe, Brady Harsfield, played by Harry Treadaway. Harsfield plots to unleash terror at multiple venues by driving his vehicle into unsuspecting crowds of people.
Gleeson told Buzz.ie:
"When Stephen King wrote it, it was pre-Nice and pre-all that…It's a tough one because I'm not mad into gore porn or any of that stuff. I think what we're trying to do is take this stuff which is now a reality and look at the consequences of it."
Check out the behind-the-scenes teaser below.
Finally, Your Local Guardian snagged on-set photos of Jim Broadbent, who played Professor Slughorn in the Harry Potter series, filming Night in Hatton Garden in Twickenham. Broadbent and cast member Ray Winstone could be seen outside Machine Mart, which was visited by original members of the gang as they prepared for their record jewelry heist.
In the images, Broadbent wears an unobtrusive dark grey zip-up sweater and waits for direction between scenes.
The Daily Mail reports that "Broadbent is thought to be playing 75-year-old John Collins in the flick, who acted as a somewhat nervous lookout while the rest of the gang drilled through the wall to access the cash and gems."
The highly-anticipated crime film is based on the real-life "diamond wheezers," who carried out their burglary in 2015. Little else is known about the upcoming adaptation, which is not yet listed on Imdb.com. We'll keep you updated on the status of this film, and the others, as more details are officially released!