Emma Watson Interviews Latest "Shared Shelf" Author Margaret Atwood
Jul 17, 2017
Emma Watson's "Our Shared Shelf" book club has achieved worldwide recognition since its inception in 2016. Most recently Watson announced the "Essential Feminist Bookshelf" which includes the 1984 dystopian novel The Handmaid's Tale, by renowned Canadian author Margaret Atwood as reported here by Leaky. Watson had the opportunity to interview this literary treasure and discuss the inspiration for the book, as well as what motivates her writing.
I interviewed @MargaretAtwood for @EW and my book club https://t.co/jzDJYb7bi0. Such an honour! Full interview here: https://t.co/osaNJVcKMV pic.twitter.com/vJTHFmFgjl

— Emma Watson (@EmmaWatson) July 14, 2017
The Handmaid's Tale, which examines themes surrounding female servitude, is set in a near-future New England where a totalitarian theocratic regime has overthrown the United States government. Due to the current political climate as well as Hulu's Emmy-nominated small screen adaptation of the book, the novel has seen a resurgence in popularity on bestseller lists and in our collective psyche. Atwood's drama isn't the first to find relevance with a new generation of readers in recent months. George Orwell's dystopian classic 1984, which introduced phrases such as "thoughtcrime" and "Thought Police" to our vernacular, skyrocketed to the top of bestseller lists earlier this year. As reported here by Leaky, Harry Potter and the Cursed Child producers Sonia Friedman and Colin Callendar brought their production of 1984 to Broadway and it opened last month to packed houses and rave reviews.
In the Atwood interview, Watson inquired about her inspiration for The Handmaid's Tale. Atwood explained that at the time she started the manuscript she had been living in West Berlin prior to the fall of the Berlin Wall in 1989 and had visited countries behind the Iron Curtain such as East Germany, Czechoslovakia and Poland that experienced repression and censorship. She listed three specific inspirations for writing The Handmaid's Tale while living in that environment during that specific period. The first was that she observed certain conservative entities discussing policies and behaviors they might put in practice if in power. The second was establishment of the United States as a theocracy, as opposed to a democracy, from a historical context and the third was her enjoyment of science fiction from the first half of the twentieth century and interest in writing it herself. About the possibility of modern society evolving to something like what she describes in her novel and how it makes her feel she said,
"…If you were born in the '90s, you were born into a world where quite a few rights for various groups had been established, at least in the West, and you thought that was normal. But if you're older than that and you were born into a world in which this was not the case, you saw the fights that went into those rights being established, and you also saw how quickly—in the case, for instance, of Hitler—that you could take a democratically minded fairly open society and turn it on its head. So, it has happened before, but it's also un-happened before, if you see what I mean. History is not a straight line…"
Watson also asked Atwood why she thinks this material is still interesting to people 30 years after it was written. The author explained in response that she had some rules when she wrote it, the first being that she wouldn't include anything that hadn't actually occurred in life which brings a sense of realism to the story. Her second self-imposed guideline was that she attempted to show how human beings behave when they are dealing with extreme stress.
When Watson broached the subject of adaptations of the novel, Atwood praised Hulu's 2017 television version and touched on her history with film making in general. About her experience she said,
"…I understand that there are things you can do with words that you can't do with pictures and things you can do with pictures and music and acting that you can't do with words. A film is a group effort, any film or television series is. Working on it is like summer camp for grown ups — if the weather is nice and you like the people, it's a joy, but if the weather is horrible and you don't like the people it's hell, and your parents won't come and take you home…"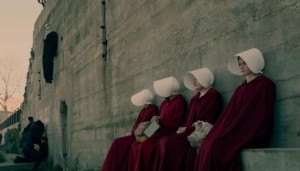 image credit: Hulu
Throughout the interview it was obvious that this seasoned novelist, who is also an accomplished poet, inventor and activist and this young actress, who Harry Potter fans have watched grow up on screen, have much in common. Aside from their experiences working in the film industry, knowing that each project is as Watson put it,
"..the gamble we all take!"
they discussed that the two are risk takers in general. Watson described Atwood as,
"not easily frightened"
and about herself she said,
"…sometimes I do get myself in sticky situations, by being a little braver than I quite know how to be, but the reverse is that you spend time fearing fear itself which I don't find particularly instructive or helpful either."
The most obvious intersection between the two is their passion for literature and  their support of women's rights. Fans of Emma Watson have embraced these qualities in both of her on-screen portrayals of Harry Potter's Hermione and Beauty and the Beast's Belle as discussed in these Leaky articles last spring here and here.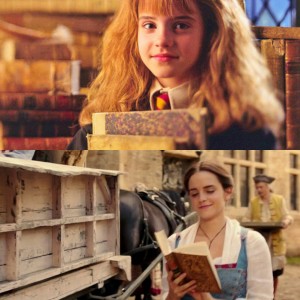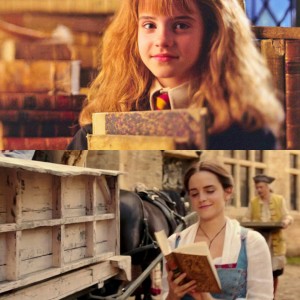 It was no surprise that Watson brought up the subject of feminism and women living in a patriarchal society given the subject matter of The Handmaid's Tale and its place on Watson's Feminist Bookshelf. On this topic Atwood had this to say,
"..It's possible for men to be harmonious with one another even though they're often very competitive. But women too are human beings, that's my foundational belief — so they're not exempt from the emotions that human beings have. Love, hate, jealousy, competitiveness, cooperation, loyalty, betrayal — the whole package."
On the subject of feminism specifically, Atwood said,
"…we have to realize it's become one of those general terms that can mean a whole bunch of different things, so I usually say, "Tell me what you mean by that word and then we can talk." If people can't tell me what they mean, then they don't really have an idea in their heads of what they're talking about. So do we mean equal legal rights? Do we mean women are better than men? Do we mean all men should be pushed off a cliff? What do we mean? Because that word has meant all of those different things."
At the conclusion of the interview, Emma thanked Atwood for writing the book and spending time with her and in return Atwood commended her for all she does to inspire young people.
Fans can imagine from her response that all of the years playing their favorite brainiac wizard and all she has accomplished since flashed before her eyes when she answered in her lovely and modest way,
" I, well, I hope so. Life has handed me an extraordinary set of opportunities, and I'm just trying to be worthy of them."
Emma Watson's full interview can be found at Entertainment Weekly here.
featured image credit: Metro.co.uk