News from San Diego Comic Con's Saturday Panels!
Jul 23, 2017
It was another busy day at San Diego Comic Con Saturday–and especially so for Potter alums and their fans, who had the exciting opportunity to hear big news first and view exclusive footage at panels for Justice League, Star Trek: Discovery, and The Flash.
Ezra Miller–Justice League
The Justice League panel wasn't held until Saturday afternoon, but that didn't stop fan momentum from ramping up early on twitter! It all started with the arrival of the starring cast members, which included Ezra Miller (Credence Barebone), who portrays the big screen version of Barry Allen and his alter ego, the Flash. An announcement also went out reminding fans to unite with their favorite superheroes in the coveted Hall H later in the day!
Ray Fisher, Ezra Miller, Gal Gadot and Ben Affleck on their way to #SDCC ???? pic.twitter.com/7iNeCpQo1k

— Gal Gadot WW Fans (@GalGadotWWFans) July 22, 2017
Guys guys ????? #EzraMiller has arrived in San Diego for Comic Con! #JusticeLeague#SDCC I can't wait his friends ?? pic.twitter.com/azwUxMLO6E

— Aqeel DC (@AqeelHawaj_DC) July 21, 2017
You can't save the world alone. The cast of #JusticeLeague unites in Hall H TODAY. #WBSDCC pic.twitter.com/ATXtFZ95xO

— Justice League Movie (@justiceleaguewb) July 22, 2017
Then, the moment fans had eagerly waited for–screens began to drop and the Justice League took to the stage!
It's time! @wbpictures#sdcc panel is on, screens drop to surround the entire Hall H. Crowd going wild with #WonderWoman getting huge cheers pic.twitter.com/AdTP1F8EZf — Fandango (@Fandango) July 22, 2017 
Ezraaaaaaaaaa pic.twitter.com/vEPjNrg0y6 — Aqeel DC (@AqeelHawaj_DC) July 22, 2017 
THE JUSTICE LEAGUE! pic.twitter.com/djKGqWtsXJ — ComicBook Debate (@ComicBookDebate) July 22, 2017
And finally, as if to reward the audience for their patience and enthusiasm, Warner Bros. released the longest sneak peak of the film to date featuring new footage and more of Barry Allen's trademark comic relief.
Make way for justice. Watch the SDCC Hall H Sneak Peek for #JusticeLeague now. In cinemas November 17. #SDCC2017pic.twitter.com/HB1E1QO8l5 — Warner Bros. UK (@WarnerBrosUK) July 22, 2017
In other big news for Flash fans, Warner Bros. also released the title for the superhero's upcoming stand-alone film!
Just Announced: THE FLASH Movie Will Be Called FLASHPOINT! pic.twitter.com/KnhJRXnS3U — Superhero Filmz ? (@SuperheroFilmz) July 22, 2017
The title Flashpoint comes from the 2011 series created by DC Entertainment President and CCO Geoff Johns and hints at the plotline for the film, which has already gone through multiple rewrites and directors. That story involves time travel and the consequences that naturally result from the creation of an alternate timeline, which affects not only Barry Allen himself, but also other players in the DC universe.
According to CBR, Robert Zemeckis is now currently under consideration to direct, though nothing was confirmed and no new released date was announced. There may still be many unknowns surrounding this installment in the franchise, but that didn't stop Miller from celebrating with fans and signing autographs at the DC booth!
Smarter united. Wiser united. Faster united. Braver united. Bolder united. @justiceleaguewb cast is united NOW @ DC booth #1915! #DCSDCC pic.twitter.com/X1LqrvToaQ — DC (@DCComics) July 22, 2017
Jason Isaacs–Star Trek: Discovery
Leaky's first Comic Con update reported on the Star Trek display available for public viewing at the Michael J. Wolf Fine Art Gallery, and Trek News shared photos of props and costumes from the exhibit. (Follow the link to see many more!)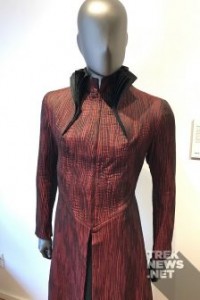 Fans also tweeted photos from the Captain's chair featured at the display.
Got to sit in the Captain chair in the Star Trek Discovery exhibit! #SDCCpic.twitter.com/BAkPlcFqM9 — Blackwigit @ SDCC!!! (@TheBlackwigit) July 22, 2017
Waiting in Ballroom 20!! Got my photo in the captain's chair yesterday. ?????? pic.twitter.com/BxfbghWs4r — Jeron Moore @ SDCC17 (@runjeronrun) July 22, 2017
The cast even surprised fans at the gallery prior to their panel and, as expected, Jason Isaacs (Lucius Malfoy) wanted his chair back.
#StarTrekDiscovery team at the pop-up museum. The writers are the pale ones with the haunted looks.#WhosBeenSittingInMYChair?#SDCC17 https://t.co/DMy6plezsp

— Jason Isaacs (@jasonsfolly) July 22, 2017
A few lucky fans got to take the Captain's seat with the #StarTrekDiscovery cast! #SDCCpic.twitter.com/G8ZEnkWyhe — Star Trek (@StarTrek) July 22, 2017
We found the luckiest #StarTrek fan at the con today… @dianeshreve! #TrekDiscovery#SDCCpic.twitter.com/Y49Lj2C9Te — TrekMovie.com (@TrekMovie) July 22, 2017
Thankfully, captain's duties didn't stop him from chatting with fans and catching up with friends in attendance.
Comic-Con fun and madness. Keep bumping into friends that have other projects. There are other projects?!! #TrueTrek? #SDCC2017pic.twitter.com/GYCV9wcPvD — Jason Isaacs (@jasonsfolly) July 22, 2017
The cast did eventually make their way to the panel, where they were warmly received by a room full of avid fans!
Cast and production staff being introduced. #SDCC2017#StarTrekDiscoverypic.twitter.com/qyFW3aKAaP

— TrekMovie.com (@TrekMovie) July 22, 2017
They then jumped right into assuring the fans of their devotion to the established trajectory of this decades-old, beloved franchise, divulged exciting details about their characters, and spoke about what Star Trek has meant to them as personal fans of the series.
"We are all huge fans of the original series and obviously we want to be accurate. We are within canon." #SDCC2017

— Star Trek: Discovery (@startrekcbs) July 22, 2017
Aaron Harberts: trying to show how conflict is solved by peace. Some mistakes along the way. End of day it's about understanding each other.

— TrekMovie.com (@TrekMovie) July 22, 2017
Jason Isaacs: Lorca differs from other captains in that "he's probably more f*cked up"#SDCC2017#StarTrekDiscovery

— TrekMovie.com (@TrekMovie) July 22, 2017
Isaacs: Lorca has a lot of sharp edges. Trying not to look or sound like and previous captain. #SDCC2017#StarTrekDiscovery

— TrekMovie.com (@TrekMovie) July 22, 2017
Sonequa says Trek has always been about unity and diversity that's one of the main reasons it's so important to so many. #StarTrekDiscovery

— TrekMovie.com (@TrekMovie) July 22, 2017

Rainn: watching Trek as a kid showed him we can get along with other races, other species. #SDCC2017#StarTrekDiscovery

— TrekMovie.com (@TrekMovie) July 22, 2017
According to Entertainment Weekly, the panel also revealed some big news about the relationship between Wilson Cruz's Starfleet officer and Anthony Rapp's Lt. Stamets.
"I play the first openly gay character in the history of TV Star Trek. I'm very proud of that & he's a scientist." –@albinokid #SDCC2017

— Star Trek: Discovery (@startrekcbs) July 22, 2017
Isaacs also noted that which Trek and Potter fans have in common–that both series explore themes (told through incredible stories!) which not only inspire, but also help fans think critically about and engage with the world around them.
Isaacs: difference btw Trek/Potter fans… both fandoms love storytelling and look to it to navigate life. #SDCC2017#StarTrekDiscovery

— TrekMovie.com (@TrekMovie) July 22, 2017
Then, adding images to words, fans were treated to a thrilling new trailer, which was startlingly intense, backed by driving strains of eerie melancholy, and included a first look at Isaac's Captain Lorca in action!
If the trailer's haunting music is any indication of the series' musical themes, Star Trek: Discovery may chart a new course where program scores are concerned, with Jeff Russo at the helm!
Jeff Russo will compose the music–previous work includes Fargo #SDCC2017#StarTrekDiscovery

— TrekMovie.com (@TrekMovie) July 22, 2017
But, that would be no surprise. Though the series may stay within the bounds of classic Trek canon, the mission has always been "to boldly go where no man has gone before."
The @startrekcbs cast looks ready to boldly go where no man has gone before. ? #SDCC #ETComicCon pic.twitter.com/yOfFELbu3m

— EntertainmentTonight (@etnow) July 22, 2017
And, as much fun as they'll clearly have filming (and promoting) the show, it seems all take their responsibility to the history of Trek lore and the fandom seriously. So make sure to tune in–wherever you are!
Premieres in US Sept 24th on CBS TV, then on All Access afterward.. sub is $6/m. 15 episodes in total. On Netflix in 188 other countries. — TrekMovie.com (@TrekMovie) July 22, 2017
Tom Felton–The Flash
As recently as two weeks ago, news outlets reported that Felton's involvement in Season 4 of The Flash was confirmed. Digital Spy listed him as returning to the role of Julian Albert, and Imdb.com included him in the cast list for episode one of Season 4 titled "Flash Reborn."
It is interesting, then, that Felton (Draco Malfoy) did not appear at the Comic Con panel for The Flash alongside other cast members.
The @CW_TheFlash cast always brightens our day! ? #SDCC#ETComicConpic.twitter.com/NaWbb8M4Ym — EntertainmentTonight (@etnow) July 22, 2017
However, since no official statement has been made about his absence, we may as well assume there is a reasonable explanation. It's very possible the show's creators have something special–and secretive–in store for his character, which they are purposefully keeping under wraps! Or, it may simply be that Felton was otherwise engaged this weekend.
We know via the fansite Feltbeats that he was committed to attending "Fantasy in Touch" in Vinci, Florence/Italy on Saturday, July 22. According to the site, he was scheduled to attend a panel to discuss his career and experiences filming Harry Potter. This would seem to be confirmed by Felton's own Harry Potter-themed Instagram posts, which came from Italy.
It's still not entirely clear why his character wasn't mentioned in the panel discussion, but let's hope for the best and enjoy the trailer for the upcoming season below!
The world needs #TheFlash. Season 4 premieres October 10 at 8/7c on The CW. pic.twitter.com/kqNcgCTSoS

— The Flash (@CW_TheFlash) July 23, 2017
David Bradley–The Strain
David Bradley (Argus Filch) attended photo calls and a panel for the television series The Strain on Thursday, and we didn't want it to go overlooked!
Professor, it was good to see you again. You are looking quite well rested. #SDCC @bradders_david #TheStrain @TheStrainFX pic.twitter.com/39PW7xeNgn

— Mini Mister Quinlan (@5thinvictus) July 21, 2017 
Does The Master stand a chance against them? The cast of #TheStrain is united for #SDCC #FXSDCC pic.twitter.com/IppYqJ2RY9

— The Strain (@TheStrainFX) July 22, 2017
Bradley plays Abraham Setrakian on the series, now in its fourth season. The show, currently airing on FX, was described as follows in a recent Leaky report:
"As the fourth and final season begins, nine months have passed. The world has fallen into darkness, and the strigoi are in control. The explosion at the end of season three triggered a global nuclear apocalypse. The resulting nuclear winter liberated the strigoi, allowing them to move about during daytime, and allowing the Master to establish a totalitarian regime."
As part of the panel discussion, actor Corey Stoll discussed his character's role in the upcoming season.
Does Eph still have the drive to save the world? Corey Stoll describes his character's journey at @Comic_Con. #TheStrain#FXSDCCpic.twitter.com/572efgJPeV — The Strain (@TheStrainFX) July 21, 2017
Audience members were also treated to a hilarious comedic sketch in which the characters attended a much-needed therapy session!
Sit down everyone, it's time for a Strain therapy session. Watch this special sketch straight from the #SDCC 2017 panel. #TheStrainpic.twitter.com/XeTPlC1eEv — The Strain (@TheStrainFX) July 21, 2017
There's no better way to end a full-from-start-to-finish day at Comic Con–and an equally packed recap–than with a few laughs. Oh–and some Harry Potter cosplay. Because, Potter panel or no, it's always a good day to be a wizard!
More Wizards!!! @jk_rowling#hpcosplay#harrypotter@geekdads@geekmomblog@comic_con#sdcc#sdcc2017https://t.co/un0yIvPBiFpic.twitter.com/kBO3FOq2Oh — BTB @ SDCC (@billythebrick) July 22, 2017
Had a lot of fun with this group!#Repost @cosplaymom99 (@get_repost) ??? Fun to be part of the huge #harrypotter… https://t.co/H0pUoQbRQDpic.twitter.com/YogOgltaY5 — BTB @ SDCC (@billythebrick) July 22, 2017
#Repost @cosplaymom99 (@get_repost)
???
Why so #Sirius @billythebrick ?? ? nice hanging out with you at #sdcc #sdc… https://t.co/gjvqj6y36g pic.twitter.com/EQBCXt1sYg

— BTB @ SDCC (@billythebrick) July 22, 2017