Breaking News: Cursed Child NYC Cast and Ticket Announcements!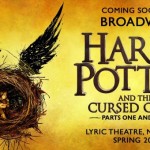 Aug 02, 2017
Since the first report of Harry Potter and the Cursed Child's transfer across the pond to the Great White Way, fans have anxiously awaited news of the production moving forward–and that news has finally arrived! Cursed Child NYC tweeted a series of huge announcements earlier today regarding the Broadway cast and ticket sales.
The first tweet confirmed that seven members of the Olivier-award winning London cast will return to their original roles!
1/4 We're thrilled to announce that 7 of the Original West End cast will be reprising their roles for #CursedChildNYC on Broadway. pic.twitter.com/qRsb1TsHr6

— Cursed Child NYC (@HPPlayNYC) August 2, 2017
WhatsOnStage further reported that the seven actors coming to Broadway WILL be the leads of the original Cursed Child production.
This means American fans will finally have the opportunity to see Paul Thornley as Ron Weasley, Noma Dumezweni as Hermione Granger, Jamie Parker as Harry Potter, Poppy Miller as Ginny Potter, Sam Clemmett as Albus Potter, Alex Price as Draco Malfoy, and Anthony Boyle as Scorpius Malfoy!
The second tweet announced that 28 new (and, of course, brilliant) actors will join the cast, which will open to previews in March and officially premiere on April 22, 2018.
2/4 They'll be joined by a talented cast of 28 new actors. Previews begin in March 2018 & the official opening will be April 22, 2018.

— Cursed Child NYC (@HPPlayNYC) August 2, 2017
Tickets to the magical show will no doubt go quickly, so they followed up with the information fans desperately want–how to get one! They go on sale Oct. 12 and are, as expected, available through registration only.
3/4 Tickets for #CursedChildNYC on Broadway will go on sale on Oct 12 with @Ticketmaster#VerifiedFan through registration only.

— Cursed Child NYC (@HPPlayNYC) August 2, 2017
Registration opens Oct. 1 at 10 a.m. EDT and continues through 10 p.m. EDT on Oct. 5, so mark your calendars and set your alerts now.
4/4 Registration for ticket access opens Oct 1 @ 10AM EDT & closes Oct 5 @ 10PM EDT. Visit https://t.co/tqtl8UIdXR for info. #CursedChildNYC

— Cursed Child NYC (@HPPlayNYC) August 2, 2017
Leaky will continue to report news about Cursed Child NYC as it's released, so check in for those updates. We'll be looking for the names of the new cast members and any other information regarding ticket sales. (For those unable to procure one in the first round, don't lose heart! Remember that the first London run was so overwhelmingly successful, additional tickets were made available every time it was extended! Someone start brewing a batch of Felix Felicis now…)