Tom Felton Filming New Movie 'Whaling'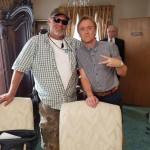 Aug 04, 2017
Filming began on Tom Felton's newest movie Whaling last Thursday, and cast photos have been shared from the set:
See a couple more photos and clips from behind the scenes on Feltbeats here.
The movie was filmed in Guthrie, on various intersections and at Hayes Funeral home, and will also star Tammin Sursok (Pretty Little Liars). The film is written by Sean McEwen and Tammin Sursok.  McEwen will direct. The (certainly unique) story of Whaling is as follows:
"This story follows estranged brother and sister, Star and Brandon, who are brought together over their mother's recent death and her absurd final request to dispose of her ashes in the body of a whale. With no choice or face losing their much-needed inheritance – they embark on a road trip to San Antonio, Texas. They not only encounter adventure, but also encounter each other."
Watch a video of their 'Guthrie take over' below:
If that's not enough Tom for you, you'll be pleased to know that Tom has recorded some short stories for a collection of adult Roald Dahl audiobooks, many based on the author's childhood. Read more on that project here!
Ophelia is also due for release in 2018, and will star Felton as Laertes (whom you'll be familiar with if you've read Shakespeare's Hamlet). The film is directed by Star Wars lead Daisy Ridley, who will star as tragic Ophelia herself. More on that in a previous round-up here.