Happy (posthumous) Birthday Richard Harris!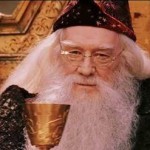 Oct 01, 2017
We lost Dumbledore at the end of Harry's sixth year at Hogwarts.  A slow poison weakened him.  That has certain parallels with the death of the actor Richard St John Harris who played Albus Dumbledore in the first two Harry Potter films.  Harris was diagnosed with Hodgkins lymphoma, a blood cancer, in 2002 and died several months later, at the age of 72 (considerably younger than Dumbledore).  He was also a bit wild in his youth, likewise akin to Dumbledore.
Harris was reluctant to take the role of Dumbledore both because of his fading health and because of the popularity of the Harry Potter book series.  He was concerned that, despite a film career spanning over 40 years, he would be remembered mainly for this role.  As Potter fans, it is hard for us to see that as a negative but, given his wide-ranging career portraying everyone from King Arthur to a gunfighter in a western, it was his wish not to be associated with only one role, no matter how popular.  We can only hope he made his peace with it as he was a venerable and memorable wizard.
Let's raise our wands to Harris on the anniversary of his birth.