Weekly Round-Up: 'Star Wars' Interviews, Potter Alumni Event Appearances & More!
Dec 17, 2017
This week in the wizarding world, huge announcements were made regarding  the Harry Potter mobile game everybody's been waiting on, and a special award from the Royal Family for J.K. Rowling, who is now a Companion of Honour! We also received clues as to which beasties will return for Crimes of Grindelwald, and theorised our way through a rumoured cast list.
In the meantime, Natalia Tena was announced as the final special guest at A Celebration of Harry Potter 2018, and Funko revealed new Harry Potter figures. Various Potter actors were also nominated for awards, and there were huge successes in for Potter and Cursed Child actors on stage, kicking off award season with a bang.
Be sure to also check out a pretty hilarious Harry Potter chapter written by AI here, and don't forget to vote for Strike as RadioTimes.com's Best Show of 2017!
Our weekly round-up is equally full of great news and exciting announcements, with appearances at Harry Potter events and experiences from the Phelps Twins, Chris Rankin and Devon Murray, trailers from cast members, activist involvement from Evanna Lynch and Emma Thompson, and – of course – Star Wars: The Last Jedi updates from Domhnall Gleeson:
Phelps Twins At Christmas in the Wizarding World in Bangkok
This weekend, James and Oliver Phelps (the Weasley twins) made an appearance at the opening of 'Christmas in the Wizarding World' shopping experience at Siam Paragon, which is open from today, December 17th, until March 2nd: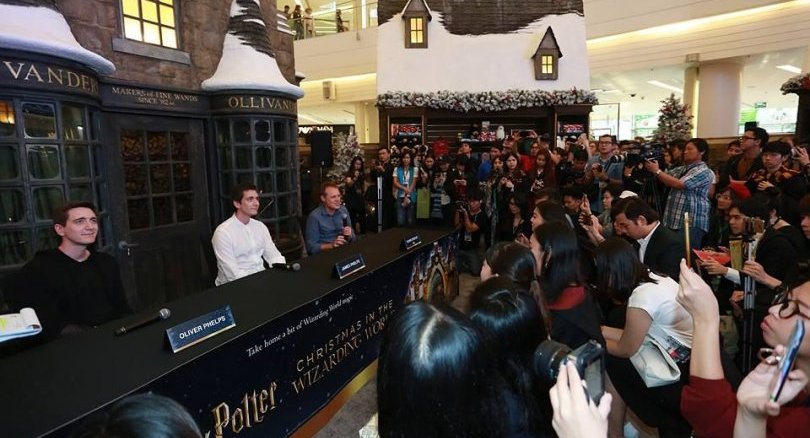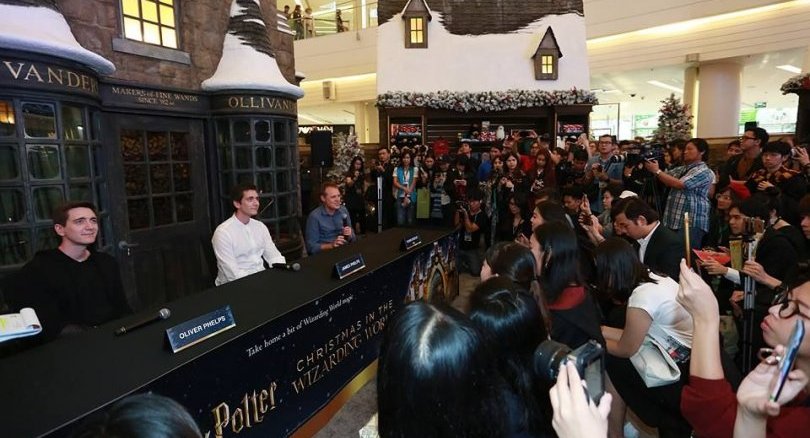 James Phelps explained the magic happening at the event:
"This is a massive world that essentially makes you feel like you are in Hogsmeade [the wizards' village]. You can go into Ollivanders' wand shop and have the wand experience," said James. "It's not you choosing the wand, the wand chooses you – just as in the film. So anything like that is a unique experience [for Thailand]. Normally you'd have to travel very far to get this.
"Even when you line up to come in, there are a lot of things going on. The windows are moving and you can interact with them." 
Read more here!
Devon Murray Goes 'Back to School' – Visits The Wizarding World!
Devon Murray (Seamus Finnigan) recently visited the Wizarding World of Harry Potter, and it seems like he had a great time! He also mentions seeing the new night show at the park:
So today I went back to school with @Simonna and it was so much fun going on all the rides! To top it all off they had an incredible lights show projected onto Hogwarts @Unistudios #cominghome #harrypotter #IcanSeeMyBedroom pic.twitter.com/cbMo5XcKLh

— Devon Murray (@DevonMMurray) December 14, 2017
It's great seeing the cast enjoy reminiscing their times on the films! A Celebration Of Harry Potter 2018 will host a partial Weasley family reunion at The Wizarding World in Orlando in January, along with Stanislav Yanevski (Viktor Krum) and Natalia Tena (Nymphadora Tonks). Read more here!
Chris Rankin Announces 2018 Convention Appearances
Chris Rankin (Percy Weasley) recently announced via Twitter that he'll be attending Potter World Cancún in February, and Rotterdam Comic Con in March, after having just attended The Yule Ball:
So, Netherlands! I shall be at #rotterdamcomiccon 3rd and 4th March and I'd love to see you all there! Bring Stroopwaffel. That is all. 👍

— Chris Rankin (@chrisrankin) December 13, 2017
Time to announce my first event of 2018…… I'll be at Potter World Cancún on 3rd & 4th February 🙂 come say hey 🙂 #potterworldcancun #cancun #harrypottermexico #mexico pic.twitter.com/3gtoHlEFwR

— Chris Rankin (@chrisrankin) December 11, 2017
Are you planning on attending either event? Let us know in the comments!
Domhnall Gleeson Talks The Last Jedi, Takes on Most Asked Star Wars Questions With Costars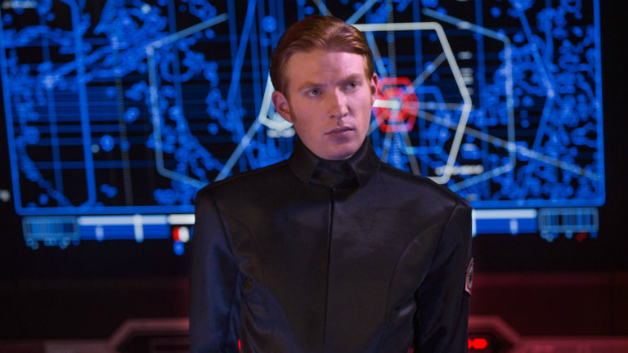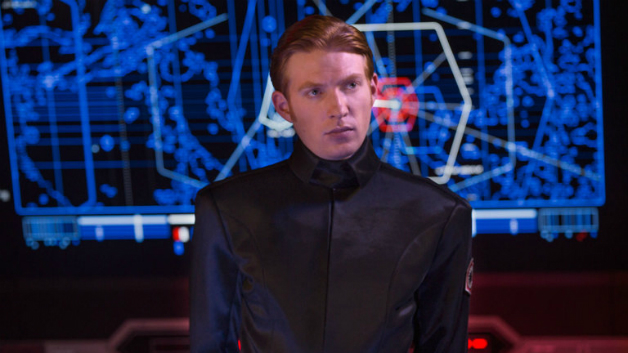 In a recent interview with Huffington Post, Domhnall Gleeson (Bill Weasley) spoke about his character in the new Star Wars saga, discussing his motivations and role in leading the Dark Side. When asked if Hux is a metaphor for leadersof today, Gleeson responded:
"Most pieces of great art reflect the times that we're in no matter when we're living," Gleeson replied, "there's never a lack of evil in the world, and there are always people that want to do more for themselves than others."
Gleeson has been fortunate enough to feature in two huge movies, and we can't imagine the amazing things he's seen! He didn't miss the opportunity to compare the franchise to Harry Potter:
"It's a position of privilege to do Star Wars because of how much it means to people. Harry Potter was a huge film, but it was only going on for 10-12 years," Gleeson noted, "Star Wars has been going on for 40 years."
Read the full interview here.
He also featured in a video by WIRED with costars Mark Hamill, Laura Dern, John Boyega, Daisy Ridley and Kelly Marie Tran to answer the internet's most asked questions about Star Wars. Watch below!
Helena Bonham Carter Shares The Power Of Poetry, Features In Oceans 8 Poster
Helena Bonham Carter (Bellatrix Lestrange) recently recorded an audiobook version of Allie Esiri's new poetry anthology, A Poem For Every Day Of The Year, releasing on December 26th. The anthology features 366 diverse poems correlating with the seasons and key dates throughout the year. In an interview with the Evening Standard, she spoke about the anthology and the magic of poetry:
"It's such a balm to listen to something at four in the morning. Maybe it goes back to being read bedtime stories. When we grow up we shouldn't forget that inside we still have a child who might need a good bedtime or middle-of-the-night poem to help. Especially when there ain't someone around, like a mum or a friend."
Read the full interview here.
It's fitting that Esiri's next anthology will focus on female poets, as Bonham Carter features in the recently released poster for her next movie, an all-female sequel in the Ocean's trilogy, Oceans Eight, which is due summer: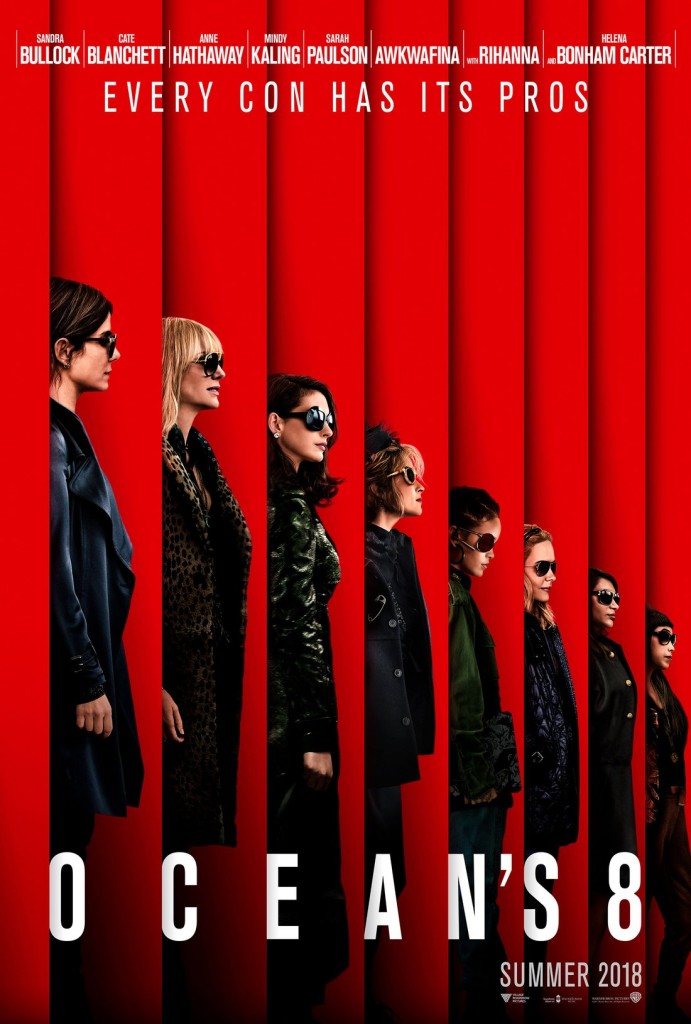 Imelda Staunton Takes A Stand Against Overfishing:
Campaigning with Fishlove against overfishing (in line with the EU 2018 fishing quota negotations), Imelda Staunton (Dolores Umbridge) posed with a blonde ray fish, which is discarded as by-catch. Staunton said on the issue of overfishing:
"It breaks my heart to think about what we are doing to our seas through overfishing, especially when you realise how easy the solution is.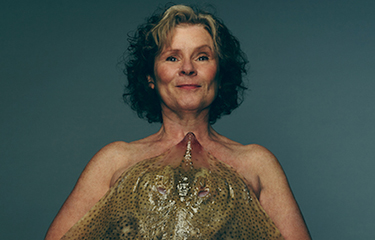 "All it needs is for our politicians to have the courage to follow the scientific advice, and our seas will spring back to health and life for the benefit of all."
Read more about the campaign here.
Evanna Lynch Features In Vegan Christmas Guide
Human Society International have collated holiday recipes from UK celebrities to encourage people to try to adopt a vegan lifestyle. Of course, Evanna Lynch (founder/host of vegan podcast The Chickpeeps) made the list, sharing her recipe for Magical Mince Pies. The guide is free and available here. Also take a look at the latest episode of The Chickpeeps here, featuring a special vegan giveaway!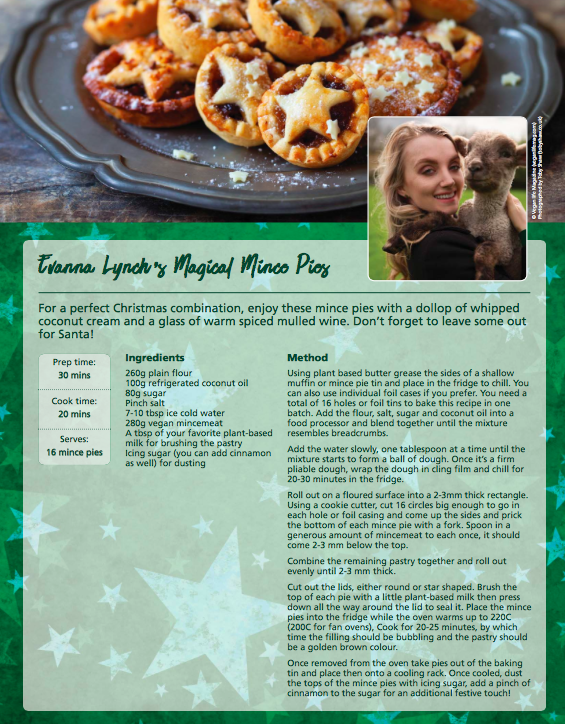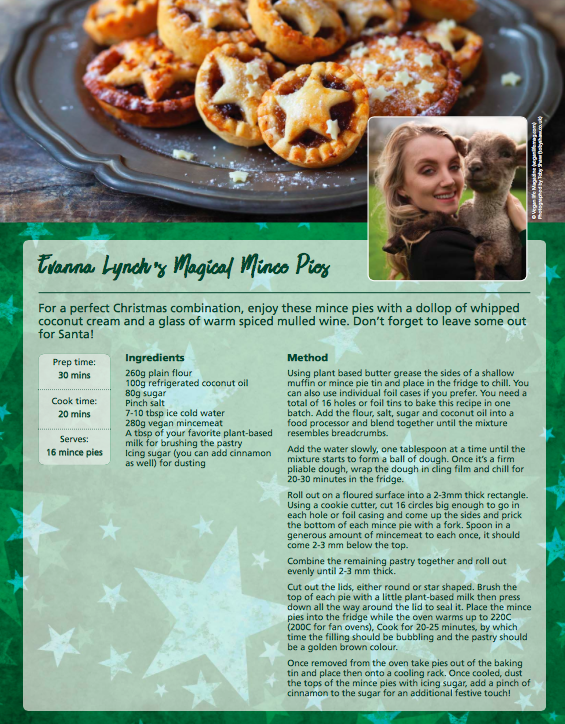 Jim Broadbent In Voyage of Doctor Dolittle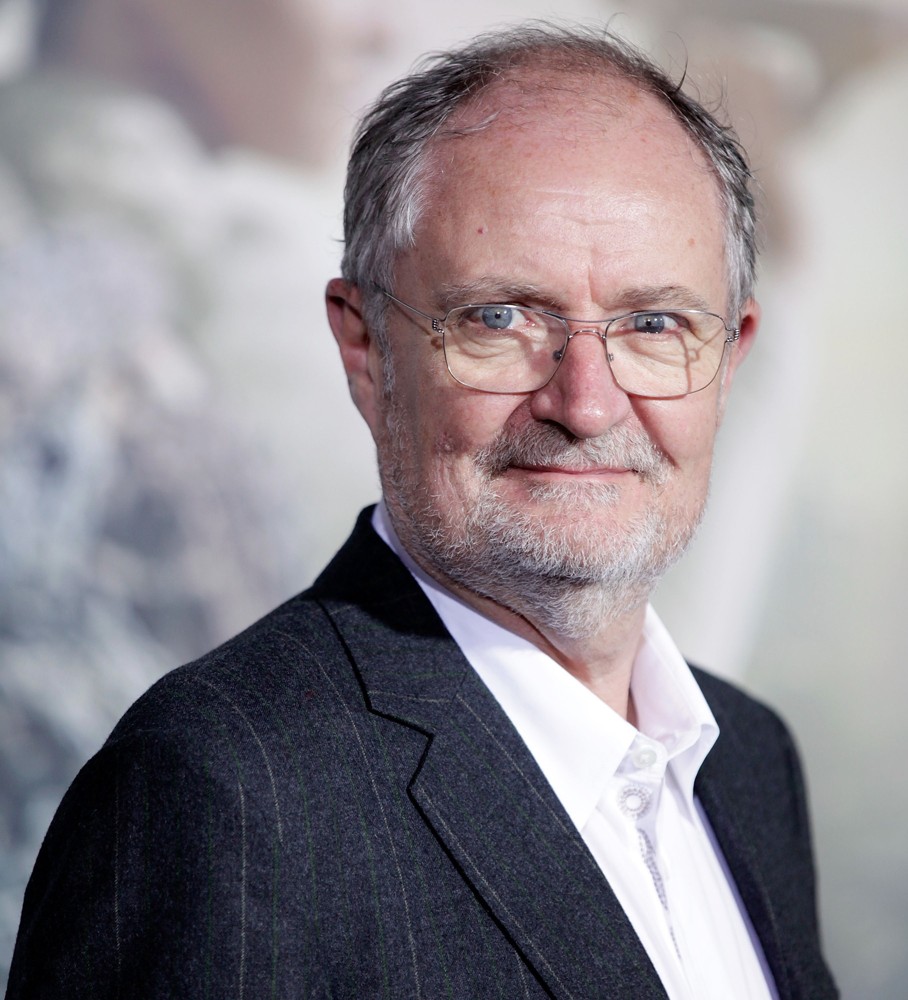 Jim Broadbent (Professor Slughorn) has been cast alongside Robert Downey Jr. in The Voyage of Doctor Dolittle, based on Hugh Lofting's 1920s series of children's books about a physician who can talk to animals. The series has been adapted into a 1967 musical previously (which won Oscars), and two films starring Eddie Murphy previously. Read more on the project over at Variety.
Ian Hart Discusses BIFAs Nomination
Ian Hart (Professor Quirrell) stars in God's Own Country, which recently won four BIFA awards, including Best British Independent Film. Hart spoke (very humbly) about the film and its director, Francis Lee, in an interview at the awards ceremony:
See more interviews here.
David Tennant and Michael Gambon in Mad to Be Normal
The trailer for Mad to Be Normal – starring David Tennant (Barty Crouch Jr) and Michael Gambon (Albus Dumbledore) – released this week, showing Tennant portray a dramatised version of the life of R.D. Laing. a controversial psychiatrist from the 1960s who worked with severely mentally ill patients. Gambon will star as one of Laing's patients.
The film releases digitally on February 16th – watch the trailer below:
Emma Thompson on Activism, Bravery and Greenpeace Campaigns
In an interview with City AM, Emma Thompson (Professor Trelawney) discussed the roots of her activism and where her inspiration comes from, explaining her dedication to Greenpeace. Interestingly, she said her passion for activism came from meeting various highly political comedians:
"I often view comedians as sort of prophets of the world, who see things and point them out, almost before they happen. I learned a lot just talking to them. That's really where it started."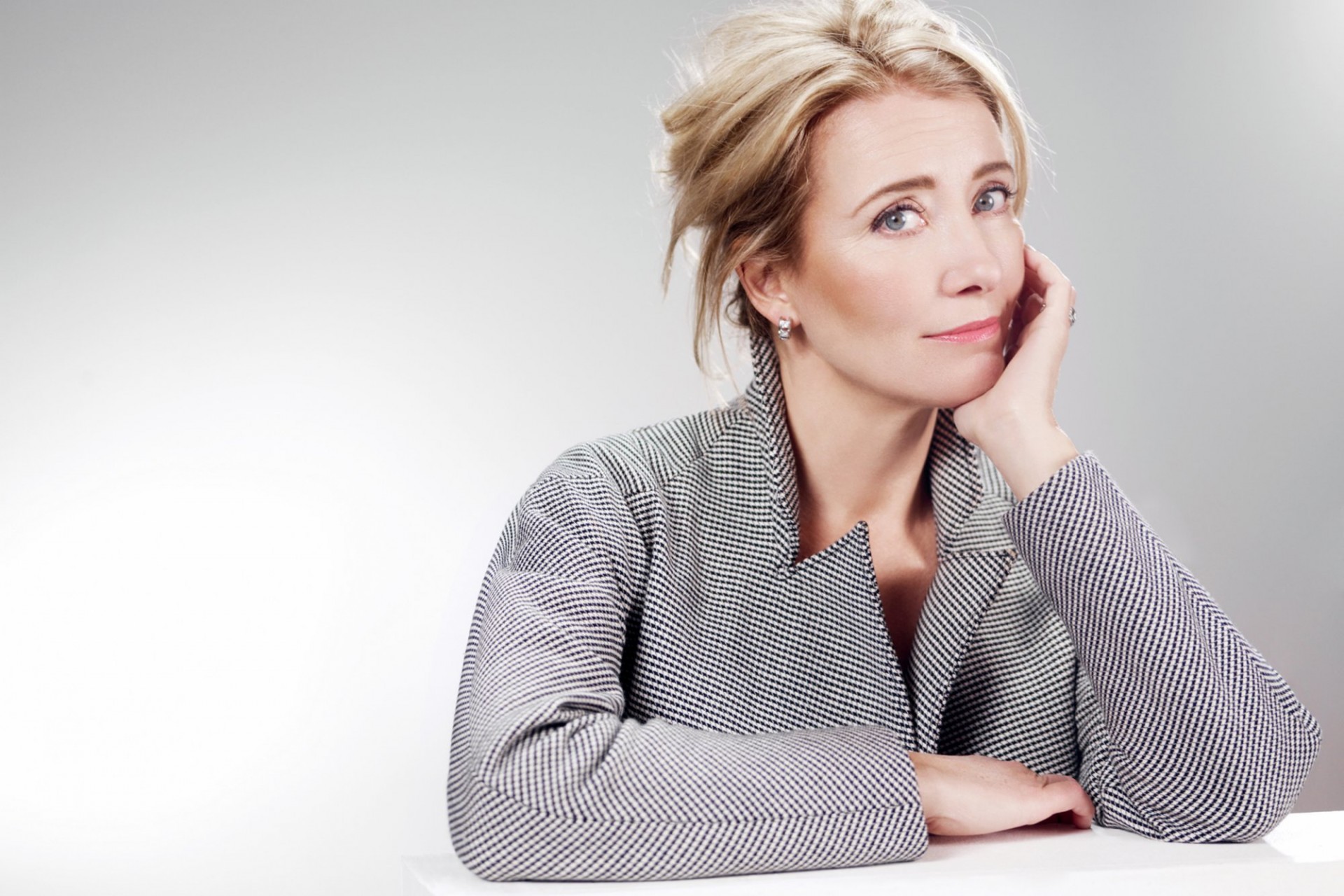 She also spoke more specifically about the Greenpeace Arctic campaign she's been involved in for multiple years:
"Joanna Kerr, the CEO of Greenpeace Canada, introduced me. She rang saying that all of the things that we had been talking about over the years – human rights, women's rights, land rights, the right to food, to water – that all of these things are connected in the most intimate way. I was invited to go to the Arctic and once I was there what became immediately clear to me is that what happens in the Arctic doesn't just stay there; it will come to our doors. It will make our entire world so much more dangerous. So I try to focus my energy on this extremely urgent moment for the planet and for humanity.
There is so much going on. What made me feel so passionate about the work of Greenpeace was talking with scientists and realising, while standing on a melting ice cap, how close we really are to disaster."
Read the full interview here. Another Potter alumni, Bonnie Wright, has been campaigning with Greenpeace to end plastic pollution, which you can read more about here.
Phew – that's all for this week! Catch last week's round-up here, and this week's theater round-up here.