Breakdown of the 'Fantastic Beasts: The Crimes of Grindelwald' Comic-Con Official Trailer!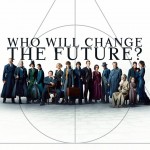 Jul 21, 2018
Opening an epic theatrical panel featuring a surround-screen room, the core cast and Deathly Hallows bands, Warner Bros delivered the Fantastic Beasts: The Crimes of Grindewald official full-length trailer at San Diego Comic Con today, adding to our questions about the series!
A new poster  puts Nicolas Flamel front and centre in this film, and during the panel we saw Eddie Redmayne and Jude Law chat about the film with Zoe Kravitz, Ezra Miller, Alison Sudol, Katherine Waterston, Dan Fogler and Claudia Kim, and Johnny Depp came out onstage in-character as Grindelwald. Here's our official breakdown of the trailer – if you haven't seen it, view it below!
"I'm scared, Professor Dumbledore," says Newt.
"Everyone is scared of something"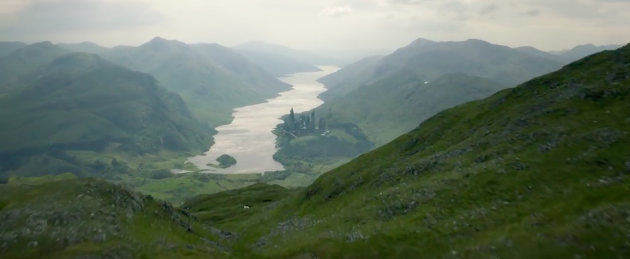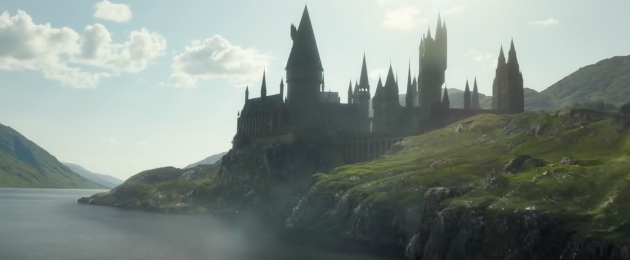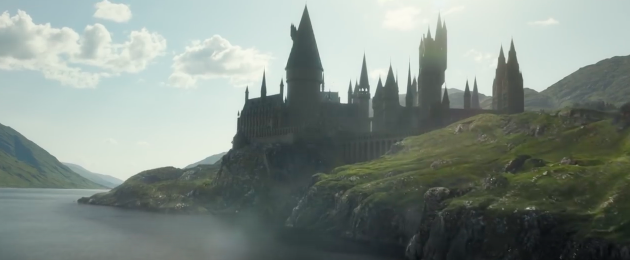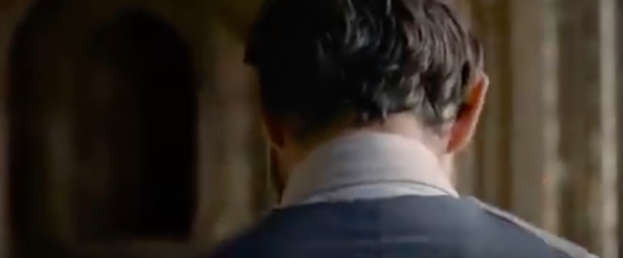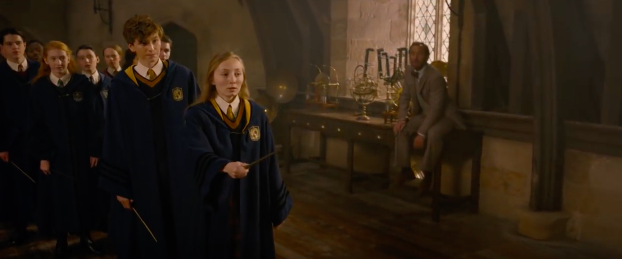 We're taken to a Hogwarts castle, inside the Defence Against the Dark Arts classroom (Jude Law explained in a recent interview that Dumbledore isn't Transfiguration professor – as in canon – yet). The class are learning Ridikkulus – but is that Leta Lestrange behind Newt?
"Newt – you're up next."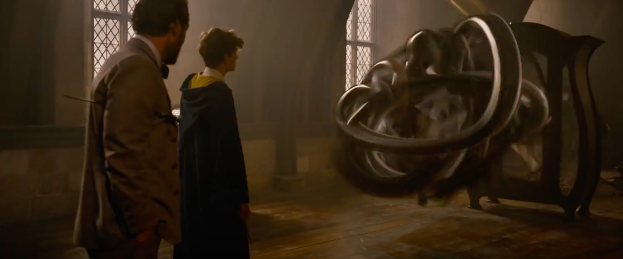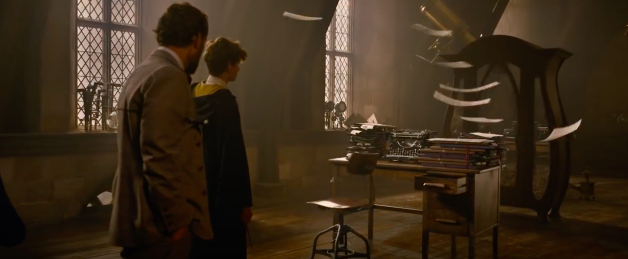 "That's an unusual one… What Mr Scamander fears above everything else is?"
"Having to work in an office"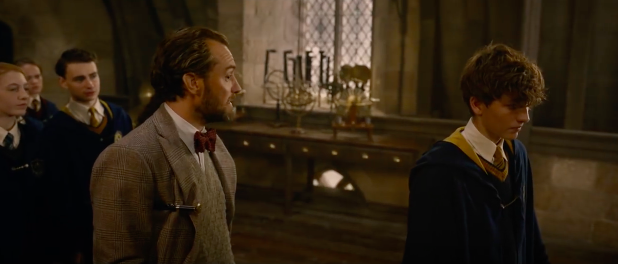 The class laughs, and we see that characteristic sparkle in Dumbledore's eye – Jude Law's got mischievous-Dumbleodre down to a T.
"Go ahead, Newt."
The trailer quite literally explodes into the present (well, less-past, we guess), soundtrack intensifies as the Warner Bros and Wizarding World logo apparates onto the screen. These are darker times.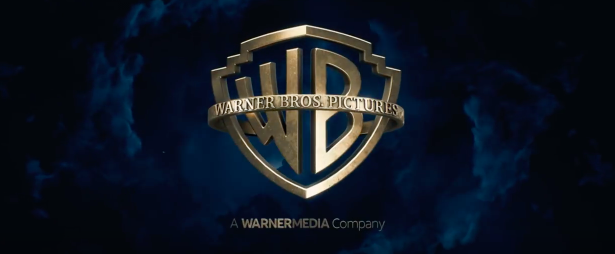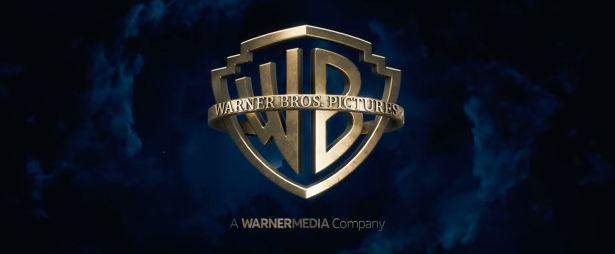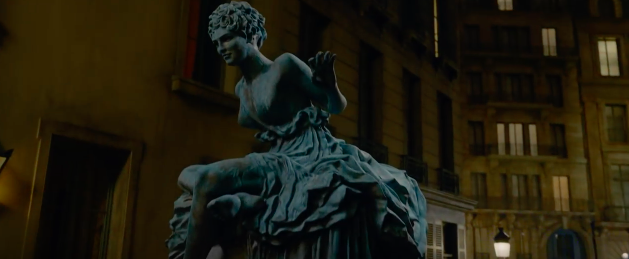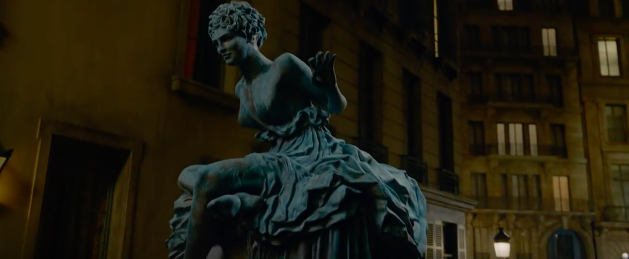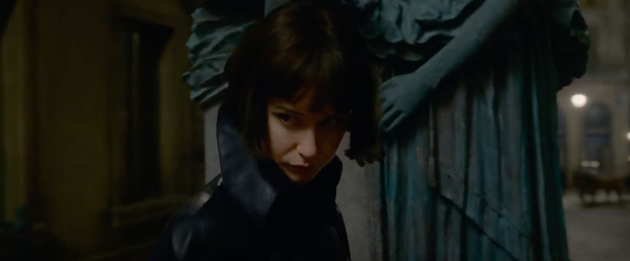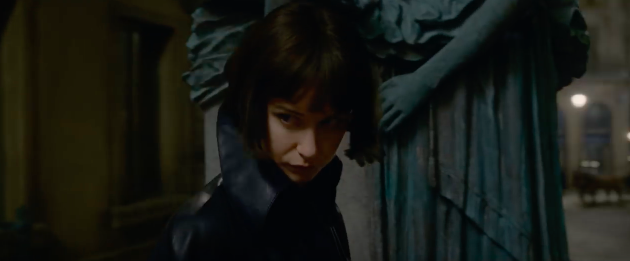 "Magic blooms, only in rare souls", Grindelwald says as a female statue beckons. The shot of Tina looking mysterious is her in front of this wizarding statue, clearly sneaking around.
Circus Arcanus appears, and we see Credence looking at their tour poster.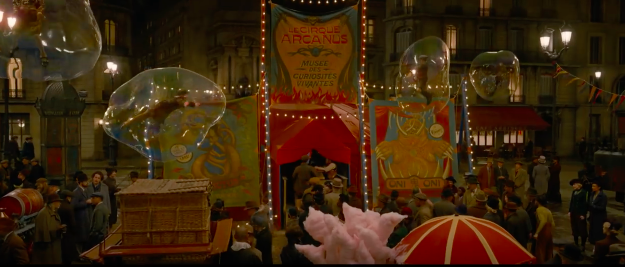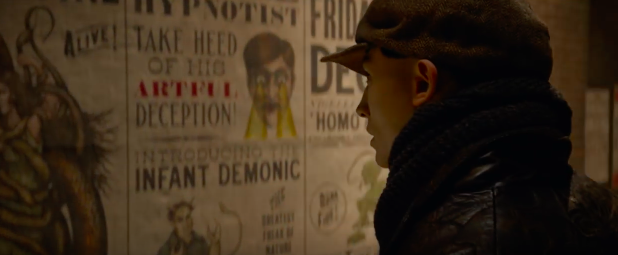 Grindelwald continues: "Still we skulk in shadows…"
Newt and Dumbledore apparate from a London bus in the fog, Dumbledore uses the Deluminator on a London street (as in the first trailer) – they're also sneaking around London, by the looks of it.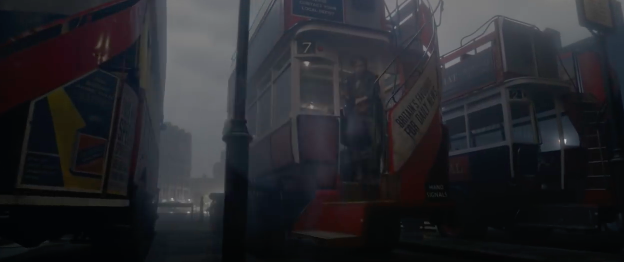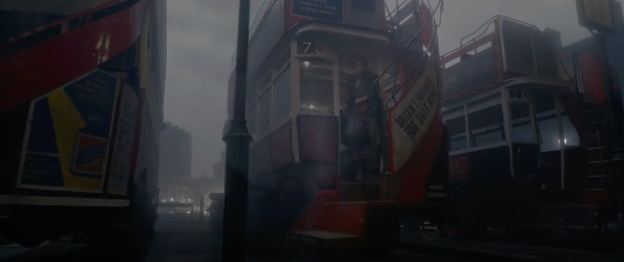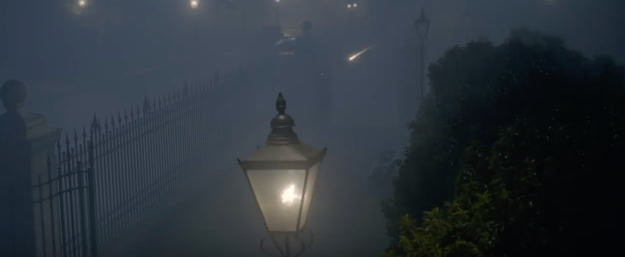 Grindelwald is shown in an incredibly unfortunate and uncomfortable position being dragged through what is assumedly the MACUSA jail he's destined to escape from in this film. Inmates look on.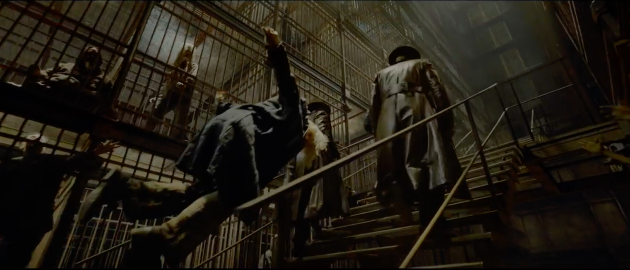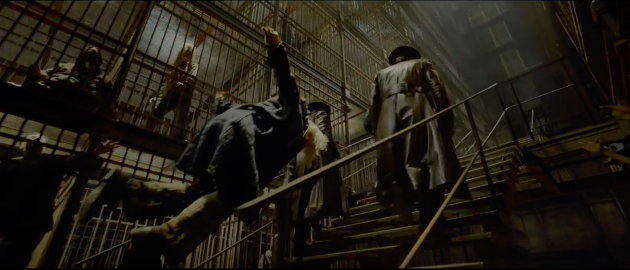 We're shown Newt looking at a postcard from Paris, and Grindelwald continues – we learn that he's speaking to hundreds at his rally (both of these clips were seen in the teaser trailer), and that he's convincing others to believe in his call for the end to the Statute of Secrecy:
"But the old ways serve us no longer."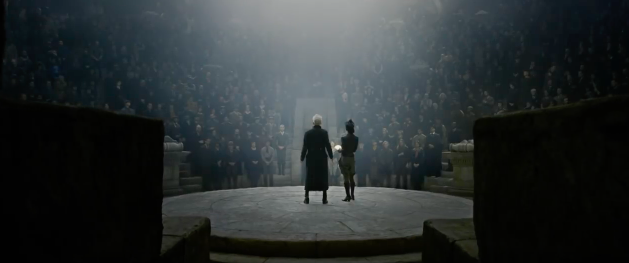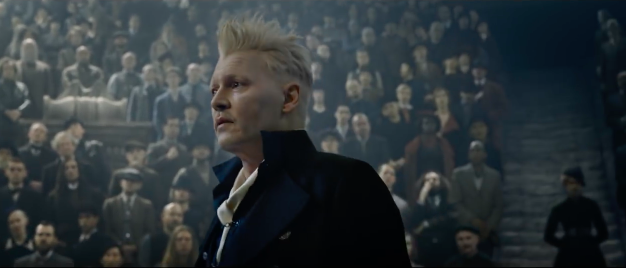 We see Claudia Kim's character (the Maledictus) looking at the Eiffel tower, Queenie looking onwards in what appears to be horror, as black shrouds (seen decorated with Grindelwald's insignia in the new poster released yesterday) cover literally every building in Paris: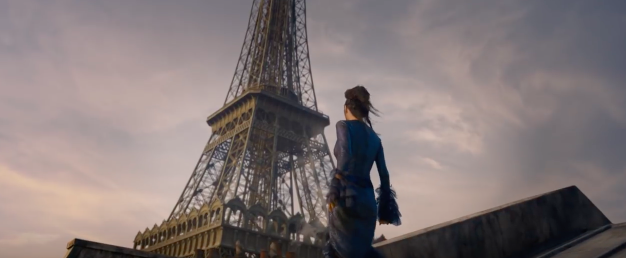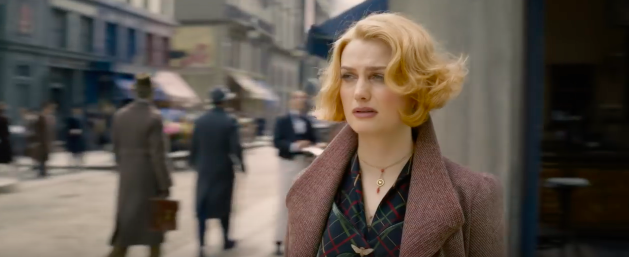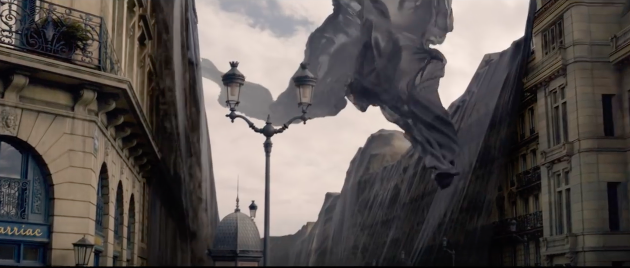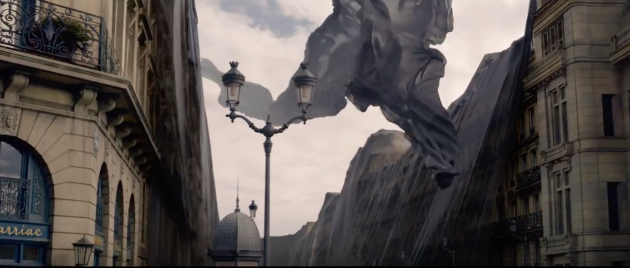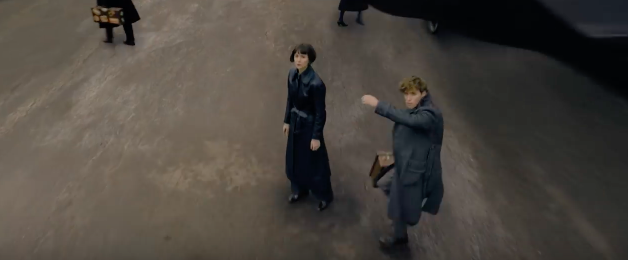 "I take it you've heard the rumors?" says Dumbledore. We see a haunting shot of Grindelwald and Credence, and Grindelwald's henchpeople (basically Death Eaters).
"Grindelwald had a vision," he continues, "That he would rise to dominance over the Wizarding World."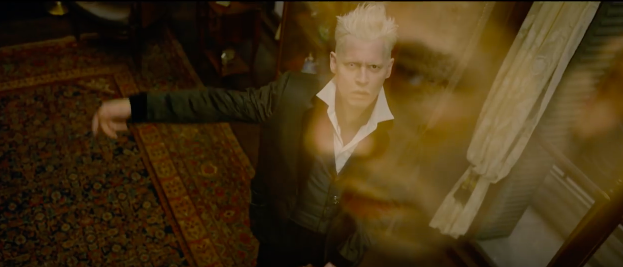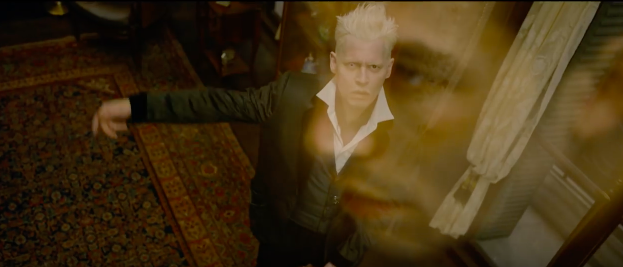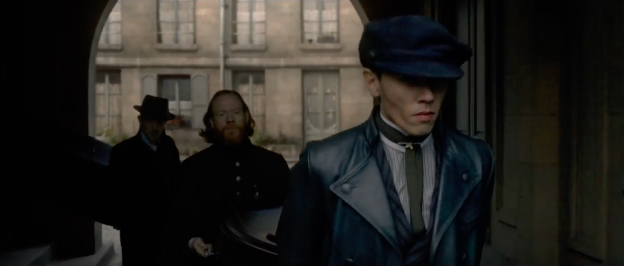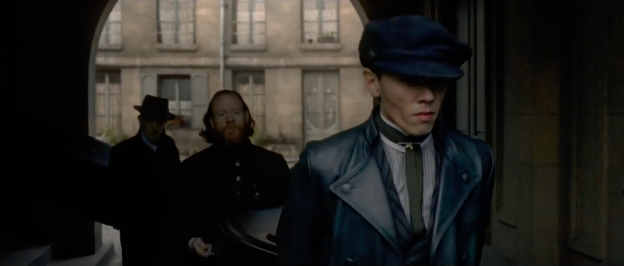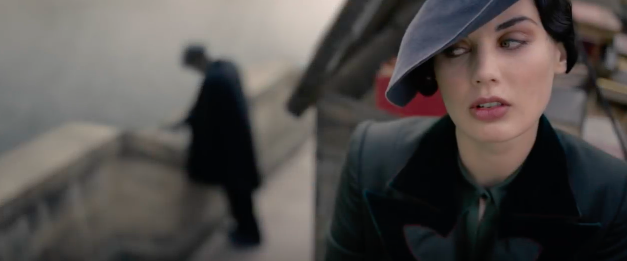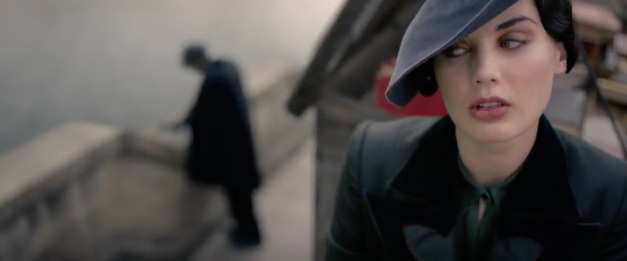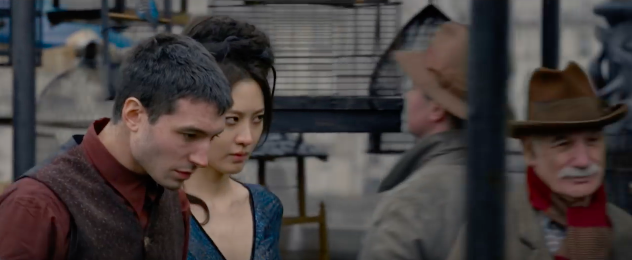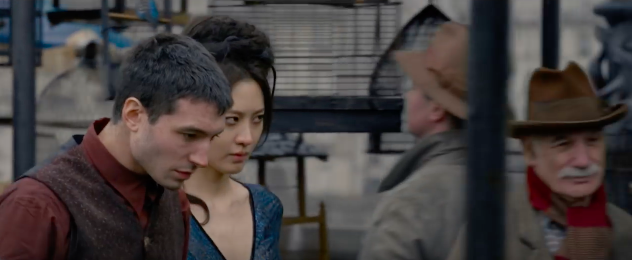 We see Vinda Rosier, Credence and the Maledictus, a pretty terrifying woman in what we assume to be the French Ministry with some scary fantastic beasts: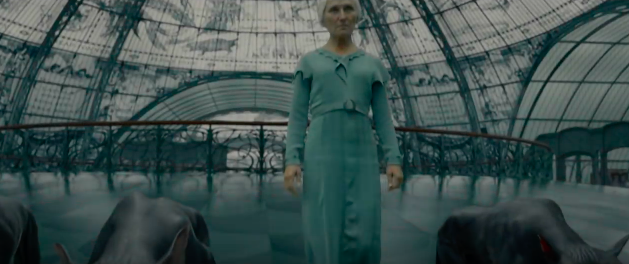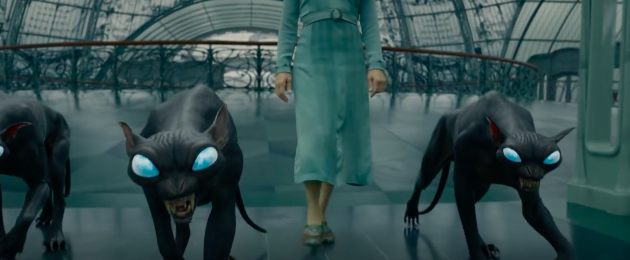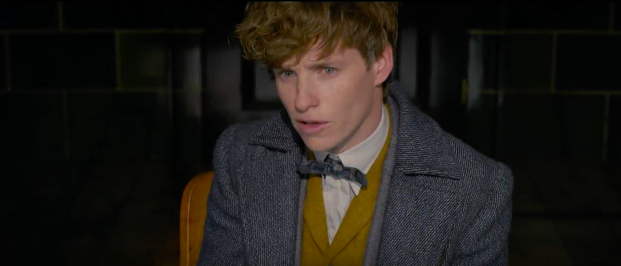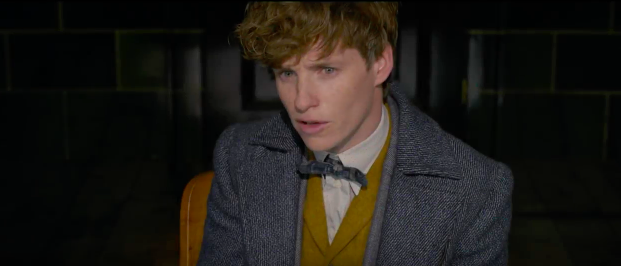 "So you're asking me to help hunt him down?" Newt asks him, as a floating glove points to a building – it's not Trafalgar Square, it looks more like St Paul's Cathedral in London: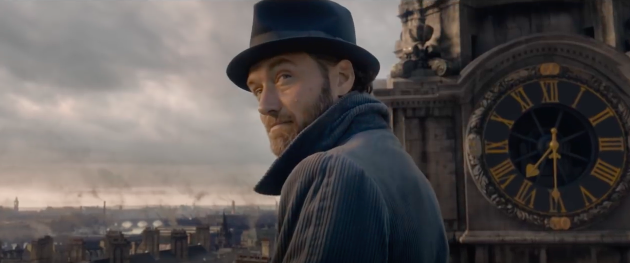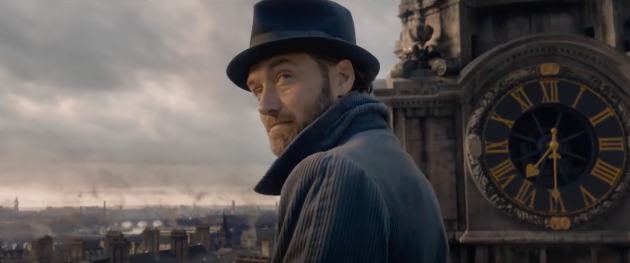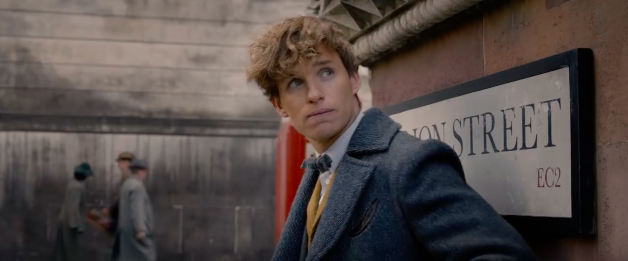 Newt is shown (above) disapparating from 'Merion' Street in London. It's in the EC2 area.
"I can't move against Grindelwald" Dumbledore says, and a heartbreaking scene appears, of him looking into the Mirror of Erised and seeing him and Grindelwald… There's clearly more to this relationship to be unpacked, as Jude Law said in his interview recently.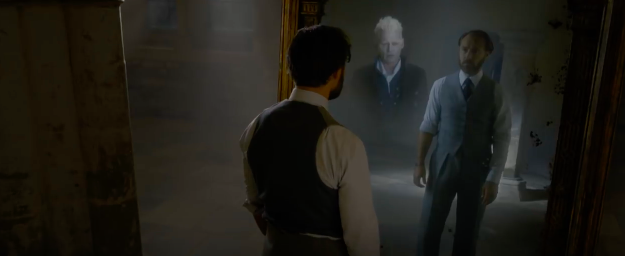 "It has to be you… In your shoes, I'd probably refuse too." he says to Newt, with a flare. Giving him a nod he says "and it's late… Good evening, Newt." and disapparates off into the distance.
"Oh, come on!" Newt says in disbelief… We're right there with him. Really, Albus?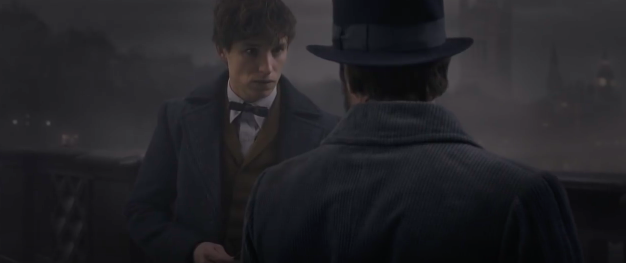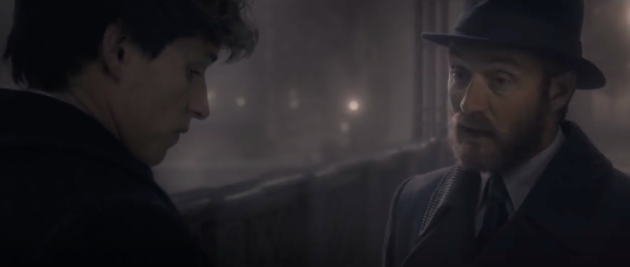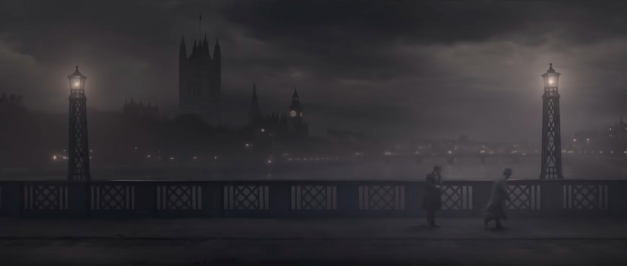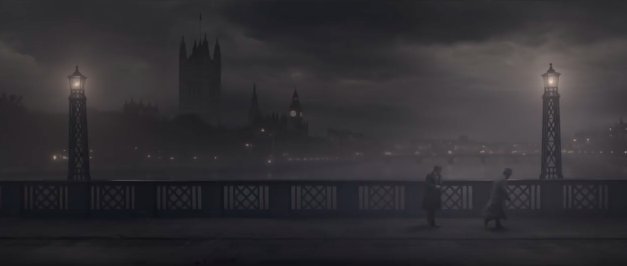 We're taken to scenes from the previous trailer of Leta Lestrange at a (veela?) dance, then Newt with the Niffler, and him with a Kelpie in the water: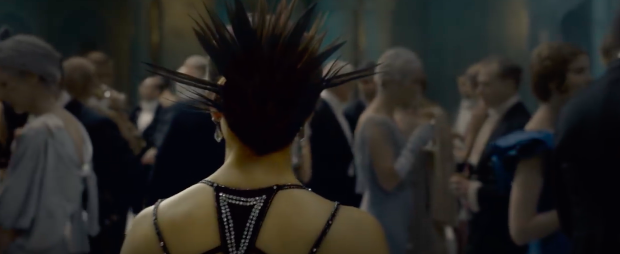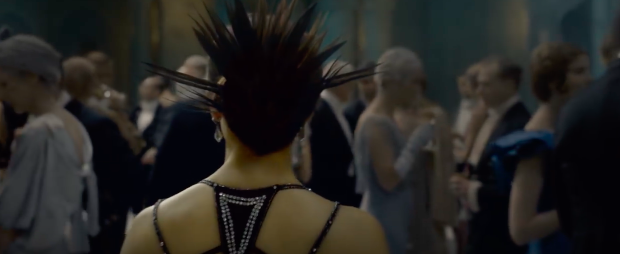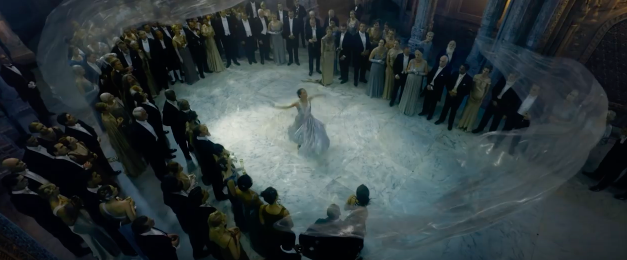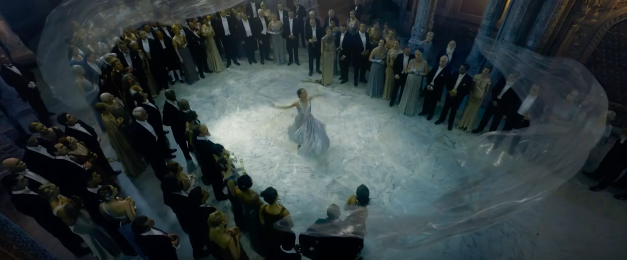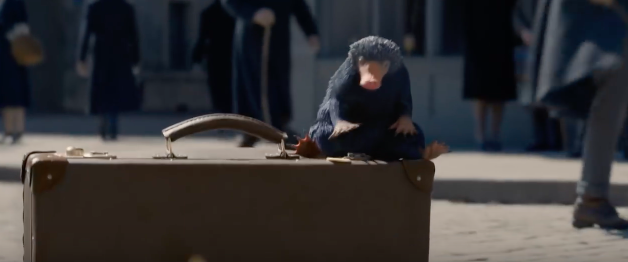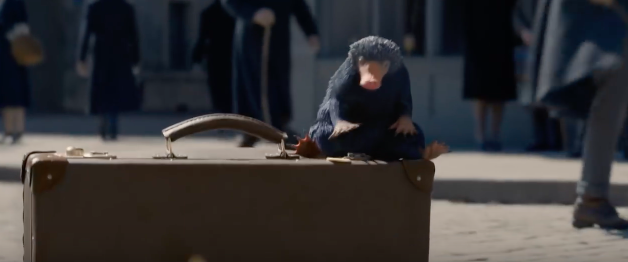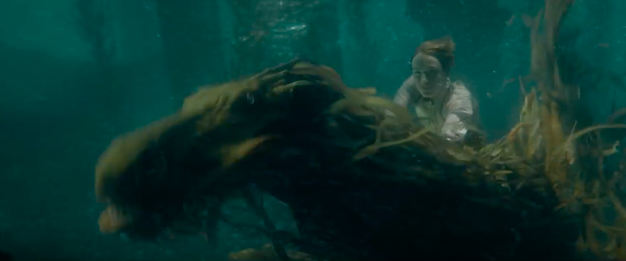 "You underestimate your talents, Mr Scamander." We hear (who's voice is that? Dumbledore's?), as we see a tank in what could be Newt's basement, which appears to hold Newt and the Kelpie – is that Bunty?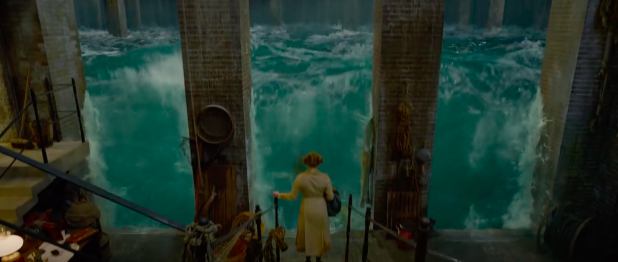 UPDATE: That's definitely Bunty, Newt's assistant!
A glimpse of my back! #bunty #FantasticBeasts #HarryPotter https://t.co/8nqeQolOZP

— Victoria Yeates (@VictoriaYeates) July 22, 2018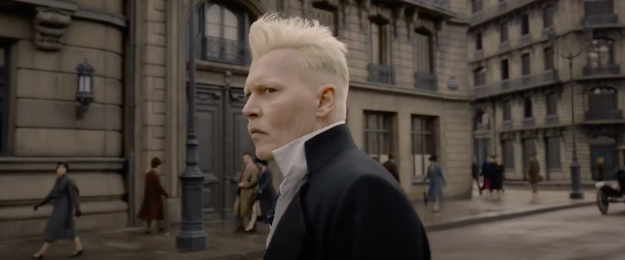 "THE FATE OF ONE" appears on the screen as Grindelwald walks into the public eye, looking concerned.
"Their arrogance is the key to our victory" says Grindelwald, we see Jacob emerge into a vault of some sorts, what appear to be Grindelwald's followers in a darkened alley, Credence and the Maledictus on the roof, Credence using his 'Obscurus powers'.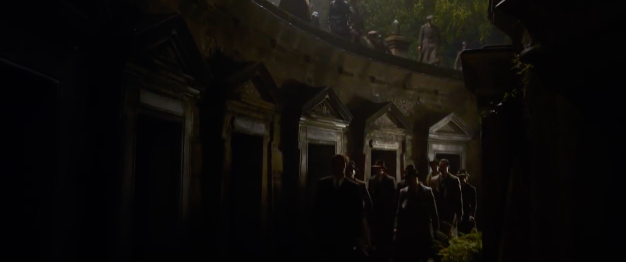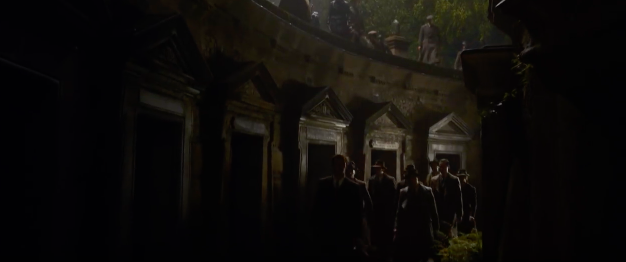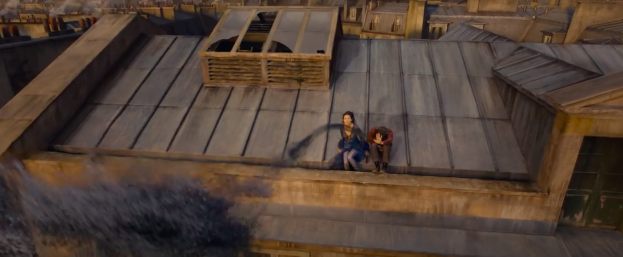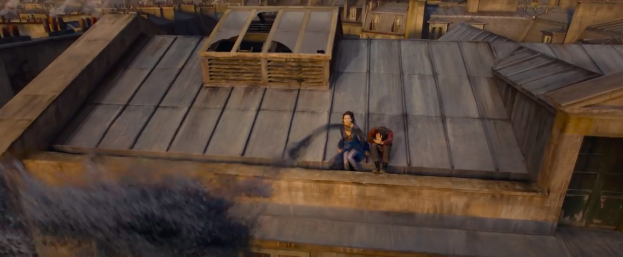 "THE FUTURE OF ALL" appears, as we see wizards disapparate from Grindelwald's rally (which looks significantly emptier in this shot – did it go down well, or not?).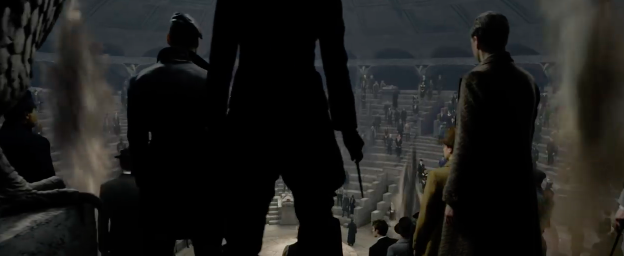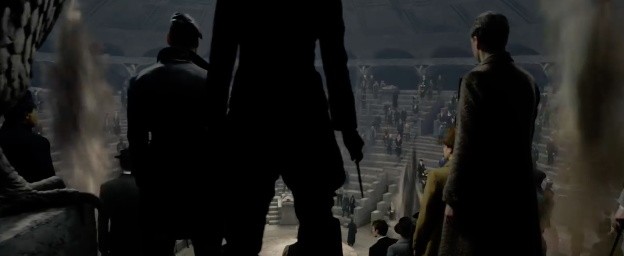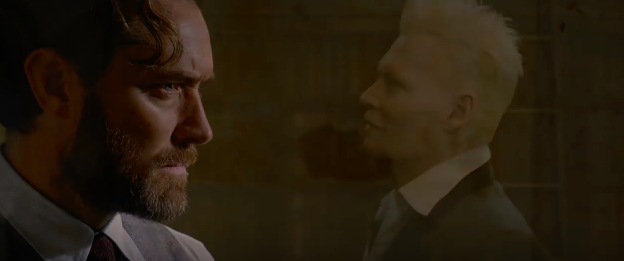 Dumbledore looks concerned, as Grindelwald appears opposite him. "Muggles are not lesser," says Dumbledore, as we see Jacob looking at the new beast from the first trailer.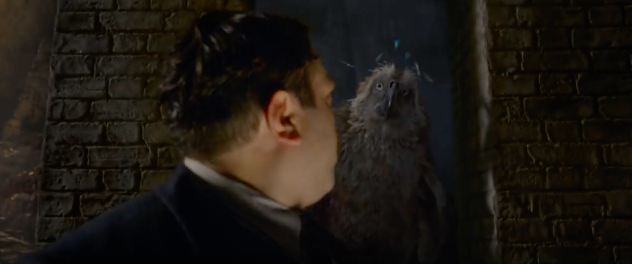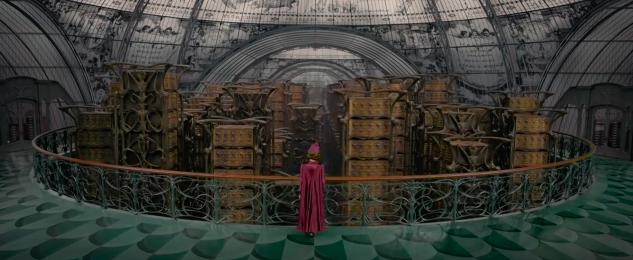 Leta is shown in the French ministry near some rapidly moving vaults with Newt and Tina – she appears to be helping them (is she working at the Ministry?).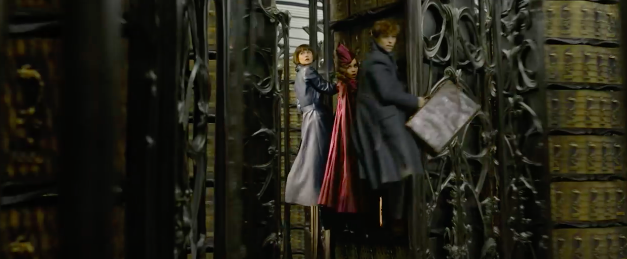 Queenie sits in the rain with her hands over her ears – is this something like the 'voice inside your head' charm that Voldemort used in the Battle of Hogwarts, or is Grindelwald somehow in her head?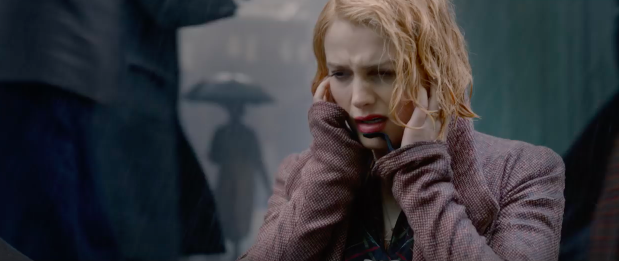 "Not disposable." He continues, his voice breaking slightly. We see Tina defending Jacob from a terrific show of power, a blue flame with a dragon inside, eesh…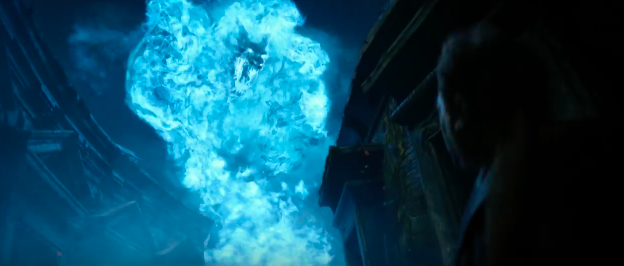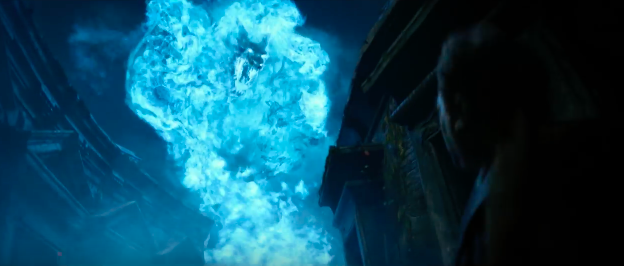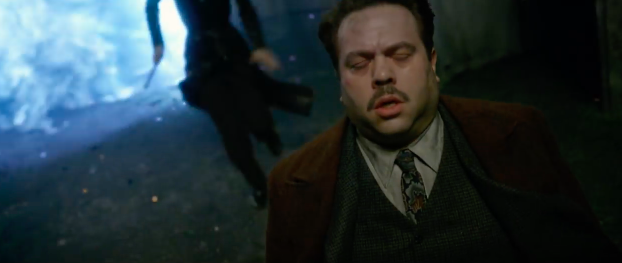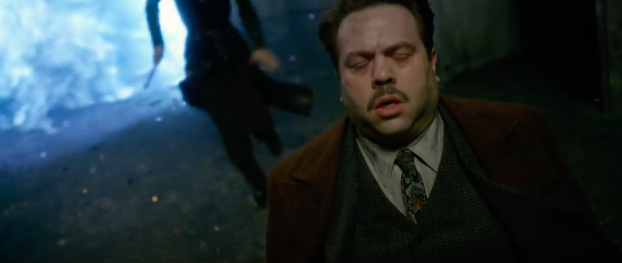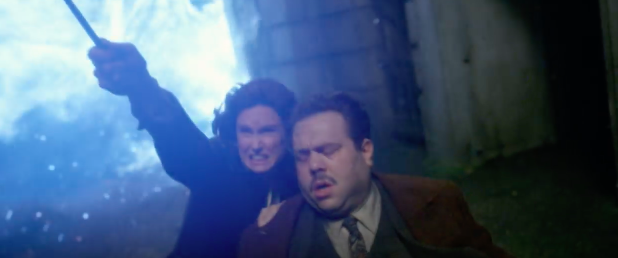 Newt and others (Theseus, Tina and more) are shown fighting the blue flame in what looks like a cemetery, as in the first trailer. Newt faces a new beast with his suitcase – is he about to rescue the 'Oni' from Circus Arcanus?
*UPDATE* This beast is actually, in fact, the Chinese beast David Heyman & Yates referenced in our earlier interviews with them (so not Fawkes, as we and many others were theorising!). Eddie Redmayne announced that this creatures is a 'Taowu' in an IGN interview at San Diego Comic Con, which you can find in our interview round-up. Also see a theory below from Susan Sipal, asking whether we could be heading to China next in the series (meaning we could see more dragons!). See this thread on Twitter for more discussion on the new beast, translations & surrounding mythology.
*UPDATE 2* More research leading to the idea that Eddie actually said "Zouwu", generally described as being a herbivore with a gentle nature and tiger or lion-esque qualities and dark fur. On Wikipedia, the Chinese beast "Zouyu" is described as:
" As fierce-looking as a tiger, but gentle and strictly vegetarian, and described in some books (already in Shuowen Jiezi[3]) as a white tiger with black spots."
If any fans have any other interpretations, translations, or information on this creature, we'd love to hear them!
Found a new clue for Taowu predicting #FantasticBeasts 3 will go to China: Near the end of interview of cast cited, Alison Sudol says Rowling knows what's going on in all these countries at the time, specifically CHINA! Check video & pinned comment 4 more https://t.co/l5GQ4D4zp5

— Susan Şipal (@HP4Writers) July 23, 2018
Thanks! But new info emerged. As pointed out by @WizardWho it is a Zouwu. We'll be doing a joint corrected video soon, but further info in this thread: https://t.co/bxEr7WfC7w

— Susan Şipal (@HP4Writers) July 24, 2018
I read that page about Taowu in its Chinese version, it doesn't metion anything about being confused as Zouwu. I think the most distinctive thing about Zouwu is its extraordinary long tail (and nice teeth). This Chinese wiki page on Zouwu might help: https://t.co/to1JHNawCK騶虞

— WizardWho (@WizardWho) July 24, 2018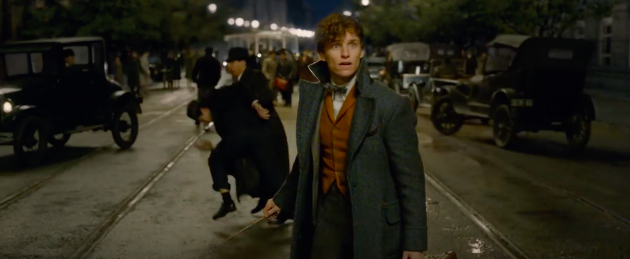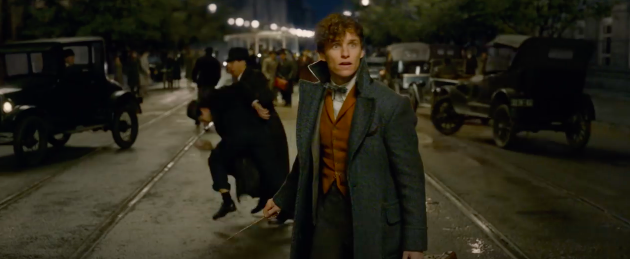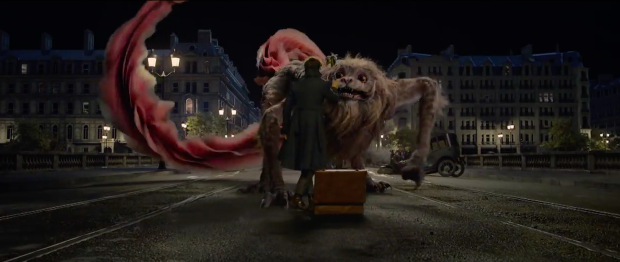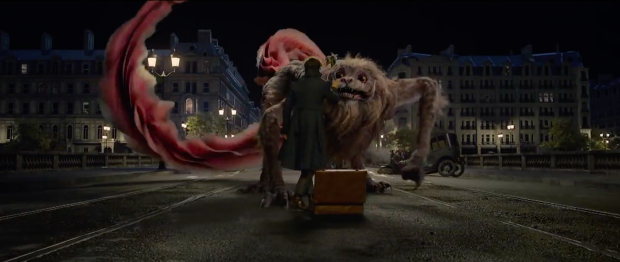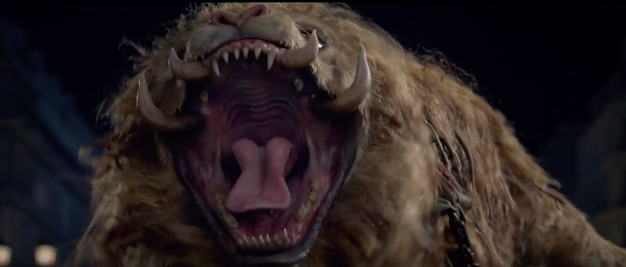 "You're too good, Newt." says Leta Lestrange. "You never met a monster you couldn't love."
Is she referring to herself? Is she about to betray the quartet?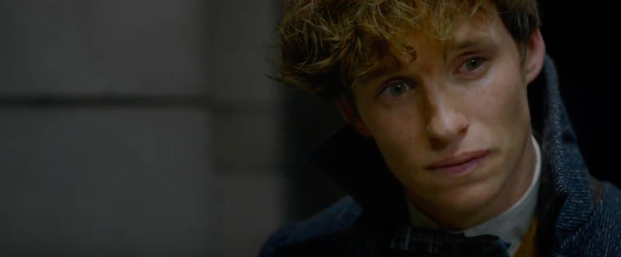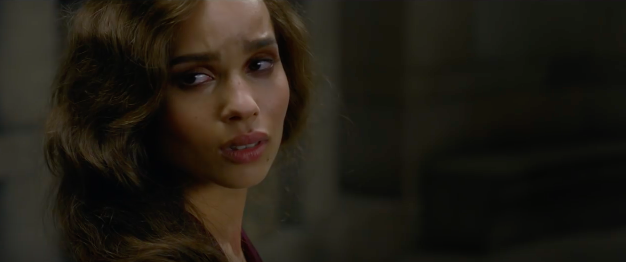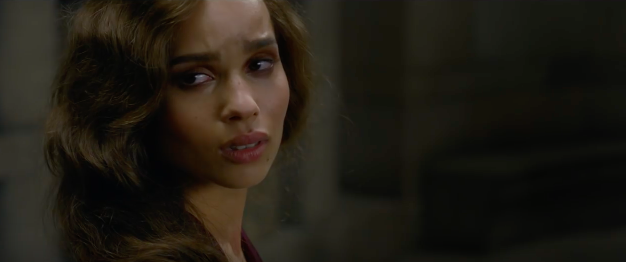 Newt calls Credence, as we see the ruins he's created. He appears to have his terrific power under control, and is causing havoc among what appear to be Grindelwald's henchmen.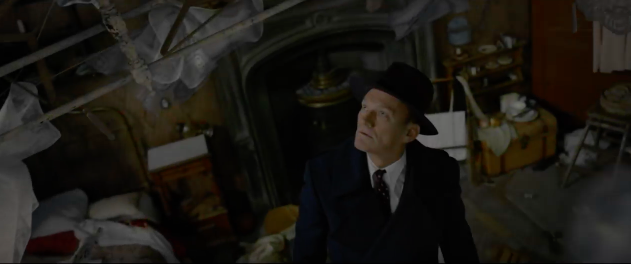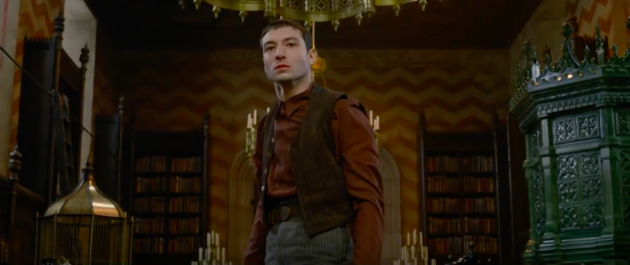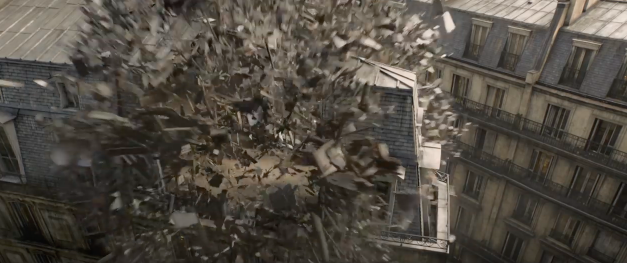 We see the thestral draw carriage being flown by Grindelwald – his escape from MACUSA, as shown in the new LEGO set.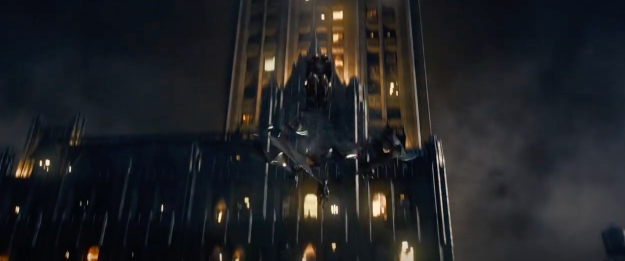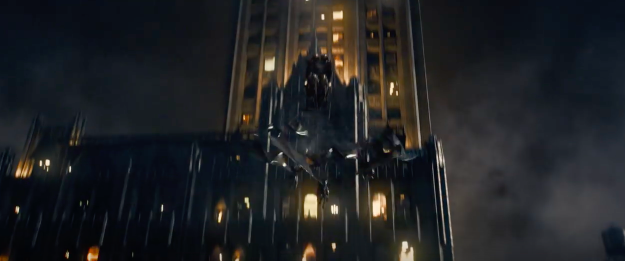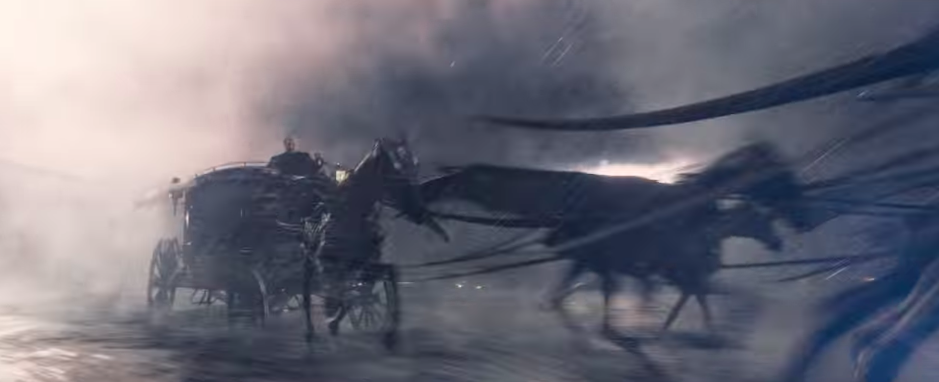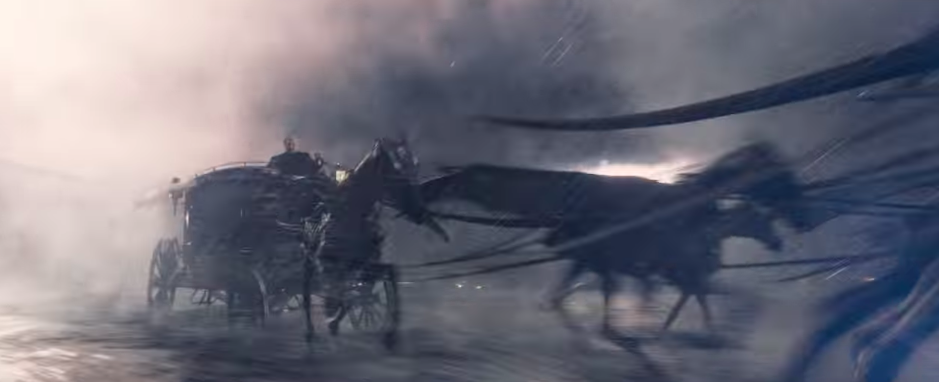 We also get a flash of the Elder Wand: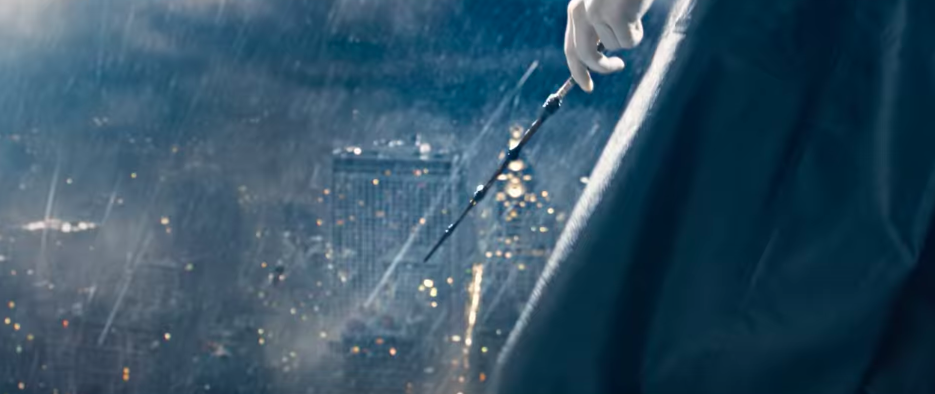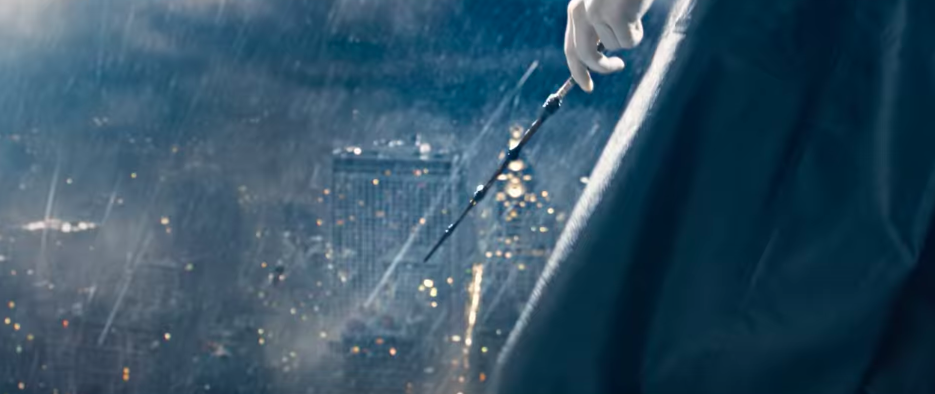 "Mr Scamander!" Grindelwald calls, and we see Theseus and Newt, and others (unclear) in the background.
"Do you think Dumbledore will mourn for you?" Grindelwald threats, surrounded by the blue flame. Rosier's behind him, holding a glowing skull (not a prophecy, as we previously theorised):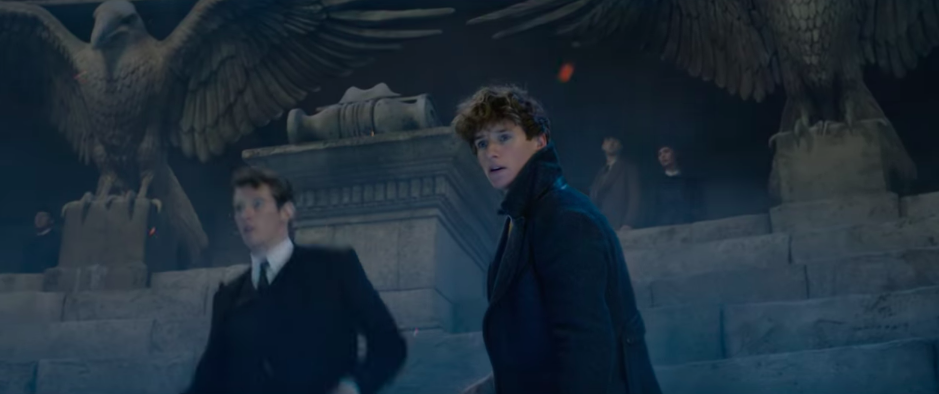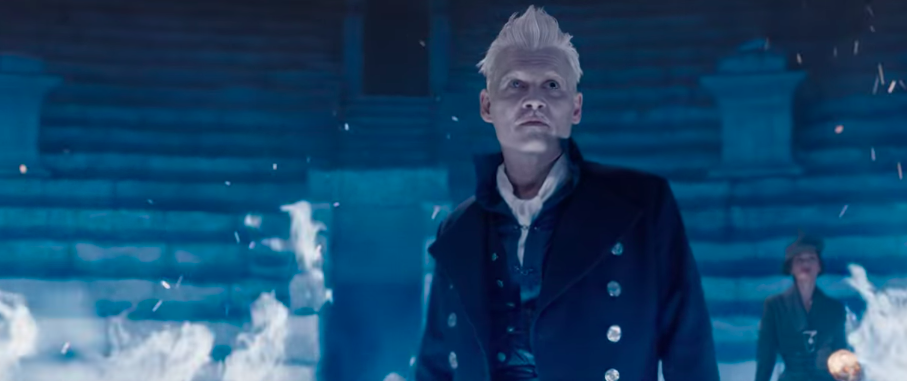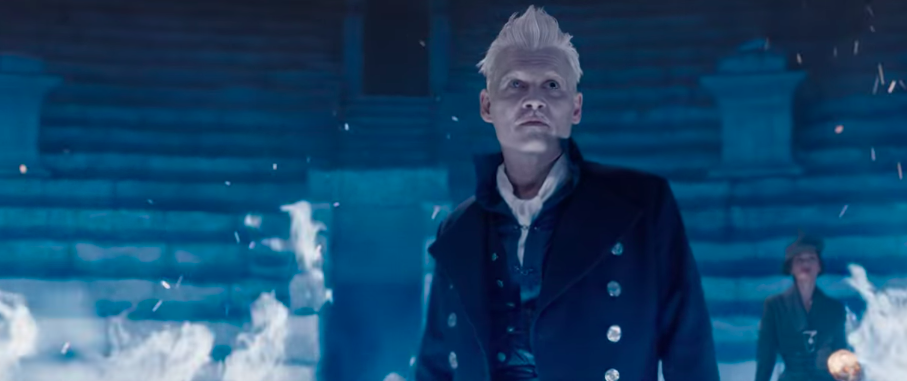 There's clearly a showdown between the two at some point.
Roll the Deathly Hallows symbol and the title screen.
Jacob appears with a pale figure in the background. He looks terrified, and gulps: "Are you a ghost?" he asks.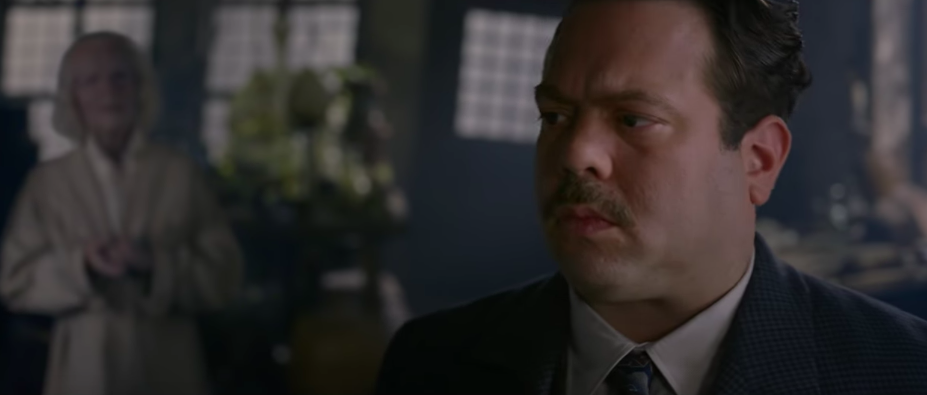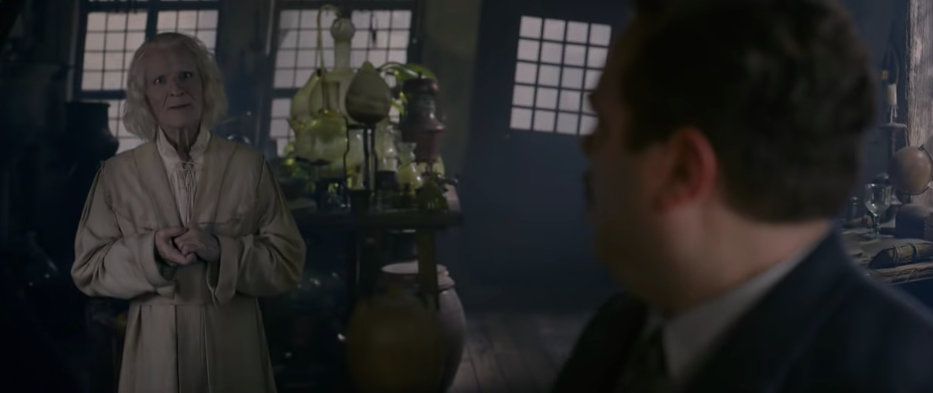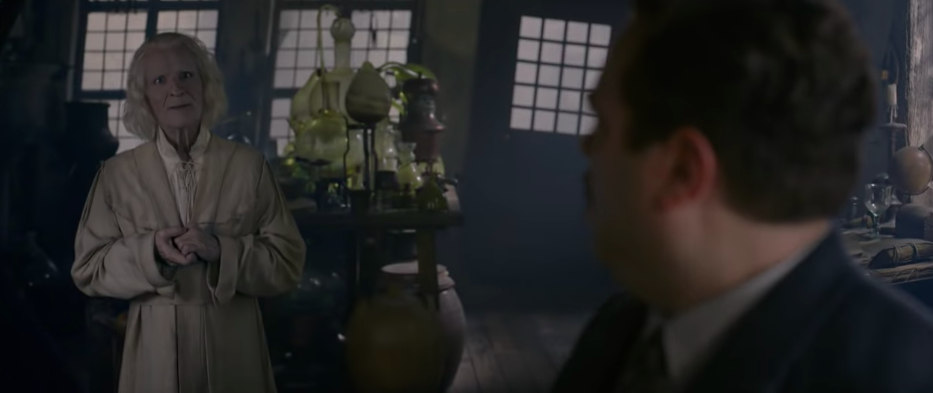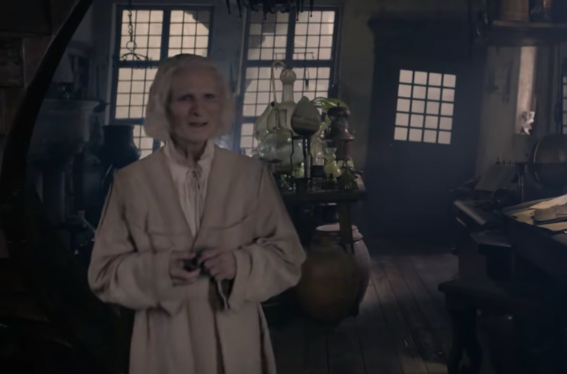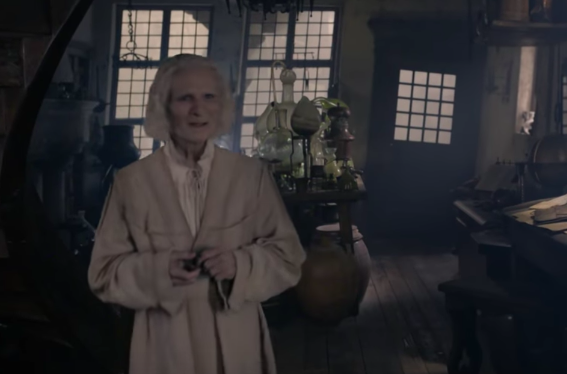 "No! I'm alive," the man reassures him (Newt looks pretty unsure at this point, too), "but I'm an alchemist, and therefore immortal."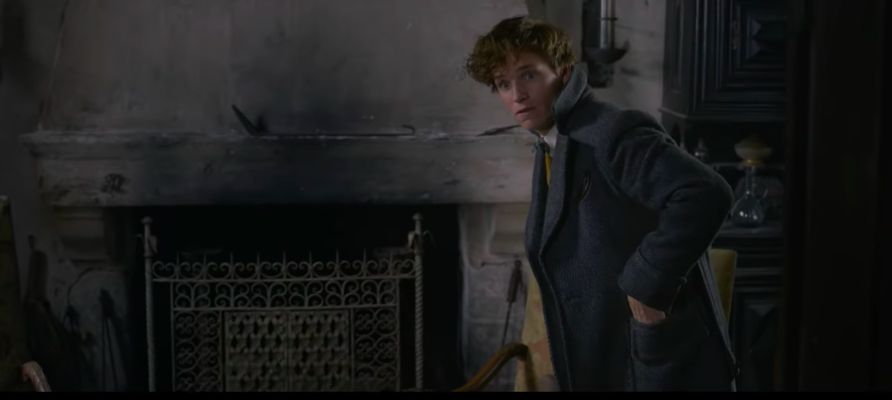 "Oh." says Jacob, looking uncertainly at the hand put in front of him.
"Nicolas Flamel," says the figure (note: pronounced nih-coh-lah). Jacob just about breaks his hands as he goes to shake it in greeting. Immortality leaves one rather frail and zombie-like, it appears – or has something happened to the Philosopher's Stone? Could Voldemort have derived his ideas from Grindelwald?
"You don't look a day over three-seventy-five!" jokes Jacob, clearly unnerved. Us, on the other hand, we were delighted to see the alchemist at long last!
What did you think of the trailer? Any new theories thanks to the secrets it unveiled? See our coverage live from the Warner Bros panel here, and watch out for more coverage of SDCC coming soon.
Be sure to let us know your thoughts in the comments, or via Twitter, Facebook or Instagram!