Natalie Dormer to Narrate 'Harry Potter: A History of Magic' Audiobook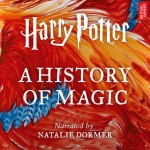 Aug 09, 2018
Harry Potter: A History of Magic Exhibition, the incredible display of artifacts and magical texts that helped inspire J.K. Rowling's Wizarding World, will premiere at the New York Historical Society this fall after it originated at the British Library in 2017. To coincide with the U.S. opening, Pottermore Publishing and Audible are releasing an audio version of the exhibition's companion book narrated by Game of Thrones and Hunger Games alum Natalie Dormer.
Get ready to embark on an audio journey like no other, with Harry Potter: A #HistoryOfMagic – narrated by Natalie Dormer: https://t.co/eEGUWQCYXb pic.twitter.com/BA4wgzfDsN

— Pottermore (@pottermore) August 9, 2018
In addition to Dormer taking readers through an audio journey of the exhibition, including the Ripley Scroll, the recipe used by real life alchemist Nicolas Flamel to make the Philosopher's Stone, the audio edition will include exclusive interviews with the original narrators of the UK and US editions of the Harry Potter audiobooks, Stephen Fry and Jim Dale, a huge treat for Potter audio fans! It will also feature insights from Harry Potter illustrators, Olivia Lomenech Gill and Jim Kay, the latter of whom sat on the 20th Anniversary of Harry Potter panel at San Diego Comic Con moderated by Leaky's own Melissa Anelli.
Dormer was welcomed to the Wizarding World with her official Hogwarts House sorting covered by Entertainment Tonight. To her surprise, and perhaps to fans of some of the characters she's played, she is a Hufflepuff!
Any guesses on the @pottermore newcomer's results? Gryffindor? Slytherin? https://t.co/ylkqJhPIl3

— Entertainment Tonight (@etnow) August 9, 2018
For fans who are lucky enough to attend the event in person, Leaky recently covered the exhibition's extensive schedule of events, including a presentation by Leaky's Melissa Anelli called "Magic for Muggles". If a visit to New York isn't in your plans and you'd like to take a visual tour of this magical collection while listening to Natalie Dormer describe it, a virtual display of the exhibition can be found on Google Arts and Culture.
The audiobook is available for preorder through Audible. Click to order in the U.S. and the U.K. and will be released October 4.
Harry Potter: A History of Magic Exhibition opens October 5 at the New York Historical Society. Tickets for the event can be purchased here.