EXCLUSIVE: Devon Murray's 'Harry Potter' Panel & Interview at LeakyCon 2018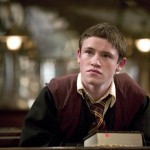 Aug 12, 2018
The very first day of LeakyCon 2018 kicked off on Friday with a bang, and as the Marketplace opened, we prepared ourselves for a weekend full of panels, discussions and Wrock. Leaky's correspondent Kathy Paz was on the ground at LeakyCon to make sure readers didn't miss a thing, including a panel with Harry Potter's Seamus Finnigan, Devon Murray. We spoke to Devon in an exclusive interview, and he spoke with Leaky's Melissa Anelli in his panel about being a Slytherin, stealing socks from the Harry Potter set, and more:
Devon arrived in Dallas the night before LeakyCon, and tells us he had a great time ("From the second I got to the event it's just been amazing – everybody seems to be so nice!"). He still can't believe that fans are still so dedicated after all these years:
"Harry Potter's been finished a long time now and people are still just as obsessed with Harry Potter back then as they are now- actually, even more so now! Everybody seems to have grown up watching Harry Potter, so there are kids who might not have been able to afford to come to events like this, and now they're older and got their own jobs and their own families, and they're coming along and bringing their own kids. It's cool to see the next generation coming along to these types of things, too."
Devon says that he was super jealous when the wizarding world returned for Fantastic Beasts, and when he went to the premiere he'd got it into his mind that it would be a terrible movie and he wouldn't like it at all:
"Do you know what? It was amazing. I'm more of a fan of this than I am of the Harry Potter series! Actually no, I'm a big fan of Harry Potter, but it's weird because I'm in it. It's a different kind of fan level! I don't know what's going on behind the scenes, but when I watch Harry Potter, I'm like, 'Oh that's the day we did this behind the set'"
He was supposed to see Cursed Child last year, but after some schedule changes he wasn't able to make it – he did, however, read it all in one go!
"I'd never read any books, I've read a lot of scripts so I was used to that kind of format. I only started reading Harry Potter after we finished filming – I'm on the sixth book now – I'm dyslexic so it takes me forever and a day!" 
Once filming on Harry Potter finished, Devon said he was able to focus more on caring for his horses, and he said readjusting to life-after-Potter was actually pretty easy:
"It comes back naturally. I'd done a few movies before Potter, but doing Harry Potter for eleven years back-to-back pretty much, you're always going to be able to click back in after something like that. It was your day, your life for eleven years!" 
We also got the chance to ask Devon some rapid-fire Harry Potter questions:
– His boggart: "My mother on a Sunday morning after the night before!" 
– What would he see in the Mirror of Erised?: "Some of my horses in the Olympics, with a gold medal"
– If you were auditioning now as an adult in the series, who would you audition for? "Flitwick, obviously! That, or Bellatrix – I could pull off Bellatrix!" 
— If you were at Hogwarts, which class and teacher do you think you'd like the most? "I'm a Slytherin, so I'd definitely love Snape's potions class. Lockhart, too – I loved him. And Mad-Eye Moody!" When asked if he thought Snape would give him extra points, he said: "No, he'd absolutely hate me!"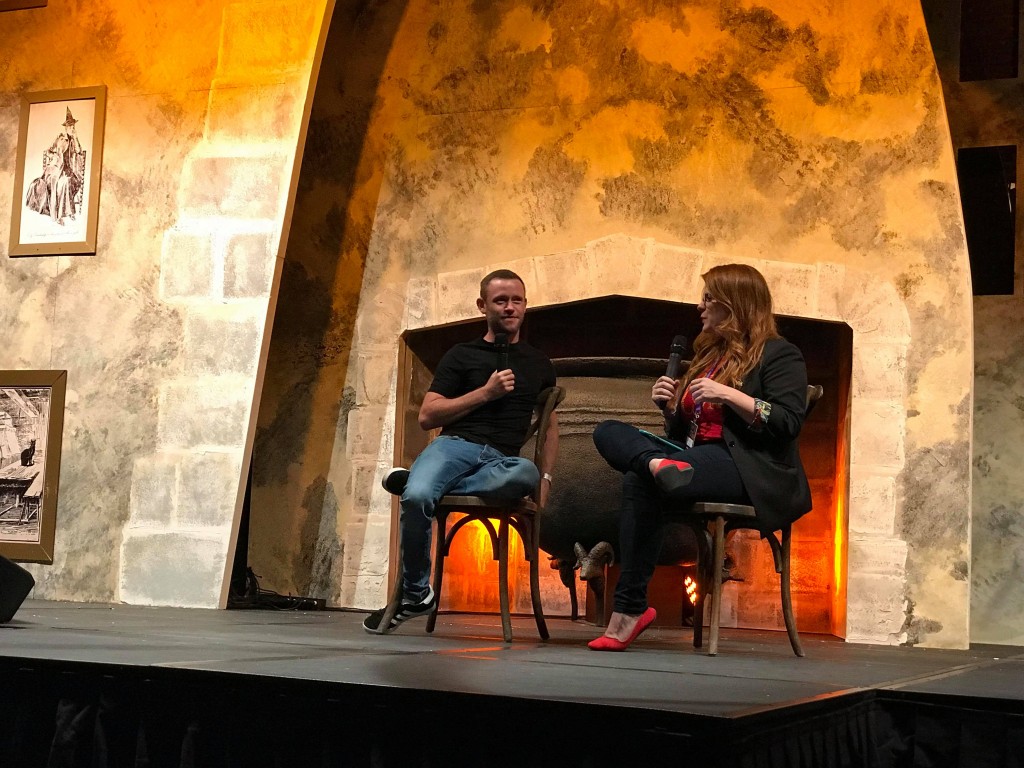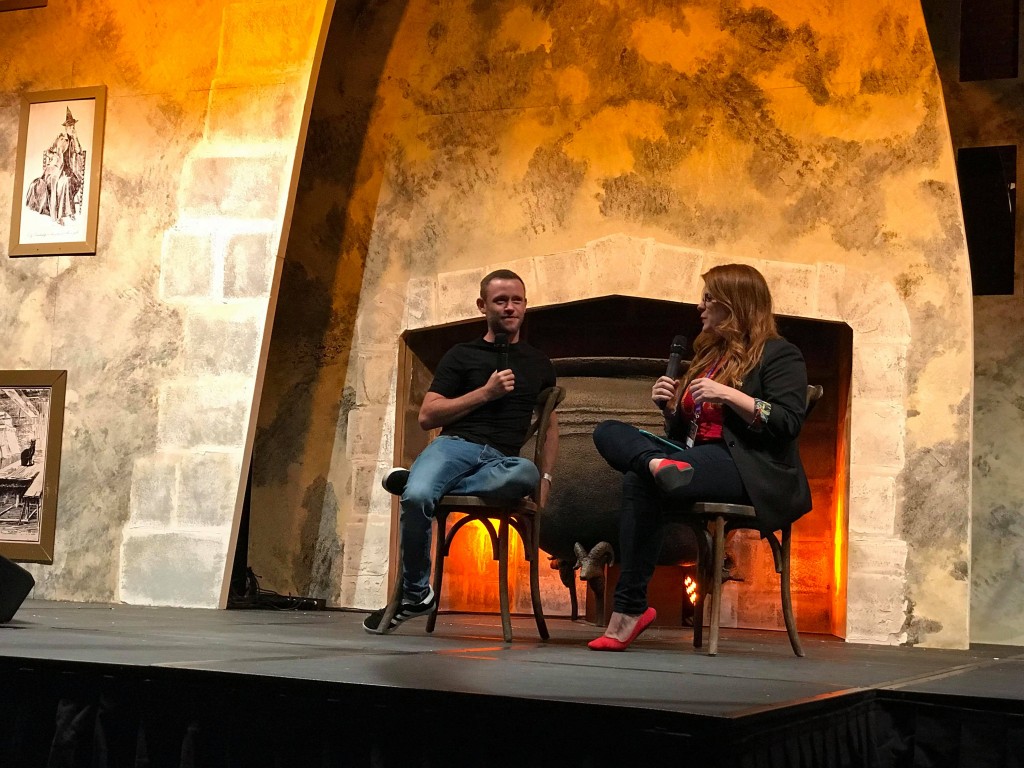 Devon's panel kicks off with a story about how he was trying to get back to normality after eleven years of the 'wild ride' that was filming Potter.
"When Harry Potter finished I was like, right, I need some time for myself, back with my family, back with the horses, back with the people I grew up with, and that's what I've done since Harry Potter. I'm riding horses all day every day – we rescue horses, rehabilitate them, find new horses and produce them for the Grand Prix"
At eleven years old, Devon had other aspirations outside of Potter if he didn't make the cut for the role of Seamus Finnigan:
"My dad used to be a milkman, and I used to help my dad deliver milk. If I didn't do Harry Potter, the only thing I wanted to be was a milkman."
Murray is a huge lover of horses, and although he had to give up riding for a while after the movie (incase he fell off a horse and broke an arm: "Continuity would've been out the window!"), Potter director and producer Chris Columbus actually helped him give his horse, Jessie, a show name after filming Philosopher's / Sorcerer's Stone: "Sorcerer's Magic."
Since Potter, he's become more family oriented, and decided this year to stay in Ireland over moving to Los Angeles: "I love Ireland .. I'm to Irish, I don't wanna leave Ireland! I left Ireland for long enough as it was."
On recent projects, Murray says he actually shot a small movie with a good friend last year, but ended up falling off a horse the day before production started and broke 12-13 bones across his foot, ankle, ribs, hands and wrist. Sadly he didn't have access to Madam Pomfrey's supply of Skele-Gro, so he was cut out of the movie!
Thankfully, he says he'll begin shooting another movie at the end of this month, back home in Ireland – he's excited not to have to travel, and having time to look after his horses between shoots! He's been researching for his role, in which he'll be portraying a real-life actor in a film about his life. Stay posted for updates as they come…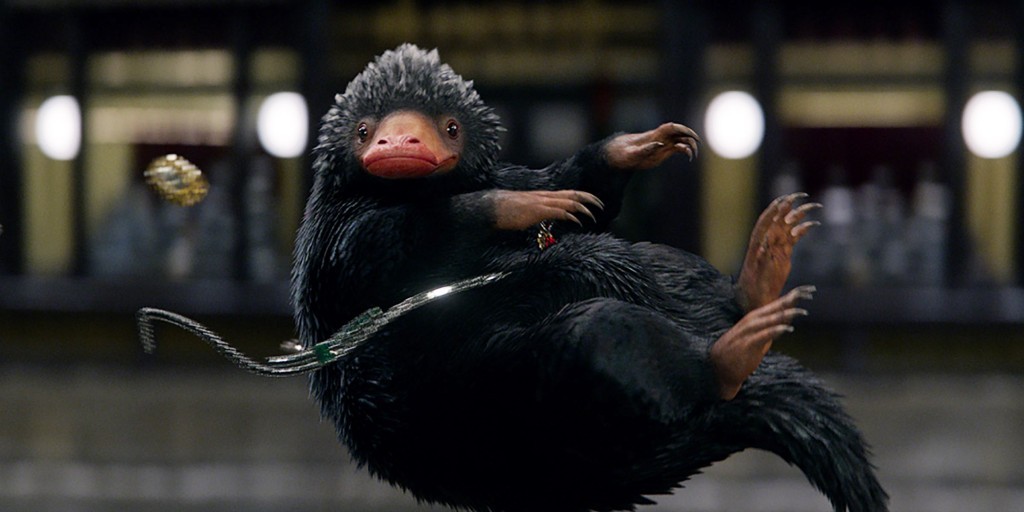 Channeling some of Evanna Lynch's passion for the series, Devon says he was "p****d off" when they announced Fantastic Beasts, and wanted to hate it out of spite, but loved it – he's even got a favorite magical creature:
"I love the little Niffler. Somebody gave me a Pickett recently, and it's amazing!"
He even says he'd actually want to play a Niffler in Fantastic Beasts ("Same height!") and says his favorite character is Jacob Kowalski, portrayed by Dan Fogler, who will also be attending LeakyCon this weekend! He did, however, share that he was more than a bit envious in some of the upgrades the Fantastic Beasts casts have gotten compared to the original Potter sets, and that he feels there's a lot more 'actual' magic in these films compared to the Potter movies:
"The wands (in FB) are some much better! We had s****y little wands."
Seamus Finnigan is a big name in the Potter series, but Devon says he's baffled as to how he managed to get to be a stereotype (or meme?) of the series:
"It's an Irish kid with alcohol, blowing s**t up. How did that happen?!"
In Deathly Hallows Part Two, Devon said he and Matthew Lewis (who played Neville) had to do some stunt work and set the explosives for the Battle of Hogwarts, but unfortunately the scene was cut due to technical issues:
"We were at Shepperton Studios, where they have the James Bond sets, and we were in the big 007 stage. They set up the bridge, Matthew was on top and I was at the bottom. I was going from post to post planting all these devices – it turned out amazing, I was hanging on for dear life and falling off – it was amazing. But afterwards there was something wrong with the film itself, so they couldn't put it into the movie!" 
He shared his thoughts on why the magic of Potter is still going strong over twenty years after its original publication in the U.K., praising its presence as a timeless story that can be passed down through generations:
" The majority of people grew up watching Harry Potter. Now they've got their own families, got their own kids and they get to fall in love with the books and movies, like their parents. It's amazing. I love it.
"My friend had a child a few years back, and they're obsessed!"
In the 'Confession Time' portion of the segment, Devon admits that he did actually keep half a wand (just FYI, there were a lot of wand jokes in this panel). Half, because he managed to break the on-set record for most wands snapped! He explained that his wand would break every single time he slammed it on the table during a scene where Seamus goes to fix Neville's Leg-Locker Curse in Philosopher's Stone (only for Neville to say 'That's all I need, you to blow my bloody kneecaps off!'), and said that you can feel where they put the glue on the replica wands.
He was also allowed to keep the feather he blew up in Flitwick's Charms class (on his thirteenth birthday), as well as Seamus's exam papers, rings, a tie with the Hogwarts crest, as well as Gryffindor and Slytherin ties.
He confessed to having a habit of taking his socks home from the set every night, and whilst searching through his attic recently he found a bag he used while on set. Inside were a pair of black socks with the initials 'EW' stitched on. It appears Devon Murray (inadvertently) stole Emma Watson's socks!
We've just learned that @DevonMMurray stole socks from the Harry Potter set. They were just that comfy! #moviesecrets pic.twitter.com/yTFGK2fDSW

— LeakyCon (@LeakyCon) August 10, 2018
He said that Robbie Coltrane once pranked him (and David Heyman) upon returning to set for the third movie:
"As I was going in [to hair and make-up], Robbie's like 'Devon, come out here', and he brings me into the changing room next door. He brings band-aids out and puts them all over my face, then sends me into hair and makeup, so I had to go in there with that, and Amanda was like 'What's happened?!'. She called David Heyman and I'm thinking 'Oh my god, I've just lost my job', Robbie goes running a mile
"Finally they all come down and I'm sweating and terrified. They ask what's happened and I'm like, 'I fell off a horse?', so they call all the medical aids and everything to check me out, then Robbie came in like 'Oh, it was just a joke!'"
Devon's favorite scene to shoot was the Prisoner of Azkaban dorm scene with the animal impressions – in his part of the scene he was actually supposed to be a chick, but in the end they went with the monkey sounds you hear in the film. Goblet was also a lot of fun, he said, because a lot of new people joined the set, they got to learn a ballroom dance for 8-12 weeks (two people were not good at dancing, Devon refused to name names, but said "They're twins, and they had ginger hair!"), and the Yule Ball made filming a lot of fun:
"We got to do what we wanted. Go wild, mosh pitting at the very end – having Warwick Davis crowd surfing… that was all his idea, too!"
As an avid fan, Murray's only wish was that Peeves had been in the movie, as the actor they had cast (Rik Mayall) was so funny that nobody could keep a straight face when he was in the scene (which Devon says is possibly the reason he was cut!). Devon said he was possibly the funniest, most flamboyant and wild person he'd ever met, and he wishes he'd made it into the films. We're right there with you, Devon! #JusticeForPeeves
Fatherhood, families and parenthood are a huge part of the Potter series, and when asked what type of father he would be, Devon said:
"I'd be a pushover. I'd idolize the child. That's the one thing I said I've always wanted in life. A child."
On making a Harry Potter spell real, he was pretty practical – he said he'd like to be able to use Windgardium Leviosa for horse gear, as it's pretty heavy. However, it would probably take him a while to master: during filming on the Levitation Charm scene in the first film multiple takes were required, and the first time they did it, all the bulbs blew up! Devon said another tricky scene to shoot was the scene with the goblet: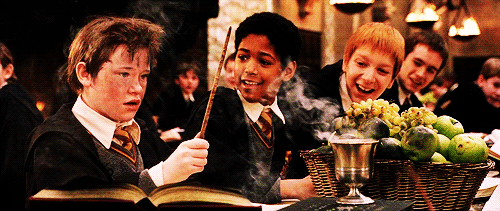 He shared that both he and Seamus share the same Patronus: a fox, but that he's a staunch Slytherin and Draco Malfoy is one of his favorite characters – J.K. Rowling once called him a traitor for saying so on Twitter!
The very last thing Devon filmed was the courtyard scene in Deathly Hallows, where he said the cast and crew were super emotional, then they got called back for another four weeks! Once filming was over, Devon said the thing he missed most was definitely the breakfast on set, and that it was difficult not going back to Leavesden and seeing everyone every day, and going into hair and make-up, as he did for eleven years!
Many will be pleased to know that Devon still keeps in touch with the cast, who exchange plenty of Snapchats and texts – of course, actually seeing each other in person is difficult as people are always moving around, but things like LeakyCon offer a great chance to catch up – we're glad he was able to attend this year!
Stay posted for more LeakyCon panel coverage, coming soon!