'Fantastic Beasts' & 'Harry Potter' Photos, Interviews & Rare J.K. Rowling Chat in New Entertainment Weekly Issue!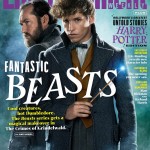 Oct 11, 2018
Entertainment Weekly reveal the 'untold stories of Harry Potter' with some never-before-seen photos and interviews, including a rare interview with J.K. Rowling, in a new issue!
The issue also gives exclusive insights into Fantastic Beasts: The Crimes of Grindelwald, including the very first interview with Johnny Depp about his role as Grindelwald. Actors on the film have repeatedly stated that this film ups the stakes of the film series, and Eddie Redmayne says there's one moment in particular that shocked him, towards the end of the film:
"The script is labyrinthian," says Eddie Redmayne, who returns as the beast-protecting Newt Scamander "It's like you're going down this maze and Jo is weaving the stories together with such intricacy. Along the way these connections to Harry Potter and secrets are falling at your feet. And there is one…"
The Oscar-winner pauses, knowing he's treading into heavy spoiler territory.
"I got to the end and my jaw dropped," he says. "There was one thing I didn't see coming."
There's still over a month to go until we find out what he's talking about – could it be another connection to Potter? A death? A new revelation about Grindelwald or Credence? A betrayal? Time will tell!
Dan Fogler spoke to EW after seeing Crimes of Grindelwald in its entirety for the very first time, who repeated that he got Empire Strikes Back vibes from the film (a sentiment he first shared at LeakyCon!)
OMG I just watched COG! As good as the first if not BETTER! Definitely getting ESB vibes!!! https://t.co/inA5qMkCnd

— Dan Fogler (@mrdanfogler) September 18, 2018
Dan shares that – like a Potter book – people will have to watch (or read the screenplay) over and over to catch every detail:
"This time everybody is really put under fire. People are gonna see this like a 100 times just to get everything. They're going to be going nuts that they have to wait for the next one."
Accio, #HarryPotter fans! Go inside the magical world of '@FantasticBeasts: The Crimes of Grindelwald' and learn the greatest untold stories from @jk_rowling's wondrous Wizarding World: https://t.co/gqMZZWmjpa #FantasticBeasts pic.twitter.com/tPv5N3gRH0

— Entertainment Weekly (@EW) October 11, 2018
The issue also contains ten exclusive high-quality images, from images we've seen before, with official confirmation of their context, thanks to Entertainment Weekly: Newt with a news clipping announcing Tina's reinstatement as Auror in his basement refuge for magical creatures, Credence and Nagini atop a Parisian rooftop, Grindelwald at his rally beneath the Lestrange Mausoleum, Newt and Theseus at Pere Lachaise Cemetery prepared for battle, Jacob in Newt's basement (apparently that's a Leucrotta behind him, and an Augurey), and Newt and Tina exploring the French Ministry of Magic Records Room.
An image shared by Alison Sudol is captioned "Tina's mind-reading sister Queenie Goldstein (Alison Sudol) has a mysterious purpose in Paris"… What the Chocolate Frog – thanks to Ezra Miller for that saying – is Queenie doing?!
New images are equally intriguing: Dumbledore in the Defence Against the Dark Arts classroom (where he's questioned about his ex-pupil, Newt, by the Ministry of Magic):
Photo: Jaap Buitendijk/Warner Bros
Leta Lestrange back at Hogwarts (so that WAS her in the corridor in the trailer!) revisiting her desk, which shows the inscription "L+N", suggesting their close friendship – a tad awkward now that she's engaged to Newt's brother!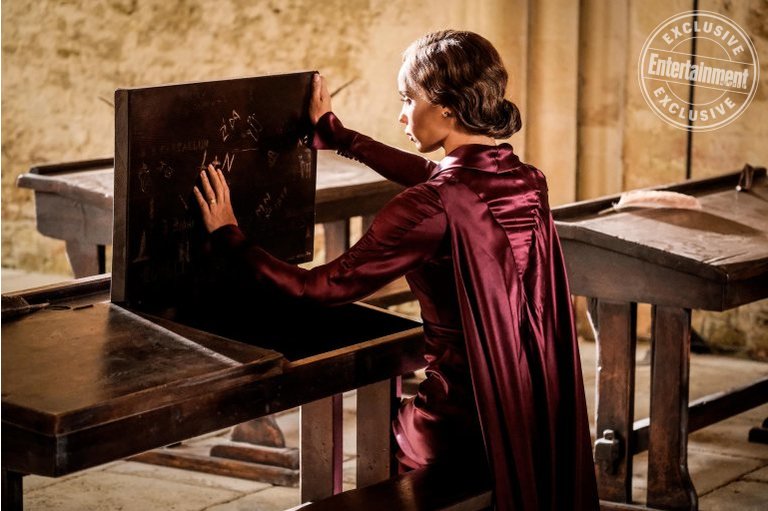 Photo: Jaap Buitendijk/Warner Bros
Finally, we see Vinda Rosier holding the glowing skull from the trailer, with a pipe coming out of the end of it. It appears Grindelwald will use this skull at his rally, possibly leading to the blue flame. The wizards in the background certainly look concerned!
Photo: Jaap Buitendijk/Warner Bros
See all the new images here.
The new issue also includes an interview with Johnny Depp (Gellert Grindelwald), giving exclusive information about Depp's influence on Grindelwald's look (Colleen Atwood discussed this further in our set visit interview), Grindelwald and Dumbledore's relationship, and his response to Potter fans concerned about his role in the film after allegations of domestic abuse by actress and ex-wife Amber Heard.
He speaks of his love of the books and films, saying that he'd always loved the series:
"What J.K. [Rowling] delivered is really a difficult thing to do as a writer — to create a whole new universe and a set of rules. And you pick it up in one fell swoop in the first book and first film. It's a whole lot of information and I was amazed — you never felt like you were being slathered with exposition or being condescended to. It's good literature and great writing in its own right. It ticks all the boxes."
He spoke with J.K. Rowling first via Skype, then at his fitting in London. He sees Grindelwald as "a human version of Finnegans Wake: James Joyce's novel begins and ends in the middle of a sentence". Interestingly, he also discusses Colin Farrell's influence on his performance:
"I suppose the more contemplative moments of Colin's — the more silent moments — for me, that's when I would see bits of Grindelwald." 
Depp's explanation for Grindelwald's eyes being different colours is that it's a choice based on his character, representing his dual personality:
"I saw Grindelwald as more than one, if you know what I mean. I almost felt like he's maybe two people. He's twins in one body. So a gamey eye is more like the other side of him. Sort of like a brain for each eye, an albino twin, and he's somewhere in the middle."
Depp sees Grindelwald as "an oddly likely character", and, interestingly, believes that he's waiting for Dumbledore to reach him, and is "looking forward" to their inevitable showdown:
" I think there's probably a lot of residue left over from days gone by. They quite bonded, you know? When you loved someone, and cared for someone, and it arrives into a [combative] arena — as it has with Dumbledore and Grindelwald — it's very dangerous when it becomes personal."
Representing their relationship on screen will take time, Depp implies, saying that he believes the audience should 'feel' their history before seeing evidence of their relationship on screen, but that his feelings for Dumbledore lead Depp to believe that Grindelwald feels intense jealousy toward Newt Scamander:
"I think there's a jealousy with Scamander. He sees Scamander as Dumbledore's protégé — his boy, in a way. That in itself is enough for Grindelwald to want to take Scamander down in a way that is ferocious and eternal."
Controversies surrounding Depp's involvements have spread far and wide, and after J.K. Rowling, David Yates and David Heyman responded to the reactions of fans to Amber Heard's allegations of domestic assault in 2016*, Depp speaks on how fans are perceiving the issue, and how he feels about the team behind the films having to deal with that controversy and calls for him to be recast:
"I felt bad for J.K. having to field all these various feelings from people out there. I felt bad that she had to take that. But ultimately, there is real controversy. The fact remains I was falsely accused, which is why I'm suing the Sunnewspaper for defamation for repeating false accusations. J.K. has seen the evidence and therefore knows I was falsely accused, and that's why she has publicly supported me. She doesn't take things lightly. She would not stand up if she didn't know the truth. So that's really it."
EW also give this note along with his answer on Depp's legal case against The Sun, taking place next month, and Amber Heard's team's response to Depp's denials:
[Note: Depp's attorney has claimed "evidence" will be presented during court proceedings in The Sun defamation case next month. Heard's team has slammed the actor's denials as "shamefully continuing his psychological abuse of Ms. Heard, who has attempted to put a very painful part of her life firmly in her past."] 
Depp concludes by saying that he feels utmost responsibility in this role, to the filmmakers, to the author, to himself as an actor, and to fans:
"I went full tilt and headfirst into the character knowing the responsibility that I had. It's good to take the audience on a ride they're not necessarily expecting, yet with great respect to the world they've come to understand and know. The Potter fans are like scholars of this stuff which I find incredibly impressive. They know that world inside and out. I hope to give them something they haven't seen before."
Read the full interview here.
What are your thoughts on the Depp interview? How about Grindelwald's jealousy of Newt? Were you expecting as much? Are you excited to see Leta return to Hogwarts?
The full physical copy will be available tomorrow!
[*If you are a victim of domestic abuse, please seek help – call emergency services if you are in immediate danger, or contact the 24 Hour National Domestic Violence Freephone Helpline (UK) , Victim Support (UK), The National Domestic Violence Hotline (U.S.), or one of many global shelters listed in this guide to global helplines and services. Also find resources and contact details from organisations supporting minority groups, offering legal help and more here.]